A new United Nations (UN) report has surfaced condemning the government of the United Kingdom (UK). In the 2018 edition of the Annual Report of the Secretary-General on Children and Armed Conflict, it was revealed that the UK government is responsible for arming states where more than 12,000 children were killed or maimed last year in armed conflicts. 
According to the report, innocent children across the world were shot, bombed, raped, recruited as child soldiers, imprisoned and had limbs amputated after being targeted by warring parties. One of the countries the report mentions is Thailand.
"Children continued to be victims of shootings and of the use of improvised explosive devices. Reportedly, one child was killed and at least five children were maimed during the year. For instance, on 6 February, 50 metres from Baan Siyoh School in Yala's Yaha district, an attack using improvised explosive devices, allegedly targeting security forces who were part of a teacher protection unit, injured two 12-year-old girls," the report noted.
"One attack against a school was documented, although additional attacks were launched near schools, including attacks on security forces who were guarding teachers."
Obtaining firearms
In 2016, an article published by Deutsche Welle (DW) revealed that owning a firearm has been legal in Thailand since 1947. However, only licensed gun owners may lawfully acquire, possess or transfer a firearm or ammunition. 
The Act Controlling Firearms, Ammunition, Explosives, Fireworks and Imitation of Firearms only allows for people to obtain licenses to own guns for purposes of self-defense, protection of property, sports or hunting. Applicants must be at least 20 years old and pass background checks which consider the applicants' personal conduct, living conditions as well as their income and criminal records.
Licenses, which cost 1,000 Baht (US$28) per person, are also needed for owning firearms as keepsakes. As for the actual price of a gun, experts say that it costs about US$600 to purchase a firearm.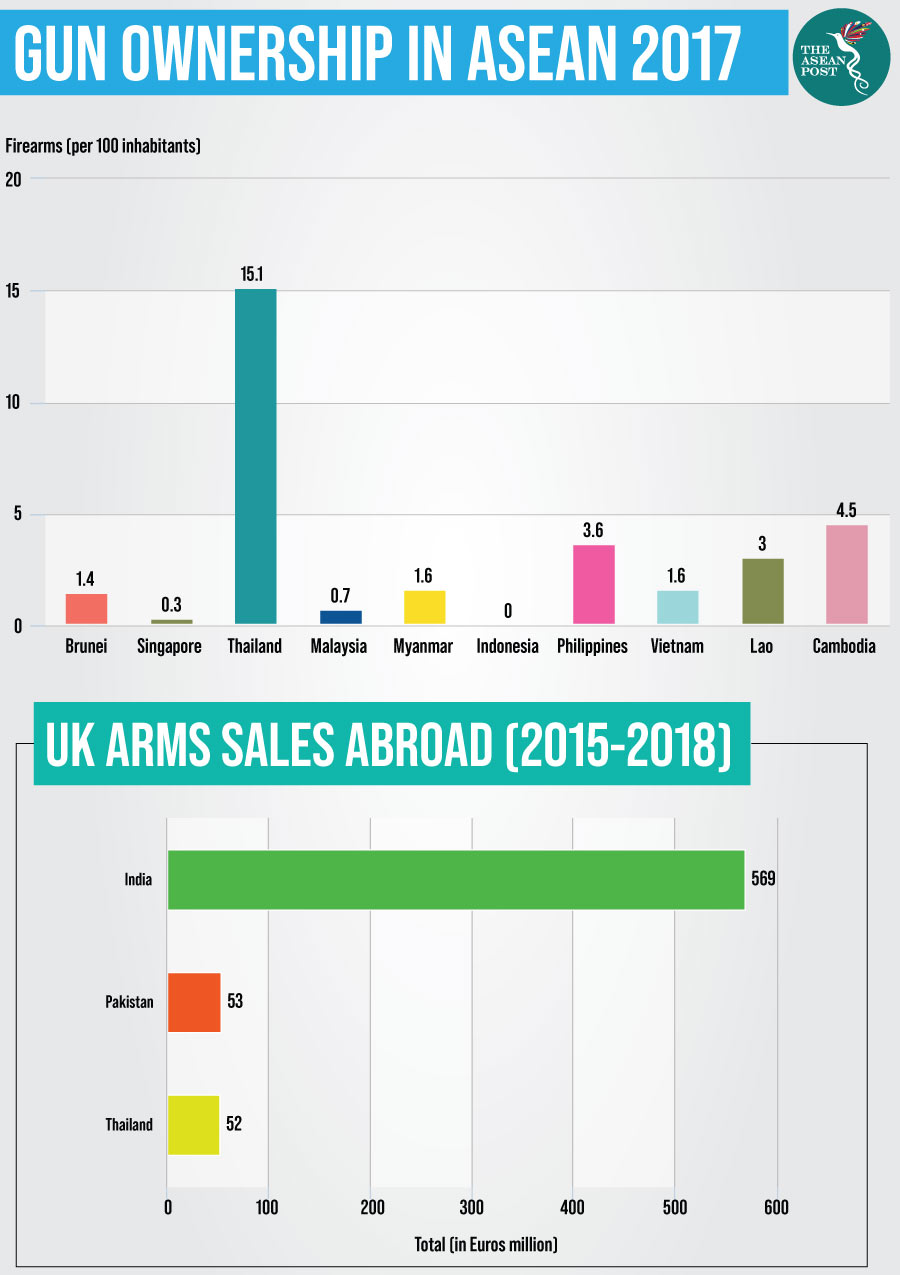 Source: Various
In June 2018, the Small Arms Survey released a briefing paper entitled "Estimating Global Civilian-Held Firearms". The paper estimates that the total number of guns, both licit and illicit, held by Thai civilians in 2017 was 10,300,000, equating to 15.1 firearms per 100 inhabitants. Comparable figures for other ASEAN nations are: Cambodia, 4.5 per 100 inhabitants; the Philippines, 3.6; Lao, 3.0; Myanmar, 1.6; Vietnam, 1.6; Brunei, 1.4; Malaysia, 0.7; Singapore, 0.3; and Indonesia, zero.
The high statistics just serve to prove how easy it is to obtain a firearm in Thailand especially when compared to other ASEAN nations.
Insurgency
Considering the ease of which to obtain firearms in Thailand, it should not come as a surprise that the insurgency in Thailand's deep south is also well armed. This, unfortunately, poses a real threat to children in and out of the deep south as the UN has noted. The fact that the insurgency continues to this day does not help matters.
According to the Human Rights Watch (HRW), since the outbreak of armed insurgency in January 2004, ethnic Malay Muslim insurgents affiliated with the Barisan Revolusi Nasional (BRN) have targeted numerous schools, killing and wounding students, teachers, and other education personnel. The insurgents consider school officials to be symbolic of the Thai Buddhist state's occupation of Malay Muslim territory. They have frequently targeted security personnel assigned to provide students and teachers safe passage to and from school, or protecting the school grounds.
"Insurgents in southern Thailand attack schools and medical clinics to maim and terrify Buddhist civilians, control the Muslim population, and discredit Thai authorities," said Brad Adams, HRW Asia director. "Whatever the rationale, targeting civilians is morally indefensible and a war crime."
The HRW, however, also notes that as far as the deep south insurgency goes, both sides are committing war crimes, claiming that the government has yet to successfully prosecute any officials for crimes against ethnic Malay Muslims alleged to be involved in the insurgency.
"Both insurgents and government forces have cited unlawful attacks and lack of accountability to justify carrying out more abuses. This vicious cycle of atrocity and retaliation needs to stop," Adams said.
It is likely that violence in Thailand will continue as is often the case in countries where guns are easily accessible. Taking away these firearms may not immediately stop the violence in Thailand, nor the deaths of Thai children, but it is certainly a start. 
Nevertheless, while Thailand is not completely free of blame, the UK government should also shoulder some of this blame if what the UN says in its new report holds any truth. The sale of firearms may bring in a pretty penny but when the price is the lives of children, then that prices becomes too dear to pay.
Related articles: