There have been historic gains overall for children around the world in the past few years as "more and more are living longer, better and healthier lives," said Henrietta Fore, Executive Director of the United Nations Children's Fund (UNICEF) last year.
A UNICEF 2019 report in conjunction with the 30th anniversary of the Convention on the Rights of the Child (CRC) cited some of the progress in child rights over the last three decades such as the decrease in the under-five mortality rate and a decline in child marriage rates globally.
Unfortunately, this year, the COVID-19 crisis has created a child rights crisis. The costs of the pandemic for children are immediate and, if unaddressed, may last a lifetime, stated the United Nations (UN). The organisation warned that without urgent action, a further 6,000 under-fives could die each day due to reductions in routine health coverage, and an increase in child wasting.
"All children, of all ages, and in all countries, are affected. However, some children are destined to bear the greatest costs," stated the UN. Those severely hit will be children living in slums, refugee and displacement camps, conflict zones, institutions and detention centres and youngsters with disabilities, it added.
COVID-19 thus far has infected over 57 million people and has claimed 1.3 million lives worldwide. But the virus is not just a test of health systems, it has negatively affected livelihoods and the economy in general. It attacks the way children access education, the way their families earn an income, and how safe they feel in their homes and communities.
Mental Health Issues
Although more people are now open about discussing mental health issues, it remains a taboo topic in some conservative societies and cultures. There is a stigma that wraps around mental illness that could lead to harmful effects such as fewer opportunities for work or school, and bullying, physical violence or harassment. There are also a number of misconceptions regarding mental health and one of the infamous ones is that children do not experience mental health problems.
According to the World Health Organisation (WHO), mental health conditions account for 16 percent of the global burden of disease and injury in people aged 10 to 19 years old. Moreover, half of all mental health conditions start by age 14 but some cases go undetected and untreated. Worryingly, suicide is the third leading cause of death in 15 to 19-year olds. 
Recently, a report by the United States (US) Centres for Disease Control and Prevention (CDC) suggests that disruptions to daily life amid the pandemic, anxiety about getting infected and social isolation are all taking a toll on children's mental health.
The "findings provide initial insight into children's mental health in the context of the COVID-19 pandemic and highlight the importance of continued monitoring of children's mental health throughout the pandemic, ensuring access to care during public health crises, and improving healthy coping strategies and resiliency among children and families," notes the CDC.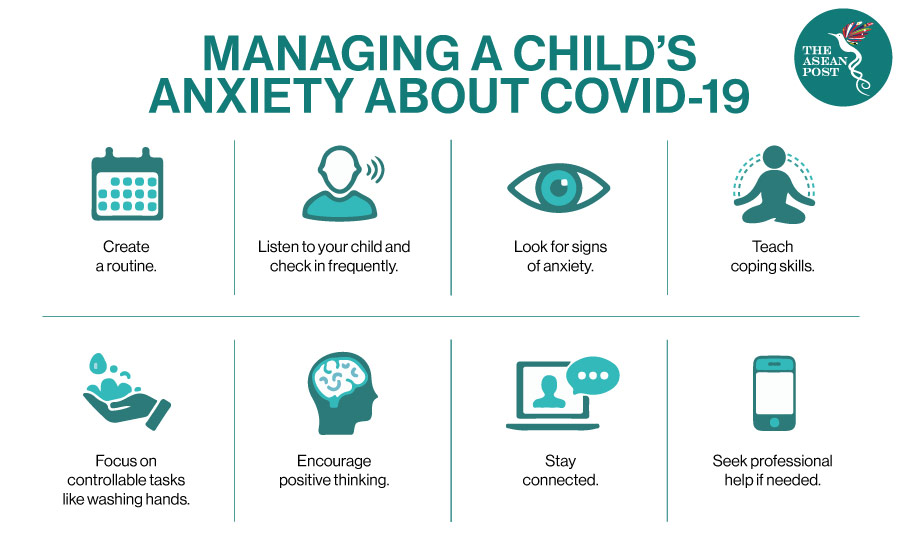 Not only children in the US are feeling the heat from the virus, but young people all over the world have also reported to feel more anxious and stressed during the pandemic. 
A survey led by the UNICEF released last April suggested that more than seven in 10 children in Thailand said that the coronavirus crisis is affecting their mental health. According to the children, the most worrying aspect of the pandemic is the uncertainty of their family's financial status, followed by uncertainty on their education and future employment.
Non-profit organisation World Vision Malaysia which works with vulnerable communities in East Malaysia state of Sabah – said that challenges faced by children with special needs such as their ability to cope with their studies have a profound impact on their mental health.
"Children have negative feelings and feel restricted during the pandemic," said Arthur Chan, Head of Public Engagement of World Vision Malaysia.
"Children felt anxious and worried as they struggled with distance learning, despite some of them having access to the internet," he added.
Approach To Mental Health In A Pandemic
The pandemic has brought the issues of mental health into the open and highlights that trauma and stress can impact anyone. There has been a number of collaborative efforts in response to an exacerbated mental health crisis caused by the coronavirus.
For example, in the Philippines, UNICEF continues to support the nationwide helplines of the Philippine Red Cross. It was reported that from 17 April to 24 August, some 9,000 callers received lifesaving information on mental health and case management concern, among others. 
In Indonesia, mental health tips and awareness messages reached around 392,424 individuals via traditional and social media channels, webinars and other events organised by the government and non-governmental organisations.
Whereas in Vietnam, the country's UNICEF team supported two training programmes which enable the National Child Protection Helpline and frontline workers to provide primary mental health care and support for children coping with stress, depression and other mental health issues during the pandemic.
Related Articles: