Chinese investors have allocated more than US$2 trillion to overseas investment and construction in the past decade and a half.  Here, let's look at the impact COVID-19 has had on outbound Chinese investment, especially in residential property.
China Is World's Largest Real Estate Investor 
According to Juwai IQI, an international real estate sales and media company, data from industry and government sources have revealed that from 2015 to 2020, Chinese acquirers purchased overseas residential real estate worth more than US$202.8 billion. 
According to American think-tank data, from 2005 to 2020, Chinese cross-border commercial real estate investment totalled no less than US$104.8 billion. 
Commercial real estate construction loans and contracts fall into a separate category. This same think tank reports that commercial real estate construction costs totalled US$87.3 billion, also from 2005 to 2020. 
Thus, Chinese overseas residential property investment, commercial property investment, and commercial property construction from 2005 to 2020 totalled no less than US$393.9 billion. Due to our incomplete ability to track every investment, the true total is probably significantly higher. 
China is by far the largest source of cross-border residential property investors in the world. Chinese investors have reshaped markets and property development patterns on every continent.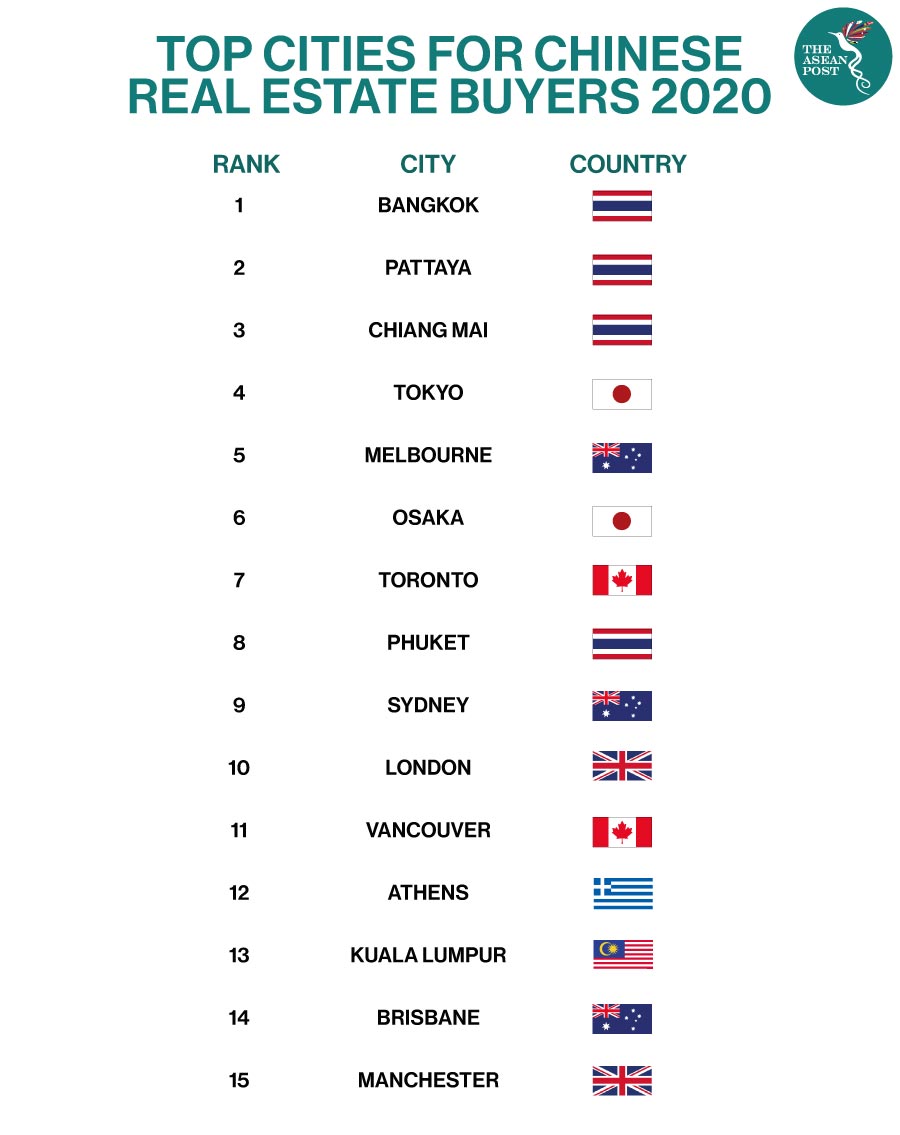 Impact Of COVID-19
Aggregated Chinese cross-border residential investment fell significantly in 2020 but not as far as many feared. Investment should substantially recover as the pandemic recedes and China's economic wealth-creation machine continues to bounce back from its early-2020 doldrums.
Chinese residential real estate acquisitions fell most sharply in the first half of 2020, as scheduled transactions were cancelled or delayed due to pandemic uncertainties. At the same time, Chinese buyer enquiry levels soared during this period when it seemed to many Chinese that COVID-19 was restricted within their country. Overseas destinations looked more appealing as a result. 
Surprisingly, as the year progressed, overall investment recovered more quickly than expected because of two factors. 
The first is rising consumer sentiment as the Chinese economy recovered and people became accustomed to the pandemic's reality. 
The second is the rapid response in the real estate industry to the travel bans. Companies like Juwai IQI successfully deployed technology that enabled buyers to research, inspect, negotiate for, purchase, and manage overseas properties – entirely online.
The most recent data from China's Ministry of Commerce and State Administration of Foreign Exchange supports the conclusion that investment fell much less than expected. To be sure, their data tracks outbound investment across all sectors, rather than residential real estate acquisitions alone. 
None-the-less, data from the Ministry of Commerce shows that, in the first seven months of 2020, China's outbound direct investment amounted to RMB450.99 billion (US$64.17 billion), down by just 3.3 percent year on year.  
That is a remarkably small decline given the near paralysing seizures that rattled parts of the global economy during the year.
BRI Nations May Recover Fastest 
During the 2020 environment of lower overall investment, outflows to Belt and Road Initiative (BRI) countries took a greater share of what remained.
While the BRI is only loosely defined, Beijing identifies 143 members, many of which have risen rapidly in the past few years in popularity with Chinese overseas residential real estate buyers. BRI participant nations tend to be more receptive to Chinese investment and more dependent on it. 
BRI countries that are also traditional destinations for Chinese residential property acquisitions are likely to be among the fastest to recover as we get past the pandemic.
Several prominent developed Western nations continue to rank among the top residential property investment destinations for Chinese acquirers in this century but are losing ground. The United States (US), United Kingdom (UK), Canada, and Australia do not count themselves among BRI nations. While they are still leaders in terms of total value of Chinese investment, since 2015 they have lost stature relative to increasingly popular Asian countries such as Vietnam, Malaysia, Thailand, and Japan.
The five most popular countries for Chinese residential property buying in 2020, according to Juwai IQI enquiry data, are Thailand, the US, Australia, Canada, and Japan.
The next five most popular are the UK, Malaysia, Greece, Germany, and Vietnam.
ASEAN to See Rapid Rebound
ASEAN member states are likely to undergo the most rapid recovery of Chinese real estate investment in 2021 and 2022. The enthusiasm from all sides for the recently signed Regional Comprehensive Economic Partnership (RCEP) trade agreement will have tremendous economic benefits for ASEAN nations. 
Although the bloc does not regulate property investment, its positive impacts will extend to the sector. 
Projections show that the RCEP will raise global incomes in 2030 by an annual US$186 billion and expand trade among members by US$428 billion. Tighter commercial ties will lead to greater intra-regional travel and tourism and to blooming Chinese property investment in the most appealing markets.
Some of this will come at the cost to non-members. The RCEP will lead to trade shrinking among non-member nations by US$48 billion. The countries involved in the partnership will generate half the world's global economic output by 2030. 
The RCEP is even more important during this current period of inward-looking nativism and closed borders. That the trade agreement's signing ceremony had to be virtual is symbolic of the current challenges. 
The promise of the benefits that the RCEP will bring has already played an essential role in reaffirming the value of open economies, cross-border ties, and international investment as vital to mutual economic growth and shared prosperity. An open and innovative Asia Pacific that embraces deeper integration will be wealthier as a result.
Property is an important sector helping to accelerate the trend towards increasingly integrated economies. Chinese property investment will help ASEAN nations recover from COVID-19 by supporting employment, construction, government revenue, and overall economic activity.
Related Articles:
Malaysia's Property Market In A Pandemic Slump