Several factors have led to an unprecedented boom in the Chinese outbound tourism sector and this especially includes rising incomes in China. According to the United Nations World Tourism Organization (UNWTO), 131 million overseas trips were made by Chinese people in 2017. It is an enormous increase, of more than 1,300 percent compared with the figure of 10.5 million Chinese people who made overseas trips in 2000. 
Chinese travellers also spent a record US$257.7 billion overseas in 2017, again a huge jump from the US$10 billion spent by Chinese tourists abroad in 2000.
ASEAN is fully aware of the Chinese tourism phenomenon. Chinese tourists have been flocking to member countries and statistics from all across ASEAN show that the largest number of tourists come from China. It goes without saying that Chinese tourism has proven to be a real boom for ASEAN's tourism industry and the bloc does not intend to see that end.
A year of prosperity
Soon after February rolled in, the world celebrated the Chinese Lunar New Year. But for those ASEAN member states aware of the advantages that could be gained from having more Chinese tourists, the annual celebrations presented another opportunity to usher as many tourists as possible from China into their respective countries.
The China National Tourism Administration (CNTA) reported that a total of 6.5 million Chinese mainland tourists travelled abroad during the seven-day Chinese New Year holiday in 2018. While statistics for 2019 have not been revealed as yet, the CNTA expects the figure to increase to seven million.
It is no wonder that prior to the 2019 Chinese New Year, several ASEAN countries were reported to be focusing on increasing their tourism numbers and much of this was aimed specifically at Chinese tourists.
In Indonesia, for example, the island of Bali prepared for the Chinese New Year celebration by reintroducing long-founded cultural ties between China and the Indonesian island. Dubbed the Balingkang Kintamani Festival 2019, the event took place at Batur's Ulun Danu temple complex in Kintamani, Bangli, about 60 kilometres from Denpasar; the capital city of Bali. It was expected to be attended by around 2,000 Chinese tourists.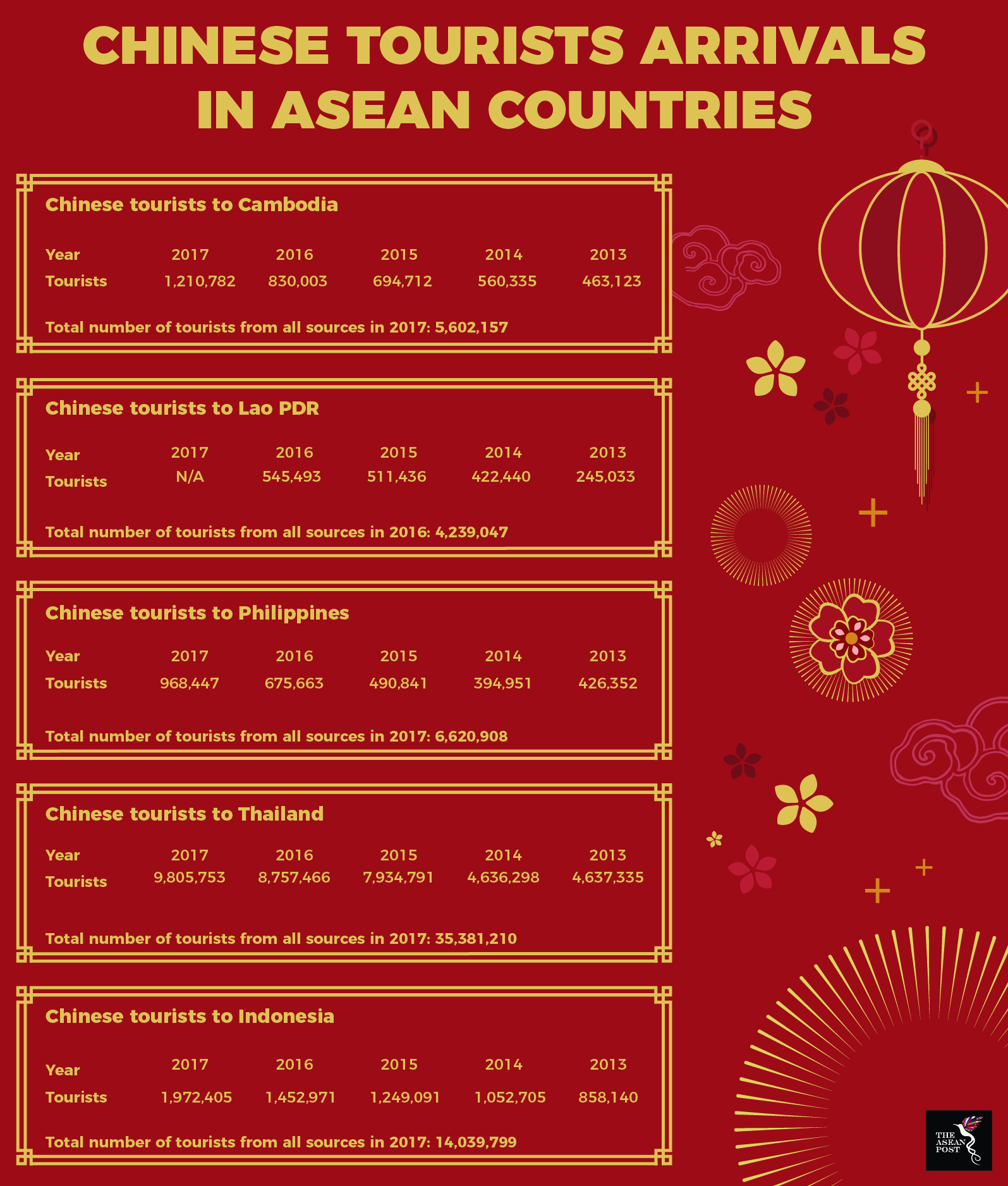 Source: Various sources
But Indonesia is not alone in trying to corner the Chinese tourist market. Over in the city of Cebu, in the Philippines, Alice Queblatin, president of the Cebu Alliance of Tour Operations Specialists (CATOS) said in January that they expected charter flights from China to Cebu to be mounted by airlines such as Philippine Airlines, Cebu Pacific, Eva Air and China Southern averaging three times a week. These flights cover the Cebu-Taipei, Nanjing, Wenzhou, Hangzhou, and Chengdu routes.
According to Queblatin, the Chinese New Year charters started from 31 January and continued all the way through to 19 February.
"Forgiving" Thailand
When talking about Chinese tourism in ASEAN, it's hard not to think about Thailand. From 2012 to 2017, the largest number of tourist arrivals to Thailand was from China. In 2012, there were 2.7 million tourist arrivals, 4.6 million in 2013 and 2014, 7.9 million in 2015, 8.7 million in 2016, and 9.8 million in 2017. Things were looking rosy until recent reports revealed that there has been a sharp dip in Chinese tourist arrivals to Thailand.
Official statistics indicate that travellers from China slid by 12 percent in August 2018, the biggest drop in over a year, keeping the overall pace of visitor growth near a 16-month low. Perhaps one of the biggest reasons for the drop was a tour boat accident off Phuket in July that killed 46 of its 101 passengers on board including 86 tourists. All but two of the tourists were from China.
Then, in late September, a video went viral of an airport guard apparently punching a Chinese tourist at Bangkok's Don Mueang airport. Sunsern Kaewkumnerd, a spokesman for the government, was reported as saying that Prime Minister Prayut Chan-o-cha was "upset" by the incident.
Since then, however, Thailand has taken several measures to bump up Chinese tourism in the country and it seems that these efforts have paid off. Tourism officials and businesses were reported recently as saying that the Chinese have returned to Phuket in large numbers.
The Thai Hotels Association told local media that hotel operators reported higher than usual bookings for the Chinese New Year festival, especially between 2-10 February.
"The average occupancy rate has risen to 90%," according to Kongsak Khuphongsakon, chairman of the southern region of the Thai Hotels Association.
Hotelbeds.com also reported that Thailand was topping the list of destinations for Chinese travellers for the Chinese New Year holidays.
In fact, according to a report released in January by Ctrip, a Shanghai-based online travel agency, people from over 100 Chinese cities had booked to travel to nearly 500 destinations across over 90 countries and regions. Thailand, Japan, Indonesia and Singapore are among the most popular destinations. 
As the Chinese New Year holidays come to an end, more complete and accurate statistics of Chinese tourism to ASEAN will be available. For the time being, however, it looks like several ASEAN member states including Thailand have put in the effort and have successfully enjoyed an influx of Chinese tourists over the holiday period.
Related articles:
Can tourism boost Lao's economy?