The construction sector is complicit in the threat of climate crisis, emitting carbon dioxide (CO2) gas through greenfield development, material production and the use of fossil fuels. While ASEAN countries have expressed their joint commitment through national pledges to take action and fight climate change, they are still primarily focused on developing their nations. 
To mitigate the overall impact of development on the environment, the construction sector has opted for a 'green building' solution.
The World Green Building Council (WorldGBC) describes 'green' building as a "building that, in its design, construction or operation, reduces or eliminates negative impacts, and can create positive impacts, on our climate and natural environment." Green buildings work to slow the effects of climate change through their energy efficiency promotion of greater green and sustainable communities. 
"We believe that the green building movement will mean significant progress in decoupling economic growth from climate change, poverty and inequality, helping to achieve the goals and creating a greener world," wrote Dominika Czerwinska, Director of Membership and Regional Networks at WorldGBC.
Largest share in emissions
The construction sector still represents the largest share of total global energy-related CO2 emissions, according to the 2018 Global Status Report prepared by the International Energy Agency (IEA) for the Global Alliance for Buildings and Construction (GlobalABC).
In 2017, building construction and operations accounted for 36 percent of global final energy use and nearly 40 percent of energy‐related CO2 emissions, excluding construction-related energy use for transport associated with moving building materials to construction sites.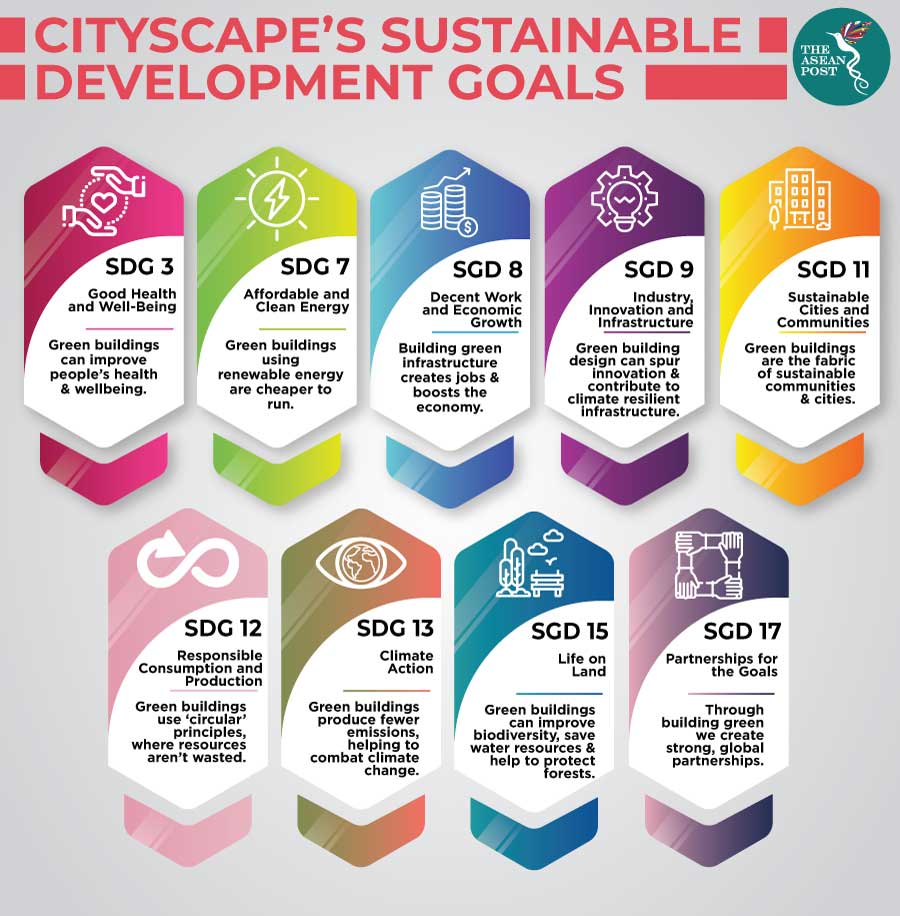 Building operations (heating, cooling, lighting, etc.) account for 28 percent of global carbon emission, and 11 percent is attributed to embodied-carbon emission which refers to carbon that is released during the construction process and material manufacturing. The construction industry uses 4.2 trillion kilogrammes (kg) of cement annually. One kg of cement releases more than 0.5 kg of CO2 into the atmosphere.
Architects Declare
During the 2018 Global Climate Action Summit, nation leaders committed to have new buildings operating at net zero carbon by 2030. A net zero carbon building is a building that is energy efficient and fully powered from renewable energy sources. But focusing on carbon as a by-product of buildings and construction makes it seem like the industry's most pressing concern is energy efficiency. It is also important to reduce the embodied-carbon emission that goes into construction.
A global movement within the architecture profession is declaring that we have a climate emergency, asking for "everyone working in the construction industry, to meet the needs of society without breaching the earth's ecological boundaries," adding that it will demand a "paradigm shift".
The movement, Architects Declare, now has hundreds of signatories that are determined to give their best in making their work have as little impact on the environment as possible. The movement will require not just a transformation of the profession, but also in education. Clients too must be convinced to reconsider their supply chain and construction method. 
Across the Southeast Asia region, the construction sector is also reducing emissions by innovating with technology and influencing the choice of materials used. Vo Trong Nghia, a Vietnamese architect has pledged to bring nature back into the urban environment through the use of sustainable materials, notably bamboo. Across Southeast Asia especially in Vietnam, Thailand and Indonesia, bamboo architecture is fast becoming the material of choice for architects. 
At the Oslo Architecture Triennale 2019, those in the building industry were invited to explore a new way of thinking under the banner of 'Degrowth' where human and ecological flourishing matter most. Some within the profession are reconsidering their value system, reflecting on what is considered good and what is bad. While others in the industry are standing up against detrimental projects. 
A recent example is the Penang South Reclamation (PSR) project in Malaysia. Last week, Chief Minister of the northern state of Penang, Chow Kon Yeow, announced a PSR Masterplan competition organised in collaboration with the Malaysian Institute of Architects Northern Chapter under the Board of Architects Malaysia (LAM). The Penang government has since changed the name of the project to Penang South Islands (PSI).
While an environment management plan (EMP) was proposed to minimise impacts arising from the reclamation project, many have questioned whether mitigation strategies really minimise the adverse impact on the environment – from physical change of beaches, change in the chemical content of the seabed and diminishing ocean life and ecosystems. Coastal reclamation projects also produce enormous carbon emissions during the construction of the islands as well as the subsequent development. 
Ihsan Zainal Mokhtar, president of the Malaysian Institute of Planners told The ASEAN Post that, "we don't support the PSR [PSI] Masterplan competition, as it will give it [the reclamation] the legitimacy it wants," adding that, "we are not against development, but any development must be sustainable especially when the world is facing problems of climate change."
"Not all architects support this reclamation. I personally know many who are against it even though the Institute of Architects are organising the competition. I'm speaking in my own personal capacity, this view does not represent the standpoint of any architects' association" said Jafri Merican, an architect in private practice.
Michael Pawlyn of the Architects Declare movement, urges the profession to go beyond creating sustainable architecture that minimises damage and to design buildings that help repair it, adding that the "profession is stuck in the mitigation paradigm which are making things slightly less bad." 
The construction sector must take into consideration that it has political, social and cultural repercussions and buildings in themselves, cannot be the solution to environmental crisis. Perhaps the profession can propose alternatives and help convert recent research on climate change and the construction sector into badly needed action. 
Related articles:
Can ASEAN cities survive climate change?
Fighting climate change with bamboo