Assuming the coronavirus infection rate does tail off and life eventually carries on as normal, Southeast Asia is well placed to champion growth and get its economies back up and running. The driver for this is the purchasing habits of the ASEAN consumer and their love of social media and technology.
If the Asia-Pacific region was never a cohesive entity before the pandemic, it will be even less so in the aftermath. China, once seen as the economic driver and leader of the region with its vast regional infrastructure projects from the Belt and Road initiative (BRI), will be viewed with more suspicion.
China's leadership position has taken a setback as a result of its handling of the COVID-19 crisis. This has been exacerbated by China's ban on social media platforms such as Facebook, Instagram and Twitter, that are the communication and news channels of choice for the rest of the world. These platforms are providing a unique form of global bonding and sharing of hardships or humour as the world struggles to come to terms with the deadly pandemic.  
Hence not only does China not get to bond with the rest of the world, but the only view the world sees of China is from its increasingly belligerent pro-government sources that are permitted to use Twitter.  Recent surveys of global consumers by data analytics and consulting company, GlobalData have shown a deepening lack of trust for Chinese brands and vice versa for China's perception of United States' (US) brands, which will likely take some time to change.
Meanwhile the rest of Asia is sharing the same fears and hardships brought about by the coronavirus pandemic with the rest of the world and is coping with the issue through a global rather than a China lens. 
With a relatively high level of understanding of English, particularly in the larger cities, ASEAN consumers are particularly tuned in to global affairs. Hence ASEAN consumers are nearly 50 percent as likely as the global average to agree that their purchasing habits are mainly driven by how the world around them is changing through economic, social or demographic changes in society. That's according to a pre-COVID-19 survey from GlobalData of 26,000 global respondents including over 3,500 respondents from the top five ASEAN economies of Indonesia, Malaysia, Thailand, the Philippines and Singapore.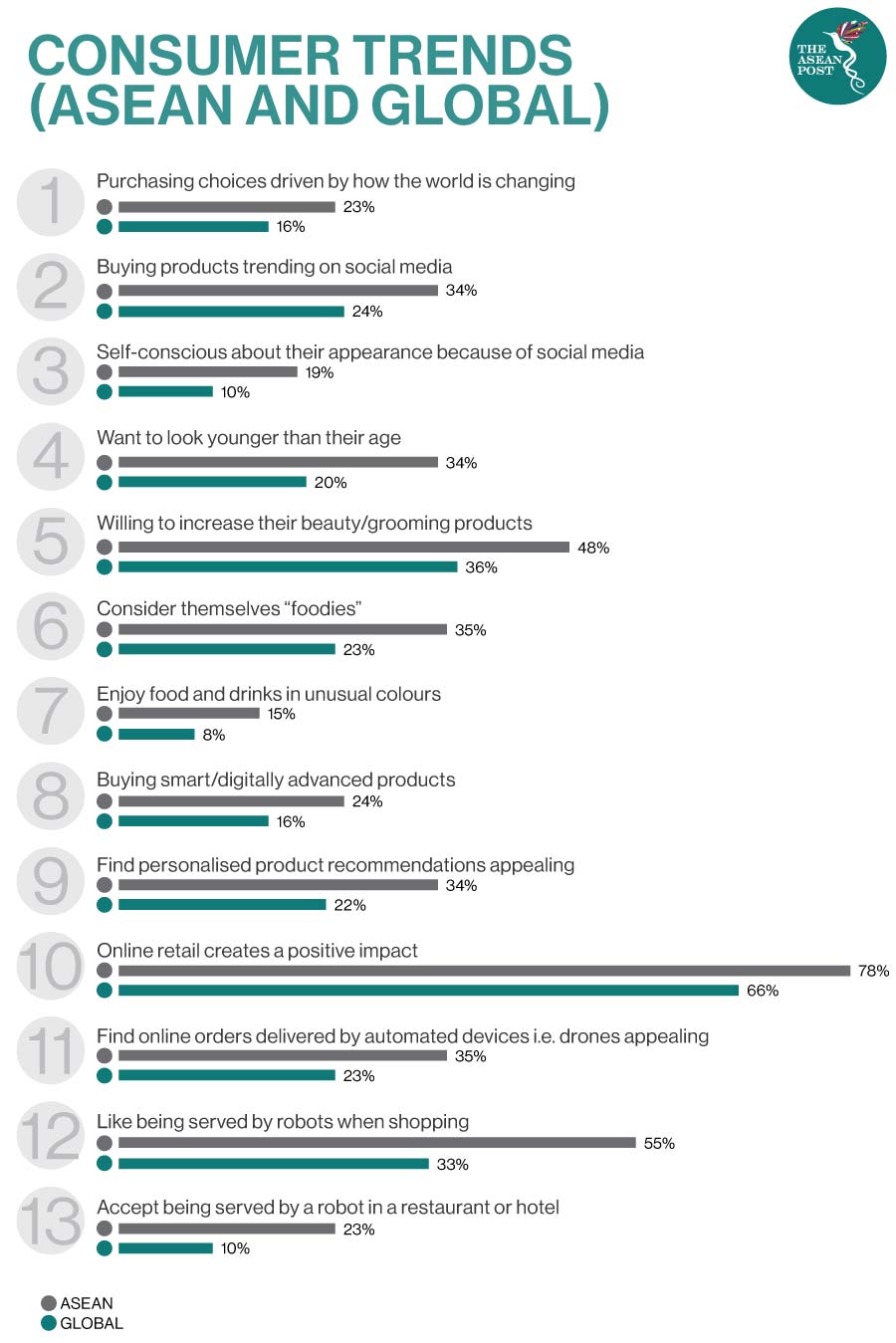 Social Media Fuels Spending 
The internet is the conduit for ASEAN residents to view global affairs, and global social media platforms are the main channels of choice. Southeast Asians are 40 percent more likely than their global counterparts to actively buy products that are trending on social media. 
This is particularly the case for food and drink. ASEAN consumers are 50 percent more likely to consider themselves 'foodies' over their global counterparts and nearly twice as likely to enjoy food and drink in unusual colours – presumably for Instagram appeal.
The connectivity and reliance on social media as a lifestyle accessory were significant drivers of consumer purchasing patterns in the region pre coronavirus.  For instance, ASEAN respondents indicated that they are 70 percent more likely than their global counterparts to want to look younger than their age and are prepared to put up the cash to help their cause. They are 25 percent more willing to increase the number of products they use in their grooming regime to enhance their appearance. 
After weeks in lockdown with little to do apart from studying social media, retailers and foodservice providers can expect a bounce in spending once consumers from Southeast Asia return to shopping malls and start posting pictures of their meals and new looks on Instagram.
Of course, the world we emerge back into after lockdown will have changed from the one we left behind earlier in the year. Technology has helped office workers keep their jobs while working from home and also provided the means for the rest of the household to amuse themselves. 
Enthusiasm For New Technology
Southeast Asia has for a long time been amongst the most enthusiastic regions in the world for taking on new technologies, being 50 percent more likely than the global average to purchase depending on how digitally advanced or smart the product or service is.
Although global consumers often voice concerns over privacy with facial recognition technology, ASEAN consumers are more open as long as there is a benefit at the end. For instance, they are 70 percent more likely to find appealing personalised product recommendations based on automatic facial recognition technology. And ASEAN consumers, ever the enthusiasts for online shopping are 50 percent more likely to find the concept of drone or driverless car delivery of their shopping to be very appealing. 
And when it comes to preparing for the next pandemic lockdown, ASEAN consumers are well placed to ensure that the latest technology can help serve their needs. They are 50 percent more likely than their global counterparts to welcome online orders delivered by drones or driverless cars and 60 percent more likely than their global counterparts to want to produce their own food at home using a 3D printer. 
Presumably they will be going to the internet to find the best printed food recipes from famous food bloggers and then sharing photos of their latest creations on Instagram. 
Related articles:
WHO troubled by coronavirus rapid escalation