Numerous industries around the world have been hit hard by the coronavirus pandemic – some more than others. The aviation industry was one of the first sectors to feel the pinch from the deadly virus outbreak. Nationwide lockdowns, controlled borders and travel restrictions imposed by governments as preventative measures to contain the disease have resulted in significant reductions in passenger numbers. Fuelled by virus fears while urged to stay home – most people are avoiding any kind of travel which has further contributed to the low demand for air transportation. 
The COVID-19 novel coronavirus has prompted many to cancel their flights and travel plans amid the global health crisis. In March, it was reported that 10 percent of flights were cancelled compared to the same period of time last year. By April, over 80 percent of all flight movements were restricted across all regions.
The International Air Transport Association (IATA) estimates that global airlines will lose up to a maximum of US$314 billion in 2020 revenues. The IATA also added that air traffic will not bounce back to where it once stood before the pandemic until at least 2023. 
The COVID-19 pandemic has seen millions of retrenchments, revoked job offers and salary reductions. Unfortunately, the aviation industry is not exempted from this grim trend. This is visible first-hand in the region with Malaysia's national carrier, Malaysia Airlines that has asked thousands of its employees to take voluntary unpaid leave since April. Local media in the ASEAN member state reported that the airline had offered all employees the option of either going on three-month no-pay leave or five-day no-pay leave per month for at least three months. 
In more recent news, it was reported that Boeing, the world's largest aerospace company had initiated layoffs and is expected to cut more than 13,000 jobs.
"The COVID-19 pandemic's devastating impact on the airline industry means a deep cut in the number of commercial jets and services our customers will need over the next few years, which in turn means fewer jobs on our lines and in our offices," said Boeing CEO David Calhoun in a letter to his employees.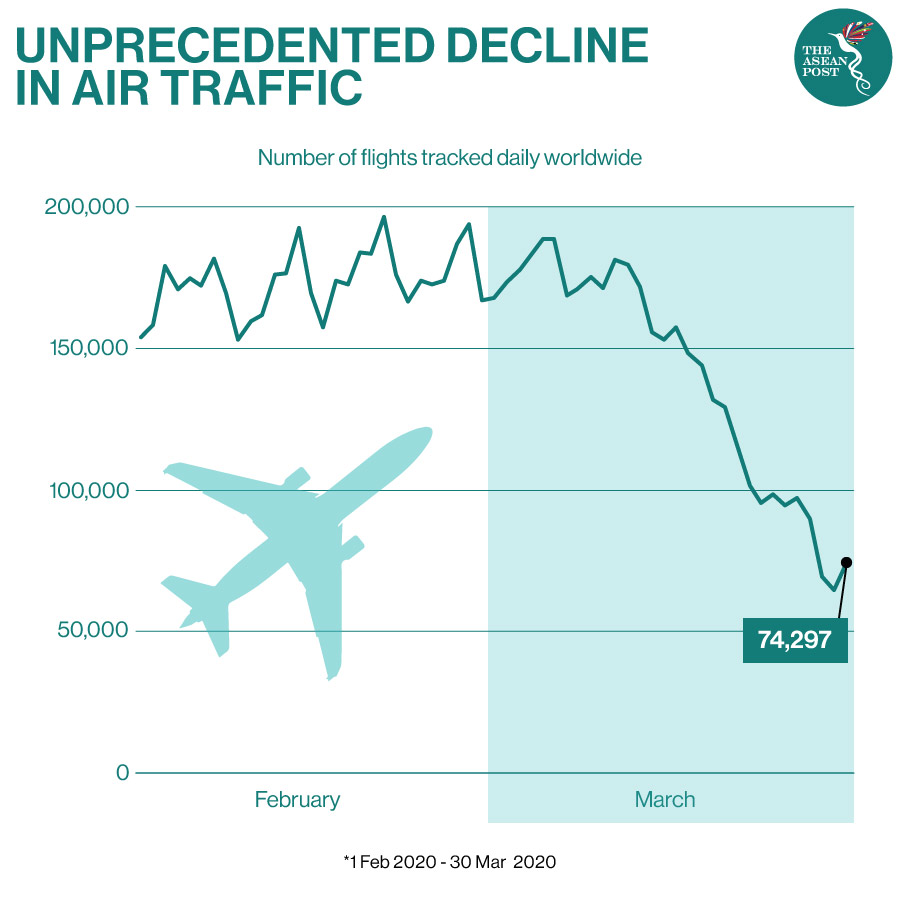 Some airlines such as budget carrier AirAsia and Vietnam Airlines have had to temporarily suspend operations and all of their international flights. The situation is even more dire for some airlines that have already decided to throw in the towel. One such case is British airline, Flybe which has cited the COVID-19 pandemic as its main reason for halting operations and filing for bankruptcy. Aviation consultant, Centre for Aviation (CAPA) has warned that "most" of the world's airlines could be facing bankruptcy by the end of May due to the ongoing crisis.
ASEAN Airlines
Other airlines in Southeast Asia are facing a bleak outlook too. With empty tourist hotspots in the region and many barred from traveling – some airlines have grounded most of their planes and have cancelled new aircraft purchases. 
Singapore Airlines – considered one of the world's best carriers – recently recorded its first-ever annual loss, citing poor fuel hedging bets and a drop in demand driven by the coronavirus crisis. The airline reported an estimated SG$212 million (US$149.14 million) net loss for the financial year ended 31 March, down from a profit of SG$683 million (US$483) a year earlier.
Singapore Airlines will also cut 96 percent of its capacity through the end of June. Whereas Scoot – the low-cost airline and subsidiary of Singapore Airlines – has already cut 93 percent of its capacity, based on local media reports. 
Over in Thailand, flag carrier Thai Airways has been in crisis even before the pandemic. The airline has been reporting losses every year since 2013, except for 2016. Just last year, Thai Airways reported losses of BHT12.04 billion (US$376 million). With the outbreak and virus-hit tourism industry in the kingdom, the future of the carrier now looks even bleaker.
The government of Thailand has said that it plans to submit a rehabilitation plan for the airline to a bankruptcy court instead of opting for a planned rescue. 
"The committee agreed in principle for Thai Airways to enter the rehabilitation process," said government spokeswoman Narumon Pinyosinwat to local reporters, referring to a committee that oversees policies for state enterprises. She also added that restructuring via a bankruptcy court is not the same thing as filing for bankruptcy or being wound up. 
Never The Same Again?
Your flight experience is likely to be different in a post-pandemic world.  
According to Singapore Airlines, passengers would have to adapt to a different travel experience when air travel picks up again. Some airlines would probably retract food offers and magazines would perhaps be removed. Temperature checks before flights will be a new normal. The much debated COVID-19 'immunity passports' could even be included as temporary biosecurity measures.
"Obviously, the concern now is on safety and health. There are a few themes out there, for example, wearing masks, social distancing and contactless services," said Mak Swee Wah, executive vice-president of operations for Singapore Airlines. 
"And to the question of social distancing in particular on planes, it is still not determined at this time the efficacy of such measures. There are many discussions ongoing between the various authorities and airlines... but it is too early to make an announcement on this."
Related articles:
Pandemic: Grim Future For ASEAN's Workers