The COVID-19 pandemic started in the city of Wuhan in China. However, the once epicentre of the virus has closed all of its public facility-turned temporary hospitals on 10 March as the number of infected patients continues to decrease. According to local media in the country, life in China is gradually returning to normal since the lockdown. As the country slowly heals from the outbreak, other nations across the world are scrambling to combat and contain the deadly virus.
In Southeast Asia, Malaysia has the highest number of COVID-19 cases and the infections are showing no signs of slowing down. What started as a harmless religious gathering in the country soon became a regional manhunt for those suspected of carrying the virus.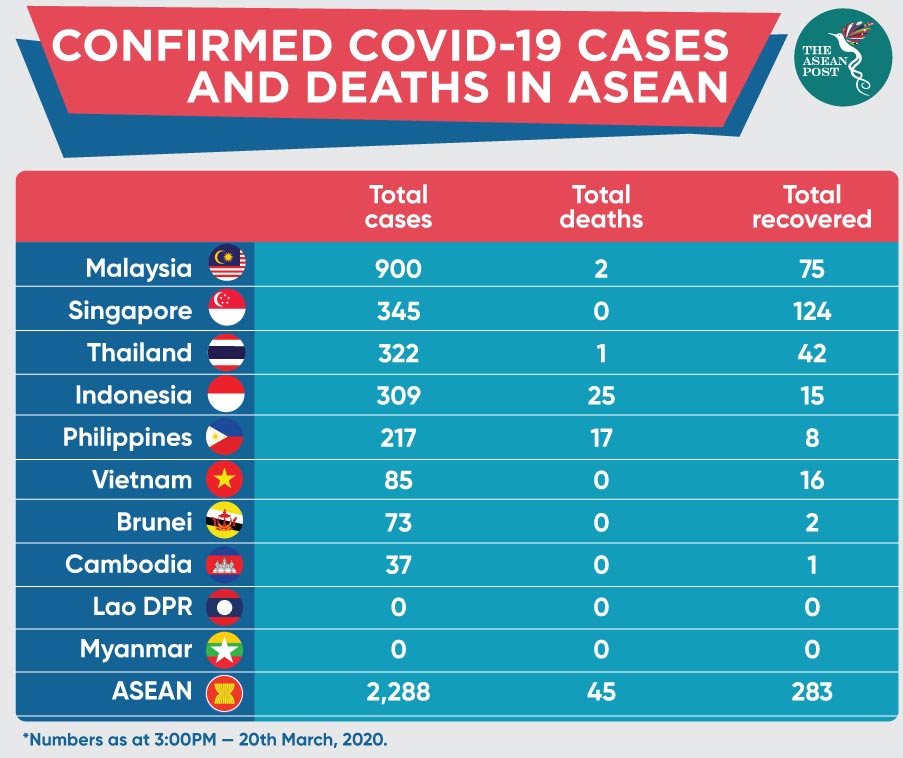 On 27 February to 1 March, the Islamic missionary movement, Tablighi Jama'at, hosted a religious event in Sri Petaling, a suburb in the capital city of Kuala Lumpur in Malaysia. 16,000 people attended the event. Of those participants, 14,500 were Malaysians, while 1,500 were foreigners from Brunei, Indonesia, Singapore and some other countries.  This was not the first mass gathering for a religious event in Malaysia since the outbreak started in late 2019.
In early February, Hindus in Malaysia gathered in temples across the country to celebrate the annual Thaipusam festival despite concerns about the new virus outbreak. Nevertheless, no cases were reported from that event at the time, and Malaysia was still able to contain the virus. Throughout the month of February, Malaysia reported less than 50 cases of positive infections.
However, the number of cases soared from 99 on 8 March to a whopping 200 people in less than a week. Since then, the figure has steadily continued to rise. The majority of cases reported were linked to the Sri Petaling tabligh event. As of 19 March, 900 people had been infected with the virus and two deaths were recorded in Malaysia; one, a pastor from Kuching located in the East Malaysia state of Sarawak and a 34-year-old man who attended the tabligh event in Sri Petaling.
At the time of the religious event in Malaysia, the country was in political turmoil as former premier Mahathir Mohamad resigned from his position and an alleged 'backdoor government' was formed. The country then greeted fresh Cabinet ministers under a new government which was criticised heavily by Malaysians. During that period of transition, more attention was paid to politics rather than preparing for the imminent virus outbreak. 
As of 12 March, neighbouring Brunei reported around 10 COVID-19 cases, all linked to the same tabligh event in Malaysia. Whereas Singapore is still in the midst of identifying 95 people who attended the fateful mass gathering. These people could pose a threat to their respective countries as they might spread the virus further and infect other citizens. It was reported that Malaysia has traced 10,650 people who attended the event with 513 people testing positive for the virus, as of 19 March. 
Even after public outcry over mass religious gatherings following the rise in number of COVID-19 cases in Malaysia, only Perlis, a state located in the north of the country, issued a decree for Muslims to hold Friday prayers at home instead of congregating in mosques. Other states in the country still proceeded with mass prayers on Friday, 13 March.
Controlled movement 
The drastic rise in COVID-19 cases prompted the Malaysian government to announced a 'movement control order' – referred to by some local media outlets as a 'partial lockdown' – on 16 March. The implementation of the two-week lockdown started on 18 March, where a complete ban on all gatherings including religious activities was enforced. The order also restricts all overseas travel by Malaysians and arrivals of foreigners into the country. Other than that, some businesses, schools and universities were also closed leaving those involved in providing essential services such as banks and hypermarkets to remain open. 
The late-night televised announcement made by Muhyiddin Yassin, Malaysia's newly minted prime minister triggered panic buying across grocery stores and markets in the country. The order also sparked chaos as a sea of people – particularly students – swarmed bus stations in order to return to their hometowns. Massive crowds queued in lines to purchase tickets for their journey back to their families. This heightened fears among observers that people were unknowingly spreading the virus to other states.
Unfortunately, it was reported that a man who tested positive for the virus had travelled by bus from Johor, a southern state in Malaysia to the east coast state of Pahang on that same fateful night. 
How did a mass gathering for a religious occasion create such a chaotic chain of events?
A former Thai lawmaker who attended the event but has since tested negative for the virus, Surachet Wae-asae told the media that "in Malaysia, God is very important. The belief is strong."
Since the partial lockdown was implemented, some people still did not entirely agree with the closure of places of worship as it is believed that in trying times like these, praying to God is the best solution.
New waves
According to media reports, South Korea and Singapore are among the Asian countries facing a second coronavirus wave, fuelled by people importing it in from outside. Singapore diplomat, Bilahari Kausikan on his social media account said "that Tablighi event in KL (Kuala Lumpur) ... could also cause a regional spike and it was irresponsible for the authorities to have allowed it to be held." 
The Sri Petaling event in Malaysia has triggered fears among Southeast Asia nations as the virus could potentially harm efforts already made by neighbouring countries. 
However, in Indonesia, thousands of Muslim pilgrims from across Asia went ahead and gathered on 18 March for a four-day assembly called Ijtima Dunia Zona Asia 2020 or 'World Ijtima Asia Zone 2020', which was organised by the Tablighi Jama'at. This sparked further outrage and criticism from the general public and some world leaders. 
Subsequently, on 19 March, it was reported that 1,500 Catholics attended an ordination mass for a new bishop in Indonesia's Manggarai regency, despite restrictions on mass gatherings over fears of the virus outbreak. Indonesia didn't report any coronavirus infections until the first week of March, which has recently seen a spike in cases in the past few days with the total number of infections reaching 309 with multiple deaths. However, the figure could be larger as the international media has reported that Indonesian president, Joko Widodo had allegedly suppressed data on the coronavirus outbreak.  
Thailand and Malaysia are both preparing for third waves of infections. 
Thai Prime Minister Prayut Chan-o-cha said that his government would highly consider a nationwide lockdown should a third-stage outbreak of the virus occur. Preparations and facilities are already in place to cope with a possible third wave. 
In Malaysia, an extension of the two-week lockdown could possibly take effect if the numbers continue to rise. The country has warned its citizens that a tsunami-like third wave of infections could happen if the lockdown is not adhered to. "Please, just for these two weeks... we want to break the chain of infection," pleaded prime minister Muhyiddin Yassin. The hashtag 'DudukRumahDiamDiam' (Just stay at home) is currently trending on Twitter to encourage Malaysians to stay indoors.
Related articles:
Deadly virus is costing Vietnam's kids dearly