Myanmar is set to hold general elections on 8 November amid a second wave of the COVID-19 outbreak. A total of 6,969 candidates from political parties and independent runners will vie for 1,171 seats at three levels of parliament in the polls. 
Widely admired civilian leader Aung San Suu Kyi's National League for Democracy (NLD) is expected to be returned to power in the upcoming election, the second since the kingdom emerged from military rule. 
Myanmar's election campaign began early September; however, a recent surge of coronavirus cases has prompted some parties to call for the polls to be delayed.
Myanmar was in a comfortable position once, recording just 374 confirmed cases on 16 August. However, just two months later, COVID-19 cases have now soared to 37,205 with 914 coronavirus-related deaths so far. It was reported that medical professionals in the country are struggling to cope with roughly about 1,000 new cases each day. Health experts claim that Myanmar's public health system is now at breaking point.
The outbreak has raised questions about the viability of an election as authorities pour resources into combatting the virus, whereas preventative measures such as lockdowns leave candidates unable to campaign as normal. 
However, Myanmar still plans to push ahead with the November election with Suu Kyi stating in a broadcast earlier this month that the election was "more important than COVID."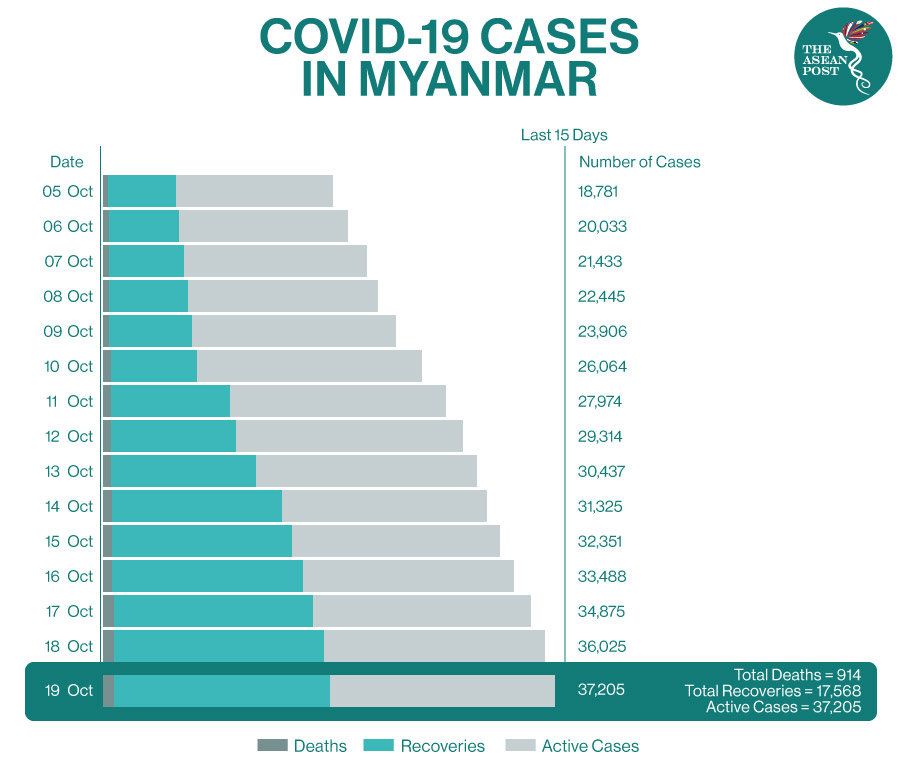 "The government should not sacrifice the people... If it's not suitable to hold the election, postpone it," said Than Htay, head of the military-linked Union Solidarity and Development Party (USDP), adding that he was "very concerned" about holding the vote during the pandemic.
The People's Pioneer Party, in a Facebook post, also called for a delay to allow the vote to be held "fairly and without chaos."
"Fairly" is perhaps a concept that is difficult to grasp in Myanmar's electoral process.
Electoral Process
Human Rights Watch (HRW) recently released a report on 5 October titled, "Myanmar: Election Fundamentally Flawed." The rights watchdog said that the country's electoral process is undermined by systemic problems and rights abuses that will deprive people of their right to fairly elect their government. 
"It's a milestone for Myanmar to be holding a second multiparty election, but however long the lines are to vote, this election will be fundamentally flawed," said Brad Adams, HRW Asia director.
"The election can't be free and fair so long as a quarter of the seats are reserved for the military, access to state media isn't equal, government critics face censorship or arrest, and Rohingya are denied participation in the vote," he continued.
The HRW also notes that many internationally recognised elements for a free and fair election are missing from Myanmar's electoral process. These include the rights to freedom of expression, peaceful assembly and movement, participation by candidates and voters in an environment free from violence, universal and equal suffrage, the right to run for office, and freedom from discrimination, among others.
Recently, it was reported that more than 1.1 million voters in Myanmar's western Rakhine state will be disenfranchised in the national polls. The country's election commission said security reasons meant voting would not take place in areas with hundreds of thousands more people – including more than 800,000 in Rakhine. 
"Those particular areas cannot guarantee conditions to hold free and fair elections and that is why the election is cancelled," read the announcement.
Nevertheless, some believe that the decision to cancel the vote had been taken for political rather than security reasons.
"Most townships in Rakhine state where elections will not be held are areas the ANP would definitely win, so this is a deliberate ploy," said Tun Aung Kyaw, secretary of the ethnic Rakhine Arakan National Party (ANP), adding that it was "discrimination" against ethnic minorities.
There is also the issue with Myanmar's ethnic Rohingya population which has been denied the right to vote or run for office as they are not considered citizens. 
Other electoral problems cited by the HRW include reservation of 25 percent of parliamentary seats for the military, unequal access to government media and the lack of an independent election commission and complaints resolution mechanism.
Other Elections
As previously mentioned, despite growing calls for a postponement amid an increase of COVID-19 cases in the country, the upcoming elections will proceed as scheduled. However, Myanmar won't be the only country to carry out elections during the pandemic.
A number of nation states have held elections this year despite the COVID-19 pandemic. The closest example is city-state Singapore which was the first ASEAN member state to hold national elections amid the pandemic. 
Nevertheless, to compare Myanmar and Singapore would be a little far-fetched. 
According to an analysis published by a media outlet in Malaysia titled, "Ensure democracy, health, rule of law," Singapore is a microstate largely dependent on foreign investment. This means that hosting safe and fair elections despite the COVID-19 crisis shows priority for rules-based order and national health. 
Other than that, Myanmar is far from being in the same league of preparedness as Singapore, as the island state has one of the best health care systems in the world. 
Nevertheless, if Myanmar were to postpone its election, it would not be alone. It was reported that about two-thirds of all countries scheduled to hold elections in 2020 have decided to postpone them, including Australia, Italy, Germany, India and the United Kingdom.
Related Articles:
Obstacles To Myanmar's Growth In 2020