The ASEAN Post recently published an article on whether 2020 will be a good year for Myanmar's economy. That article noted that the ASEAN +3 Macroeconomic Research Office (AMRO) had given Myanmar's economy a positive outlook for the fiscal year of 2019 to 2020; expecting it to expand by 7.1 percent up from 6.8 percent in the previous fiscal year. However, there may be some events that could act as obstacles to this growth.
The positive outlook is largely thanks to reform momentum, improving business sentiments, growth in manufacturing, tourism related expansion and stronger fiscal spending. According to AMRO, the five key sectors with growth potential in Myanmar this year are (1) the tourism industry, (2) property, (3) insurance, (4) digital transactions and (5) the stock exchange business.
However, according to reports, economists have noted that the downside is the ongoing Rakhine crisis as well as the lawsuit filed against Myanmar in the International Court of Justice (ICJ) by Gambia, which could tarnish the country's image as an investment destination. One of the five key growth sectors this could clearly impact is the tourism industry.
Myanmar has taken several measures to attract tourists. Among these measures are relaxed visa requirements. Aside from that, there have also been a slew of new flight routes coming in and out of Myanmar and neighbouring countries including India, China, Cambodia, and Thailand all throughout last year.
According to open data platform, Knoema, in 2018, contribution of travel and tourism to Myanmar's gross domestic product (GDP) was 6.8 percent. A spokesperson from Responsible Travel was quoted as saying that a fresh boycott (on tourism to Myanmar) has a potential to hurt local communities "dependent on tourism for their livelihoods and future more than the government".
Liddy Pleasant, managing director of Stubborn Mule Travel, shares the same view, describing how large parts of the country now rely heavily on tourism. She said that avoiding travel to Myanmar would have a "profound impact on local people".
Nevertheless, news of Rohingya allegedly being slaughtered as well as supposed ethnic cleansing, not to mention the many internet blackouts in Rakhine will unquestionably have some impact on Myanmar's tourism sector. Articles have already popped up all over the internet on whether or not "visiting Myanmar is ethical".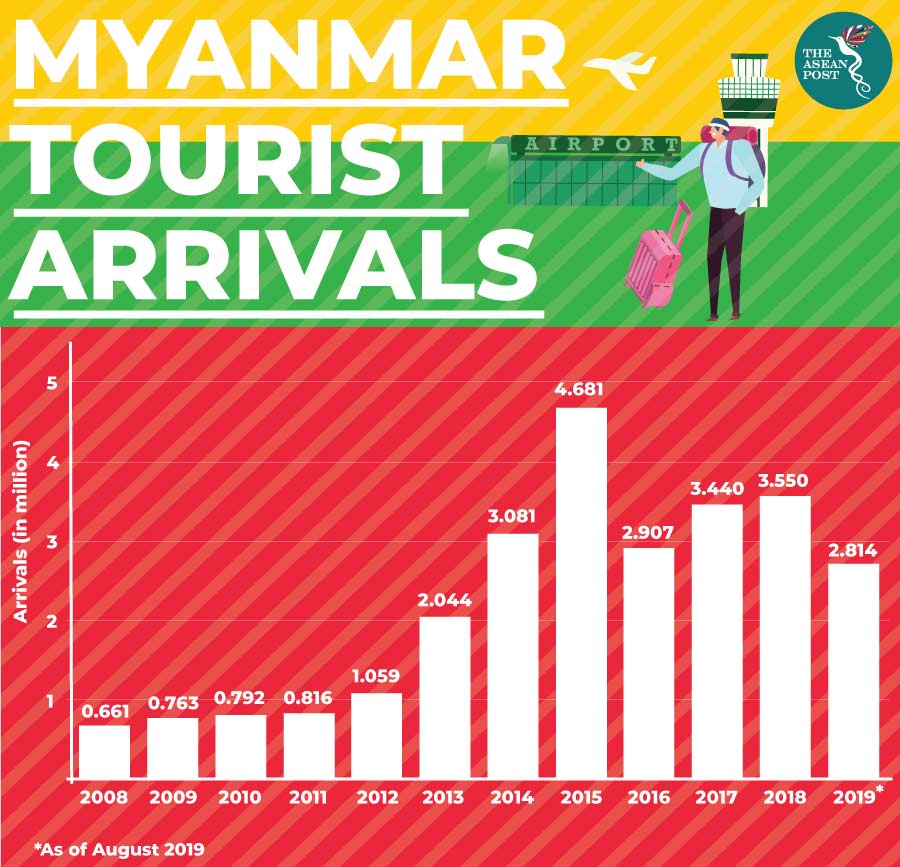 An election year 
Aside from the matter mentioned above, Myanmar is also expected to hold a general election in 2020. Many investors will wait and see how things unfold in the political landscape before investing further in the country.
The election, tentatively scheduled for November 2020, will essentially pit Myanmar State Counsellor Aung San Suu Kyi's National League for Democracy (NLD) against the military-aligned Union Solidarity and Development Party (USDP), the country's two major political parties.
The NLD was victorious back in 2015 following Myanmar's first competitive election in 25 years. This shift to a quasi-democracy had many hoping that it would fuel a foreign investment-led economic boom. This boom, however, has been constrained by a power-sharing arrangement between the NLD and the autonomous military, which controls the crucial defense, home affairs and border affairs ministries.
"The slowdown in activity is almost inevitable and local businesses are already using this as an excuse to limit their activities," said Tony Picon, who runs a Myanmar-focused property consultancy.
According to data from the World Bank, Myanmar's net foreign direct investment (FDI) fell to 1.8 percent of GDP in 2018, down from six percent in 2017. Both, local and foreign businessmen say that the downturn had been driven by uncertainty over who will be the next government as much as it was over election-related disruptions.
Thaw Zin, who owns a restaurant and serviced apartment in Yangon, says that local businesses have rising concerns about social and political instability in the months leading up to and after the polls.
"Instability of any kind drives customers away from businesses, which is not what we want. We are reliant upon tourists, so fewer of them means less revenue for us," he added. 
So, while Myanmar may look like it's heading upwards, there are a few obstacles that may get in the way of that upward climb. Let's see how the year pans out.
Related articles:
Can Myanmar attract more tourists?