A few weeks ago, a video of a large crowd of monkeys going berserk in a street in Thailand went viral on social media. The footage showed the monkeys scrambling and brawling over food. Thailand, a famous tourist destination in Southeast Asia has seen a drastic drop in the number of tourists since the outbreak of the COVID-19 virus. Some animals, like the stray monkeys in the video, have become dependent on tourists for food as they are typically fed by them. 
The COVID-19 pandemic has greatly impacted the global economy, local industries and livelihoods. Animals have also felt the repercussions of the virus as they too are left to starve like many unfortunate humans. 
The COVID-19 virus first emerged in the central Hubei province in China, where over 80,000 people have been infected. The country was the first to impose drastic measures to break the chain of infection, this included citywide lockdowns and travel curbs. Amid the virus lockdown, pets were trapped in empty homes as their owners were unable to return home to feed them. According to media reports, around 50,000 pets were abandoned in the city of Wuhan in China during the lockdown. Some of these animals died from starvation or were "only clinging to life", according to animal welfare rescuers as they began supplying food and water for these abandoned pets. 
In Southeast Asia, animals in zoos or in captivity have been making local media headlines as they too feel the pinch from the effects of the new coronavirus. 
In February, tourist arrivals in Thailand dropped by 77 percent, 99 percent of cancellations were from China. Thailand anticipates the loss of five million tourists this year, taking with them BHT250 billion (over US$8 billion) in revenue, according to Don Nakornthab, Director of Economic Policy at the Bank of Thailand. Elephant camps in Southeast Asia have received criticism over the years for their alleged mistreatment of animals. Other than reports of abuse, the wild elephants face an even grimmer future now as most of them are faced with the grim prospect of starvation. 
Thailand, famous for its elephant tourism, has seen a few of these animal camps closed down since the outbreak started and impacted the country's tourism industry. The Project Director of newly founded Tree Tops Elephant Reserve in Phuket, Thailand told local media that "the mass closure of the elephant camps in Phuket has left hundreds of elephants in danger of being chained up continuously at the camps".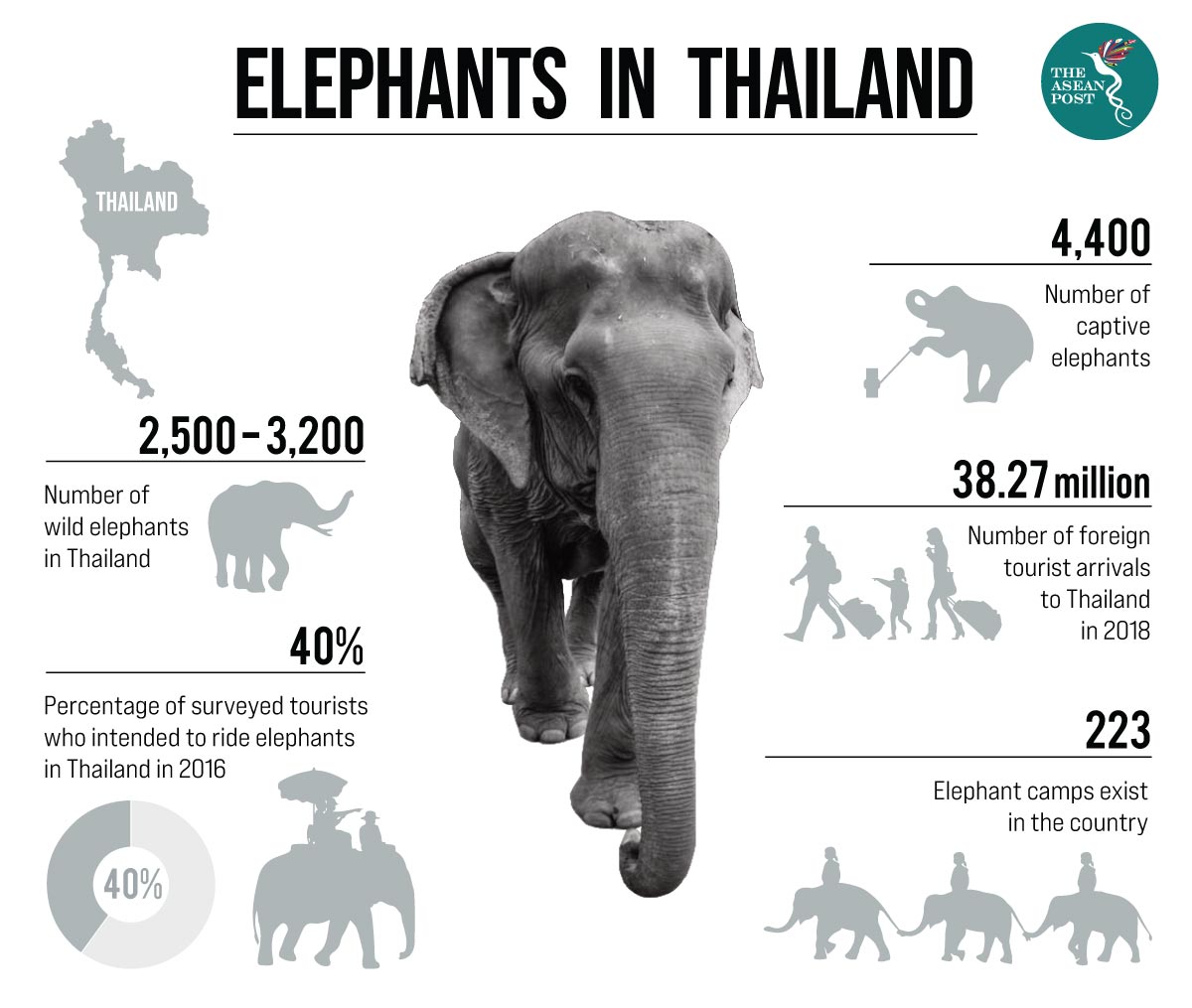 It was reported that those who manage the elephant camps find it impossible now to pay their weekly bills as their major source of income (tourism) has ground to a halt. According to Apichet Duangdee, who runs Elephant Rescue Park, BHT1,000 (US$30) a day is needed to maintain each elephant. As an estimated 2,000 wild elephants are currently left chained in camps with no visitors to entertain, concerns over the welfare of these animals is mounting among activists. Theerapat Trungprakan, president of the Thai Elephant Alliance Association expressed his fear to local media that these wild animals could possibly end up being used in illegal logging operations. 
In neighbouring Malaysia, the country's National Zoo (Zoo Negara) saw a significant drop in the number of visitors as a strict movement control order (MCO) was enacted on 18 March. The partial lockdown which is to end on 14 April has affected the zoo and its animals as it is facing a financial crisis and severe lack of funding. It was reported that the National Zoo has sufficient funds to sustain its operations for another three months only. 
"The temporary closure during MCO is a major challenge to cover our operating costs because Zoo Negara earns money through ticket sales, event rentals, company sponsorships and public donations," said Rosly Rahmat Ahmat Lana, the Deputy President of the zoo to local media.
This has alarmed members of the public and many have come forward to ask how they can help the National Zoo. The zoo has also started an adoption campaign called 'Adopt An Animal' by putting out posters of their many animals that require care and food. This campaign enables the public to "adopt" and donate funds based on available packages provided by the zoo. The campaign posters have been shared and spread on social media and have gained much attention from Malaysians. 
The COVID-19 pandemic has affected the lives of many, including animals. The concern of animal welfare during this time of crisis has not only been raised in Asia, but also in many Western countries as well. 
The Director of the Berlin Zoo, Andreas Knieriem expressed his fears and hopes to the media regarding the impacts of the pandemic on livelihoods and wildlife: "I am crossing my fingers that we will all soon have survived this difficult time".
Related articles:
Tourism in Thailand and Cambodia take a virus hit