Coworking has turned into a global industry. According to Coworking Resources, which studied the growth of the trend, there are currently an estimated 19,000-office spaces and 1.7 million members around the world.
Brad Neuberg coined the term after his San Francisco Coworking Space at Spiral Muse, back in 2005. Neuberg's concept of collaborative space gained ground, catching the attention of entrepreneurs and freelancers across the United States (US) and later the world. The number of coworking offices will reach 25,000 spaces in 2022.
Though the projections for 2019 will be slower, the industry continues to grow at a strong pace. Big companies like Impact Hub, WeWork and Industrious are set to dominate the global market. 
In a research publication by Cushman & Wakefield, it was found that coworking is expanding rapidly in Southeast Asia due to its fast-growing economies and tech-savvy population. Higher internet penetration in Southeast Asia along with the rapid development of e-commerce are behind the rise of coworking spaces. Singapore is currently home to the largest start-up ecosystem in the ASEAN region, followed by Malaysia, Philippines, Thailand, Vietnam and Indonesia.
Work, reimagined
The internet has made conventional office organisation unnecessary. The convenient work setup of coworking, with opportunities for networking and collaboration, all packaged into a vibrant and dynamic atmosphere are reshaping today's modern workplace. Coworking spaces transitioned from the eccentric alternative work environment for young people and freelancers to an attractive business solution for companies of all sizes.
The draw to coworking is simple economics – short contract commitments, individual membership structures, allowances to grow, expand and scale down if need to. It offers flexibility that is critical for young companies and start-ups to survive with only what it needs. A collaborative culture along with well-curated networking events, fosters the healthy growth of budding start-ups.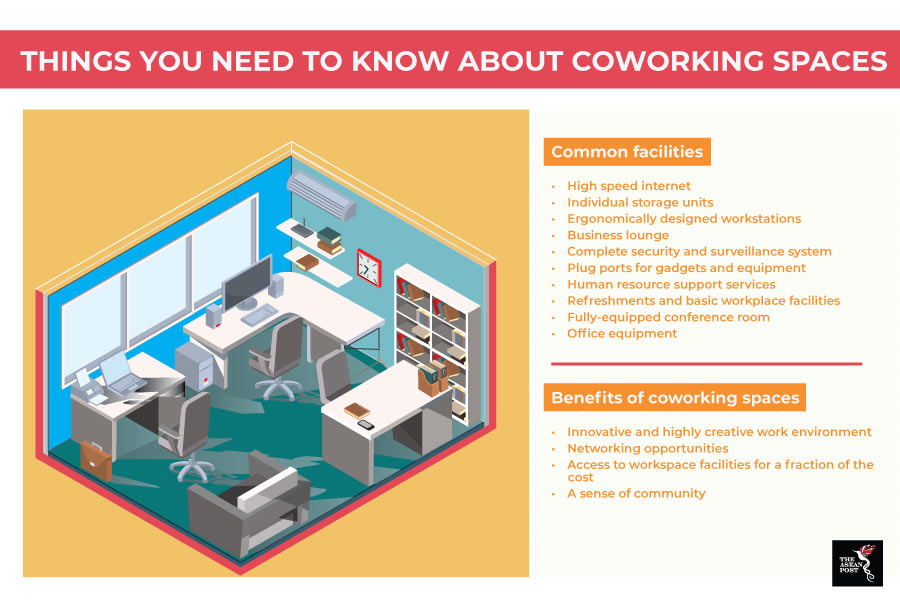 Sources: Various
Coworking is a cheaper solution for office space in expensive cities such as Singapore. This platform for freelancers and start-ups is on the radar of large corporates who are driven by the demand for flexibility, cost, convenience, innovation and community. Large corporations are seeking alternative, activity-based workplaces to nurture employee talent and further business growth. 
Beyond standard services, coworking spaces are now equipped with fitness centres, community bars, event spaces and even retail shopping. The Start Saigon in Vietnam even has a swimming pool.
The standard formula for coworking spaces entails providing affordable arrangements ranging from small office suites to a single "hot" desk, coupled with easy access to public transport and urban locations. 
ASEAN ecosystem
The flourishing start-up ecosystem of ASEAN is accelerating the evolution of the shared working environment in Southeast Asia. The region's vibrant culture is also fuelling demand in emerging market cities such as Manila, Jakarta and Ho Chi Minh City.
Innovation hubs and start-up incubators are growing with government support and funding activity. The government of Singapore has taken a pro-active stance in nurturing technological capabilities in various sectors, while Indonesia is supporting the development of tech-based start-ups through capital incentives and infrastructure facilities. Further north, Vietnamese policy makers are setting up coworking spaces for start-up companies to transform Vietnam into a start-up nation by 2020. 
Southeast Asia sees coworking as a way to increase entrepreneurship, serving as a touchpoint for start-ups and investors seeking to connect with each other. Coworking spaces like Impact Hub and The Hive offer access to a regional network across cities like Bangkok, Singapore and Manila.
New York based giant, WeWork popularised the concept of communal workspace, whose pipeline for Asia Pacific includes 31 centres in 13 markets across the region. WeWork is in Singapore and has recently launched in Malaysia. Turochas "T" Fuad, the managing director of WeWork in Southeast Asia, has said that Southeast Asia is set to be a major player in the coworking spaces market, but "we are still in the starting out phase." 
Coworking has also revolutionised the commercial real estate market. WeWork claims their presence in a development apparently increases the property's valuation. "Whenever WeWork ends up in a building, the valuation of that property goes up typically between 40 percent and 150 percent," added Fuad. Across the region, landlords are joining in the fad and embracing coworking concepts to give life to their buildings and help incubate firms that will eventually lease office spaces at their properties.
New models to coworking are continuously coming into the market, and with it an increase in competition and innovation. As Southeast Asia's continues to grow, workplace culture will evolve and coworking will soon be vital to the economies of the region.
Related articles:
Are ASEAN's Internet speeds world class?