As the world's population climbs to 8.5 billion by 2030, the resilience of forests to combat climate change, help mankind end hunger and maintain sustainable communities will be more important than ever.
The United Nations (UN) estimates that forests cover one third of the Earth's land mass, and around 1.6 billion people – including more than 2,000 indigenous cultures – depend on forests for their livelihood, food, fuel, shelter, clothing and medicine. Humans have relied on forests since time immemorial, and its role in keeping our air, soil and water clean cannot be understated.
In recognition of forests' unique ecological, economic, social and cultural roles, the UN Food and Agriculture Organization (FAO) celebrated International Day of Forests on Thursday (21 March). Held annually since 2013, it aims to raise more awareness of the most biologically-diverse ecosystem on land which plays host to more than 80 percent of the terrestrial species of animals, plants and insects.
Forest cover defends the planet from detrimental effects of climate change as trees remove carbon dioxide from the air, store carbon and release oxygen into the atmosphere.
Forests also play a vital role in preventing or reducing the risk of natural disasters such as floods and landslides from occurring. Trees prevent floods by increasing water absorption into the ground and averting landslides by helping to bind the soil with their roots, thus stopping soil erosion. 
A recent example is last week's flash floods and landslides in Indonesia's Papua province which left more than 100 people dead. Sutopo Purwo Nugroho, the spokesperson for Indonesia's National Agency for Disaster Management, said that local governments had been warned of the risks of flash floods due to deforestation in the mountains surrounding the affected area, with Jakarta sending seedlings for tree-planting in the area.
Despite the benefits forests offer, global deforestation remains a pressing issue and 13 million hectares of forest area is destroyed annually. In addition, deforestation accounts for 12 to 20 percent of global greenhouse gas (GHG) emissions that contribute to climate change.
Forests in ASEAN
Although ASEAN as a grouping is one of the world's fastest growing economies, the ASEAN Centre for Biodiversity notes that the region's 200 million hectares of forest cover is still one of its main assets and millions of ASEAN citizens rely on forest products for their livelihood.
"Our forests abound with species that provide ecosystem services to support the region's growing population, and they are home to millions of plant and animal species that serve as raw materials for businesses and industries," said Dr. Theresa Mundita S. Lim, Executive Director of the ASEAN Centre for Biodiversity.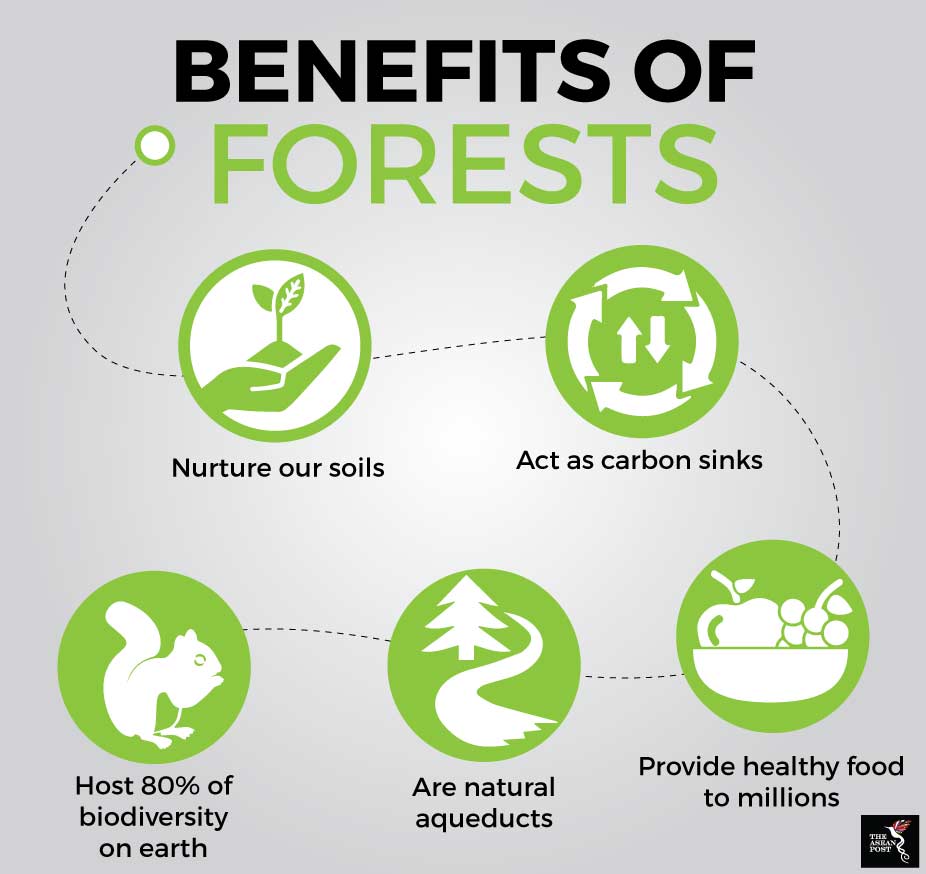 Source: Various
The ASEAN Centre for Biodiversity's flagship programme called ASEAN Heritage Parks (AHP) protects areas of high conservation importance, and the majority of the 44 ASEAN Heritage parks are forests.
Among the most popular eco-tourism attractions are the Khao Yai National Park in Thailand, Mount Makiling Forest Reserve in the Philippines, Bukit Timah Nature Reserve in Singapore and Kinabalu National Park in Malaysia.
Others such as the Nam Ha National Protected Area in Lao, the Alaungdaw Kathapa National Park in Myanmar and the Kon Ka Kinh National Park in Vietnam support agricultural production and electricity generation as well as help supply locals with firewood, honey and rattan.
Action plan
At the regional-level, the Strategic Plan of Action for ASEAN Cooperation on Forestry (2016-2025) stands out for its stance on enhancing the quantity and quality of production with sustainable green technologies, resource management systems and minimising pre and post-harvest losses and waste. 
Among its other strategic thrusts include enhancing trade facilitation, economic integration and market access as well as ensuring food security, food safety, better nutrition and equitable distribution.
Increasing resilience to climate change, natural disasters and other shocks, assisting resource constrained small producers and small and medium enterprises (SMEs) to improve productivity, technology and product quality to meet global market standards, and increasing competitiveness in line with the ASEAN Policy Blueprint on SME Development are among its other goals. 
Ultimately, strengthening ASEAN's joint approaches to promoting sustainable forest management is a goal Southeast Asia's governments, companies, organisations and individuals should all strive towards.
Related articles:
Shrinking biodiversity threatens mankind
Dozens buried in Philippine landslide