Among the first sectors sent reeling by COVID-19 were tourism and hospitality. According to the United Nations' (UN) agency, the World Tourism Organisation (UNWTO), international tourist numbers could plunge by as much as 80 percent in 2020. A report by the organisation last May showed that Asia and the Pacific saw the "highest impact in relative and absolute terms" in the first three months of 2020, with visitor arrivals falling by some 33 million.
As tourism and hospitality struggle amid the pandemic, so do other related-sectors such as the aviation and cruise industries. 
By May 2020, the deadly outbreak had spread to a number of cruise ships, with over 40 cruise ships confirming that they had coronavirus cases on board. The British-registered Diamond Princess was one of the ships severely hit by COVID-19. It was reported that more than 700 people caught the virus while around 14 people died from the disease. Back in February, the Diamond Princess accounted for over half of all coronavirus cases outside China. 
During that time, a number of countries and ports also prevented cruise ships from docking. For instance, the Westerdam, an American ship was blocked from several Asian ports over concerns that a passenger could be infected. The vessel finally docked at a Cambodian pier after being rejected by five countries. The World Economic Forum (WEF) states that even in April, many people were still left trapped on these cruise ships as borders slammed shut.
Some cruise lines also suspended their operations in order to curb the spread of the coronavirus, which caused many workers in the industry to lose their jobs. 
Filipinos comprise close to 30 percent of all workers onboard cruise ships globally, from cooks and bartenders to dancers and day care workers. However, once the pandemic struck and they were repatriated back to the Philippines, most of these cruise workers found themselves returning to a labour market with very few opportunities. This was due to virus restrictions which were battering the local hospitality industry.
Virus-Hit
Cruises were the fastest growing sector in the travel industry. In the past five years, demand had increased by 20.5 percent, according to professional services firm, KPMG. In 2018 it was estimated that the global cruise industry was worth approximately US$150 billion. 
"Statistics show that in 2017 around 26.7 million people chose to go on a cruise, followed by 28.5 million in 2018," KPMG stated in an article titled, "COVID-19 impacts on global cruise industry." The cruise industry was also expected to carry some 32 million passengers this year.
There are two main revenue channels for cruise ships which are ticket sales and on-board purchases such as alcoholic drinks, spa treatments and shore excursions. 
In the wake of the pandemic, there will likely be a significant financial impact on revenue for all cruise operators. Some of the largest cruise lines such as the Norwegian Cruise Line and Royal Caribbean Group have both experienced a 99 and 94 percent decrease in revenue in the second quarter of this year, compared to the same period in 2019.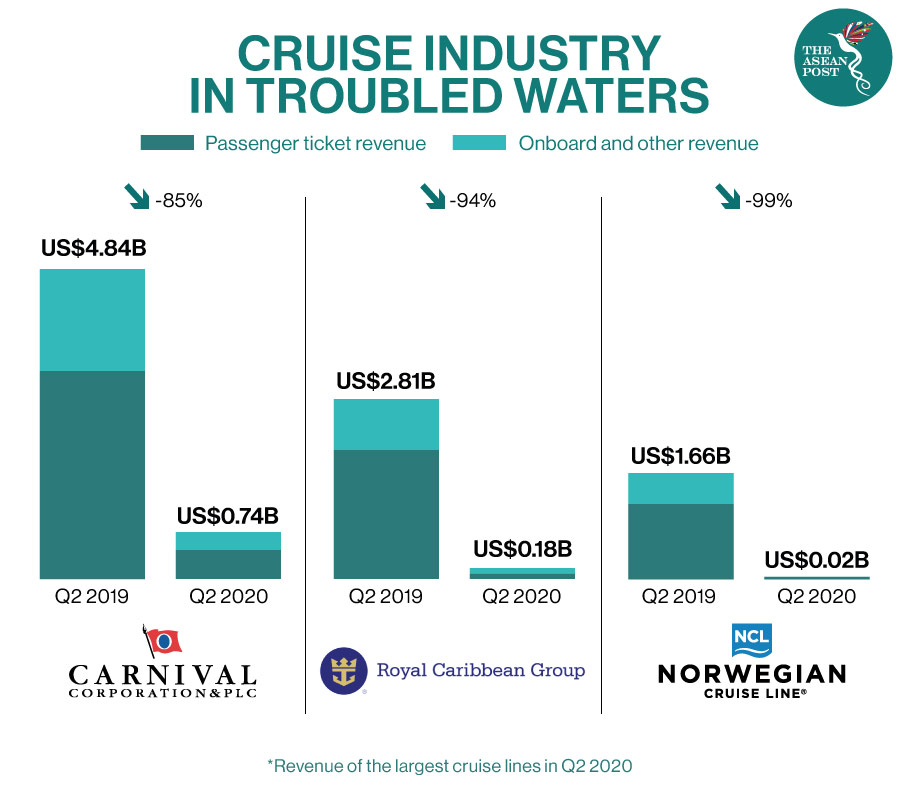 A few days ago, "eerie images" – as described by the World Economic Forum (WEF) – captured by a Reuters photographer showed colossal ships complete with swimming pools and high-end restaurants being pulled apart. 
Before the pandemic, Turkey's shipbreakers' yards handled the dismantling and recycling of cargo ships, explained Kamil Onal, chairman of a ship recycling industrialists' association. Nevertheless, by June, the yards in Turkey's west coast were already stripping five decommissioned cruise ships from the United Kingdom (UK), Italy and the United States (US) – with three more set to join them. 
Faced with declining revenues and a lack of passengers amid the crisis, some cruise liners are taking a devastating step of selling off older vessels for scrap, according to an article published on cruise review site, Cruise Critic.
Unfortunately, the impact of the coronavirus on the industry goes beyond ship owners and operators' futures. The WEF notes that many small nations rely on the revenue earned from guests on visiting ships and the related tourism activities including attractions and tours. The industry is said to contribute some US$2 billion to the Caribbean each year.
'Cruise To Nowhere'
As mentioned earlier, cruises were halted worldwide in March due to the COVID-19 pandemic, nevertheless, a few places have now resumed operations. 
Last Friday, hundreds of passengers were setting sail from Singapore on a "cruise to nowhere" which starts and ends at the same place, with no stops. Mask-wearing passengers lined up for coronavirus tests conducted by workers before boarding the World Dream liner. The cruise operator, Malaysia's Genting Group, introduced a raft of safety measures. The ship even has an intensive care unit, just in case anyone does contract the virus.
"The fact that you carry your luggage and you bring your passport out, I guess it's just the mindset that you're going on holiday," said Vinoth Arun, one of the 1,400 passengers on board. 
Tourism operators are now offering new services in order to survive; these include "flights to nowhere" and plane cafes that serve airline food in Thailand. 
Related Articles:
COVID-19: Cambodia PM Defends Ship Docking