To date, over 22 million people have been infected with the deadly coronavirus disease, which has claimed some 700,000 lives. Amid the health crisis, there has been a surge in demand for medical supplies and pharmaceuticals to combat the COVID-19 virus. Unfortunately, this has led to criminals taking advantage of the situation to earn fast money.
Back in March, Interpol coordinated a global operation targeting the online sale of illicit medicines and medical devices and seized more than 34,000 fake medical goods. Based on their report, the most counterfeited products are medicines (antivirals, herbal medicines and malaria treatments), medical equipment (face masks, disinfectants, fake coronavirus test kits, gloves and ventilators), and sanitisers (substandard hand sanitisers, soaps and cleaning wipes).
The falsification of medicines bears risks for public health as products may not properly and effectively treat a disease and may facilitate the development of drug resistance, stated the United Nations (UN).
"Best case scenario they [fake medicines] probably won't treat the disease for which they were intended," said Pernette Bourdillion Esteve from the World Health Organisation (WHO). "But worst-case scenario they'll actively cause harm, because they might be contaminated with something toxic."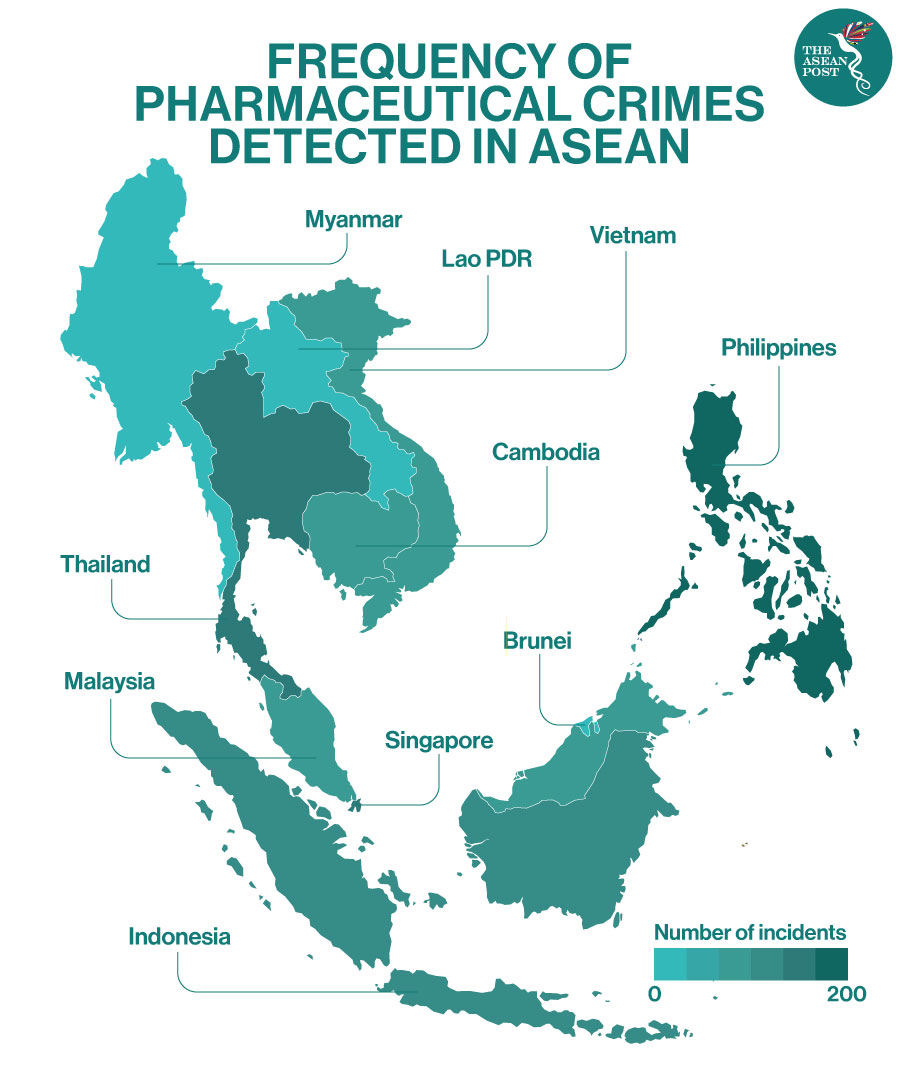 From ASEAN member state Malaysia to the Republic of Mozambique, authorities have confiscated tens of thousands of counterfeit medical products, many of which claim to be able to cure the COVID-19 virus.
Malaysian Pharmaceutical Society president, Amrahi Buang recently told local media that although there is an abundant supply of the standard three-ply face mask in the country, people should still be wary of fake ones in the market as the quality of imported masks could not be ascertained. 
Neighbouring Indonesia has also reported cases of counterfeit medical supplies. In February this year, local police officers arrested 10 people who had been identified as manufacturing fake medical masks following a raid in North Jakarta. An estimated 30,000 boxes of medical face masks said to have failed to meet Indonesia's national standard requirements were seized.
Another trend that the populous archipelago has seen is fake 'COVID-19-free' medical letters that are sold on Indonesian e-commerce sites. Back in May, it was reported that doctors in the country warned that a black market in these free health certificates risks further fuelling the spread of the illness in the archipelago. 
According to local media, one fake certificate bearing the official letterhead of a hospital in the capital Jakarta was being sold online for as low as IDR70,000 (US$3.80), while others were going for much higher prices. 
Illegal Trade
According to a United Nations Office on Drugs and Crime (UNODC) research brief titled, 'COVID-19-related Trafficking of Medical Products as a Threat to Public Health', criminal gangs are exploiting both uncertainties surrounding the coronavirus along with inconsistencies in national regulation regimens.
"Transnational organised crime groups take advantage of gaps in national regulation and oversight to peddle substandard and falsified medical products," explained the UNODC.
The research found that a high demand for medical products during the pandemic led to a jump in the trafficking of substandard and faulty merchandise.
Last month, counterfeit personal protective equipment (PPE), medical equipment, and fake medicines worth PHP244 million (US$5 million) were seized by the Philippines' Bureau of Customs (BOC). The fake goods were mostly smuggled from China, confiscated between 25 March and 31 May. A 2019 report by the UNODC also stated that the Philippines had the highest incidences of fake medicines in Southeast Asia.
A seizure of 3,300 thermometers was also reported in ASEAN member state Thailand, after being trafficked through three other countries. 
Spotting Fake Goods
Counterfeit medical supplies are often packaged to a high standard. It is often difficult to spot fake ones over genuine products. Sometimes a laboratory test is the only way to identify the difference.
Some of the suggested guidelines by Interpol when buying medical products, especially online include avoid buying medicines from unknown websites or marketplace, only buy medicines prescribed by a healthcare professional, and to always be wary of pharmacies offering "too good to be true" offers, among others.
Related Articles:
Medical Supplies Shortage In ASEAN