China's central Hubei province, where the COVID-19 virus first emerged late last year, is to lift curbs after two months under lockdown, local officials told the media. It was reported that the once epicentre of the virus has closed all of its public facility-turned temporary hospitals as the number of infected patients continues to decrease. As the country slowly heals from the outbreak, the number of cases in other nations continue to spike and some ASEAN countries are facing shortages of medical supplies and even COVID-19 test kits.
A recent video of Malaysian nurses using plastic bags as personal protective equipment (PPE) suits has gone viral on social media. The video has sparked concerns among the general public regarding the safety of medical front liners who are using self-made gear in order to protect themselves. As of 23 March, nearly 20 medical staff have been infected with the COVID-19 virus in Malaysia. 
Malaysia is currently the nation with the highest number of confirmed COVID-19 cases in Southeast Asia. Prime minister Muhyiddin Yassin announced a Movement Control Order (MCO) in the country on 16 March, and it was implemented on 18 March. The initial two-week partial lockdown – which was announced on 25 March and now extended till 14 April – was one of the country's strategies to break the chain of infection. Unfortunately, there have been reports of irresponsible locals defying the order. Dr N Ganabaskaran, president of the Malaysian Medical Association (MMA) told local media that hospitals may not be able to cope if COVID-19 cases continue to rise. On 23 March, the country recorded 212 new cases; making it one of the days with the highest number of cases reported to date. 
Other than complying with the MCO, front liners in the country are appealing for additional funding to help them mitigate the outbreak. It was reported that RM500 million (US$113 million) will be allocated to purchase medical equipment in efforts to tackle the virus. RM100 million (US$22 million) will also be allocated specifically for the appointment of 2,000 new employees at the Ministry of Health on a contract basis. 
"The allocation (US$113 million) among others will be used to finance the purchase of medical equipment such as ventilators and ICU apparatus, additional personal protective equipment (PPE) for public healthcare personnel, as well as laboratory requirements for COVID-19 screening," said Malaysia's prime minister.
Local organisations have also contributed funds to combat the pandemic. Malaysia's oil and gas giant, Petroliam Nasional Bhd (PETRONAS) was reported to have contributed RM20 million (US$4 million) worth of medical equipment and supplies to help hospitals and front liners. Local entrepreneurs, Vivy Yusof and Fadza Anuar, founders of e-commerce site FashionValet, have teamed up with the Islamic Medical Response & Relief Team (IMARET) to launch a platform to raise funds for the Malaysian healthcare system during this time of crisis. The support fund has successfully raised RM1.2 million (US$273,068) in just a week.
As of 24 March, ASEAN member state Indonesia reported 55 deaths, the highest in the region, where six doctors have succumbed to the new coronavirus. Based on media reports, protective gear for medical workers is said to be short in supply across all hospitals nationwide. Another problem that has been highlighted is a general lack of transparency when it comes to releasing information about patients. This means that medical front liners are left in the dark about whether they are treating a COVID-19 positive patient or not. This could potentially put their lives at risk. 
"We are still compiling the data. We have yet to know for sure because many of the COVID-19 positive patients were immediately admitted to hospitals without having first provided information regarding their occupations," said Achmad Yurianto, the Health Ministry's disease control and prevention director general to local reporters.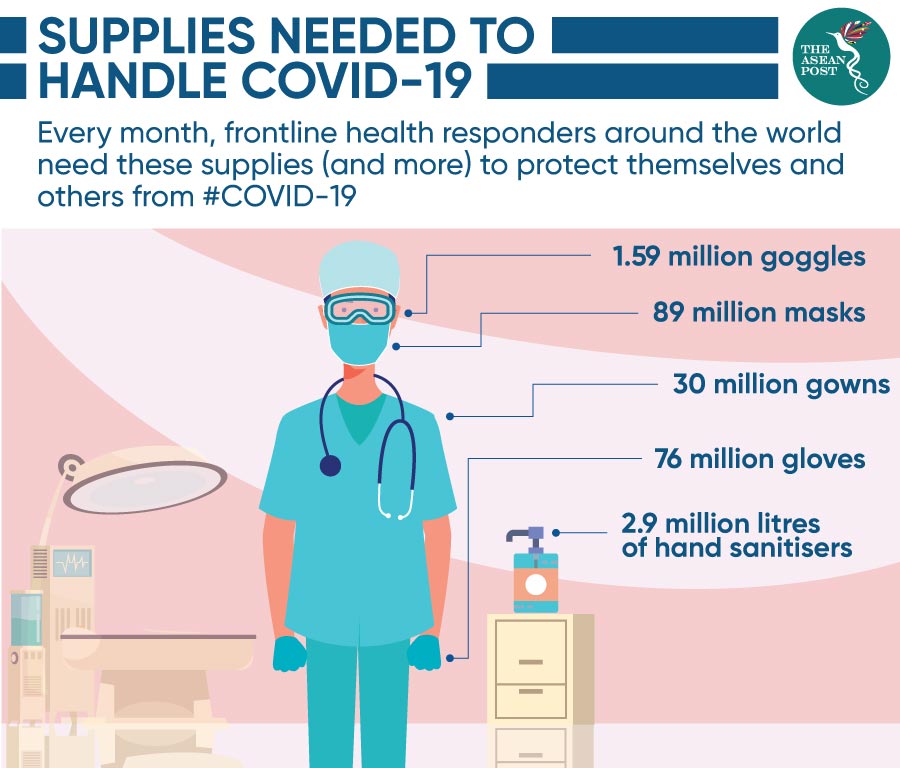 Just like some front liners in Malaysia, a few medical staff in a hospital in West Java, Indonesia were reported to be seen wearing disposable plastic raincoats because proper PPE suits were not available at the time, as reported by local media. Tasikmalaya Health Agency head, Uus Supangat added that "right now, there are only 10 PPE sets (in the city) and they are spread around several hospitals in Tasikmalaya".
On 23 March, Indonesia began delivering more protective gears for medical workers – 105,000 PPE sets – across the country to ensure front liners of their safety. The country's Athlete's Village built for the 2018 Asian Games has also been converted into a temporary medical facility that is able to house more than 7,000 people. It was also reported that some members of the public have taken the initiative to raise funds to help support the healthcare system in dealing with the outbreak.
In Myanmar, which reported its first two coronavirus cases on 24 March, concerns have been raised about the country's ability to combat the virus. A doctor in the provincial town of Pathein, Dr Than Min Htut argued on social media that "no way" were they ready for the outbreak, claiming that his hospital has just seven beds in the isolation ward and only one ventilator. 
It was also reported that over 100 doctors in Myanmar have volunteered to help prevent an outbreak of the virus in the country. While some display scepticism over Myanmar's healthcare system, the World Health Organisation (WHO) has assured that the country currently has enough test kits to detect suspected cases. According to reports, Myanmar has been supplied with COVID-19 test kits, donated by Thailand, Japan, the United States (US), Singapore and China.
In the midst of the pandemic, inter-regional efforts to help contain the virus can be seen across the world. Many countries are helping one another by supplying medical aid and equipment; even sending their own doctors abroad to fight the deadly virus, together.
This article was first published on 25 March, 2020. 
Related articles:
COVID-19: ASEAN is preparing for the worst