According to the Ministry of Manpower in Singapore (MOM), there are an estimated 300,000 Malaysians who commute to the island state on a daily basis for either work or to study. On announcement of the Movement Control Order (MCO) by Malaysia's Prime Minister, Muhyiddin Yassin, which took effect on 18 March 2020, cross-border workers were given a little more than 24 hours to get their affairs into good order. 
The MOM had advised Singaporean employers to allow their workers who are Malaysia nationals to return home, if they were not considered essential under the provided guidelines. In a statement, employers were informed that if they needed their Malaysian workforce, they were required to provide appropriate accommodation for them, regardless of the short-notice period and the circumstances surrounding the sudden outbreak. 
Amidst widespread fears of losing their jobs and not being able to maintain their livelihoods, a record number of those who work in Singapore but reside in Malaysia decided to cross over to Singapore the night before the MCO went into full effect. 
Nevertheless, some remained stranded in Singapore late on Wednesday night. By Thursday morning, social media was abuzz with viral images of Malaysians stranded at the Kranji mass rapid transit (MRT) station, an above-ground MRT station on the North-South line in Sungei Kadut in Singapore (a vital cross-border station linking the southern Malaysian state of Johor and Singapore). 
Those stranded at the Kranji MRT station in addition to about 2,000 employers and 10,000 Malaysian workers were immediately housed and provided with basic necessities as a result of a multi-agency effort. In addition to that, employers who house workers are given SGD50 (US$34) per day per worker to accommodate their needs. These efforts are in line with Singapore's measures to contain the spread of the pandemic and more importantly to secure its borders. 
Following this episode, and given Singapore and Malaysia's long-standing bilateral relations, Malaysia's Minister of Defence, Ismail Sabri Yaakob announced a single exemption for Malaysian workers to resume work in Singapore, having held diplomatic discussions with Singapore's Senior Minister and Coordinating Minister for National Security, Teo Chee Hean. The latter then announced that the government of Singapore will bear the responsibility of facilitating the provision of accommodation for the Malaysian workers during the MCO period. This will also include the screening of workers before they return to Malaysia.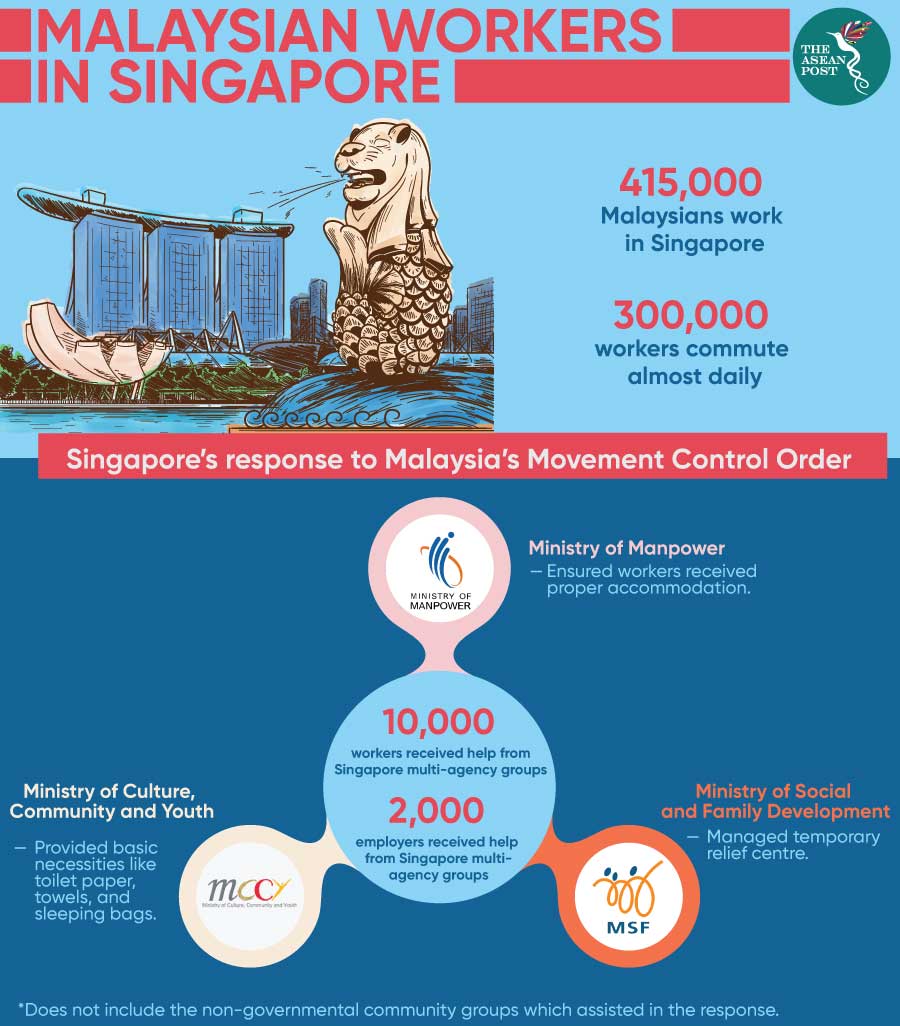 Collective ASEAN effort 
The episode above clearly illustrates the strong interdependence between Singapore's economy and Malaysia's labour force. It also serves as an example of how countries across Southeast Asia have strong interconnectivity in terms of trade, investment, and more importantly movement of labour. 
The COVID-19 pandemic is a regional issue and not just a national one. ASEAN Member States need to band together and address the issue, not only at a national level but at a regional level – with a unified and single voice. 
"We prepare for the worst. We get all our measures lined up, coordinated. We communicate with our people, people understand what we are doing," said Singapore's Foreign Minister, Vivian Balakrishnan.
"What we need to do as a world is to share best practices, to rapidly develop test kits, vaccines, antivirals. We need to share the fruits of applied research. We need to coordinate our measures," he added.
The World Health Organisation (WHO) on Tuesday also called on Southeast Asian countries to urgently scale up aggressive measures to combat the COVID-19 virus. With neighbouring Thailand reporting nearly 600 infections – overtaking Singapore, other ASEAN countries may have to brace for a rapid wave of infections in the coming weeks.
Jakarta-based ASEAN Emergency Operations Centre (EOC) Network for public health emergencies (ASEAN EOC Network) is one of the mechanisms utilised by the ASEAN Plus Three Health Cooperation – which includes China, Japan and South Korea in addressing the COVID-19 pandemic. 
The network ensures continuous efforts in the implementation of the International Health Regulation (IHR) and Asia Pacific Strategy for Emerging Diseases to enhance capacities to prevent, detect and respond to public health threats. While ASEAN Member States are maintaining strong coordination and cooperation to prevent and control the spread of the virus in the health sector, a similar response is needed from all other sectors as well.
For instance, emergency committees within the ASEAN network need to be formed in order to develop a response framework which can be streamlined across the region, thus providing a protocol that countries can follow instead of the current ad-hoc approach to issues like the stranded workers from Malaysia. 
Related articles:
Thailand virus cases rocket to nearly 600