Dealing with fake news is a balancing act. On the one hand, fake news can be a serious problem as seen currently amid the COVID-19 pandemic where harmful misinformation about the virus has been spreading like wildfire. On the other hand, there's the question of limiting the freedom of the press and hampering its ability to play watchdog.
Member states of the Association of Southeast Asian Nations (ASEAN) have gained notoriety for their lack of press freedom over the years. As a result, the most recent results from the 2019 World Press Freedom Index come as no surprise.
Based on a sample size of 180 countries, at the top of the ASEAN rankings are Malaysia, Indonesia and the Philippines at 123, 124 and 134, respectively. Whereas Lao PDR and Vietnam have the least amount of press freedom in the region. Unfortunately, both countries have dropped further in the latest rankings with Lao PDR ranked at number 170 in 2018 down to 171 last year, and Vietnam from 175 to 176.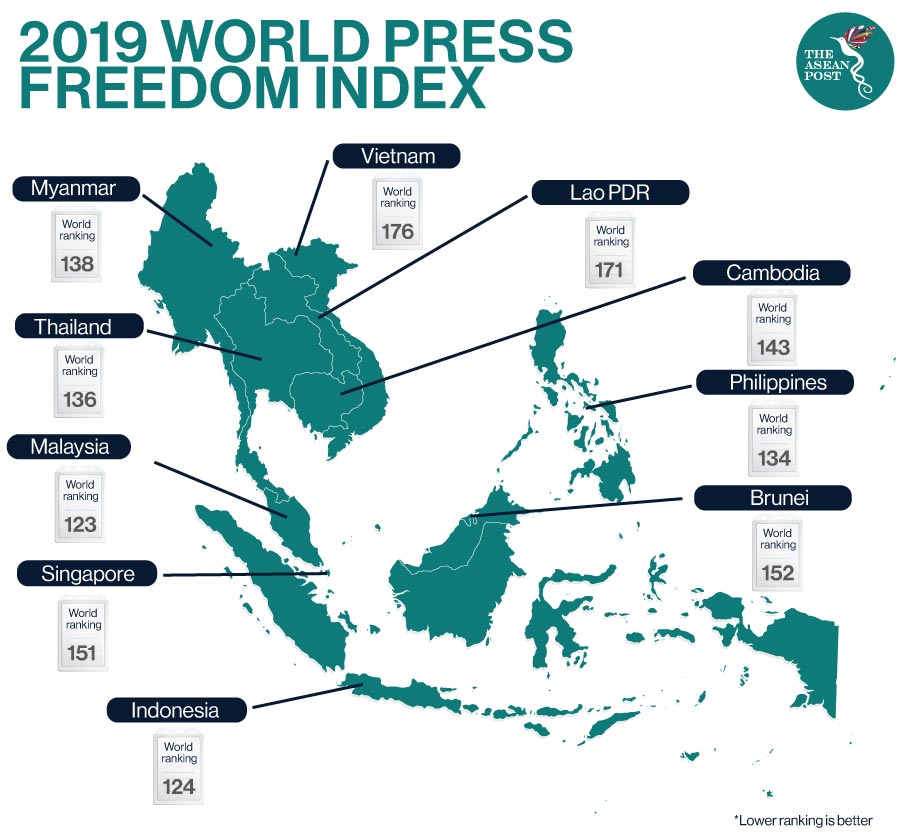 ASEAN governments for the most part, have continued prioritising concerns about the spread of false news as opposed to the freedom of the press. In 2018, false and misleading news was among the chief topics at the 14th meeting of the ASEAN Ministers Responsible for Information (AMRI). The ministers issued a declaration on a framework to minimise the harmful effects of fake news and agreed that member-countries should work together to improve digital literacy, encourage relevant agencies to develop guidelines for responding to fake news, and to share best practices.
Many ASEAN countries have even gone to the extent of using legislation to stop the spread of fake news. Singapore passed a new misinformation law in October 2019 which has been grabbing headlines as it empowers government officials to order corrections to be placed next to social media and online posts they deem false. A number of opposition figures and activists have already been ordered to place correction banners with the words "this post contains inaccurate information" next to their posts. Outraged human rights groups and organisations have claimed that the law is a violation of free speech.
Amid the current health crisis, more countries have joined ASEAN member state Thailand in criminalising the spread of allegedly false information on the internet. It was reported that in Vietnam, a fine of VND10 to VND20 million (US$426 - US$853) will be imposed on those who use social media to share false, untruthful, distorted or slanderous information. Whereas in the Philippines and Malaysia, many have been arrested for disseminating news deemed false about the virus on social media.
In early May, it was reported that the Philippines' top broadcaster ABS-CBN was forced off air over a stalled operating licence renewal, drawing fresh allegations that authorities were cracking down on press freedom, according to media reports. Early in his term, president Rodrigo Duterte accused the media group of failing to broadcast his 2016 election campaign advertisements and not returning the payments made for them.
"All this stems from President Rodrigo Duterte's personal vendetta against the network," said the National Union of Journalists of the Philippines (NUJP).
This has raised concerns among watchdogs, saying that the closure of ABS-CBN crosses a dangerous line in eroding the nation's democracy and sends a warning to those who risk angering the president.
Other than that, Lao PDR too has an internet law that enforces stricter control over its media. Article 9 of the decree has outlawed the posting and sharing of content that features false and misleading information against the Lao People's Revolutionary Party and undermines the peace, independence, sovereignty, unity, and prosperity of Lao PDR, as well as information that encourages citizens to become involved in terrorism, murder, and social disorder, amongst others.
Fake News Is No Joke
It would be a mistake, however, to assume that fake news is not a serious problem. 
Misinformation has caused much trouble during this time of crisis. For example, false news about the usage of bleach in protecting oneself from the COVID-19 virus has been spreading all over the internet. This is of course, untrue. The World Health Organisation (WHO) even warned the general public against spraying, gargling or injecting bleach – saying that the "substances can be poisonous" and "cause irritation and damage to your skin and eyes."
Several ASEAN member states already have initiatives in place to combat false news. A civic group in Indonesia called The Anti-Fake News Society of Indonesia (Masyarakat Anti Fitnah Indonesia) has set up a Facebook page where people can report and discuss suspected false information. The group consists of six full-time fact-checkers and a search engine listing legitimate news sites. Malaysia also has its own, government-run sebenarnya.my. If ASEAN is indeed serious about balancing freedom of the press and stopping fake news in its tracks then perhaps fact-checking initiatives like these are the way forward and not strict legislation.
Related articles:
Misinformation Laws On The Rise In ASEAN