Digital nomads are a new breed of enterprising individuals who make their living while travelling the world. They are location-independent and use technology to perform their jobs. Technology has allowed for new forms of working environments to thrive, rendering formal workspaces a thing of the past.
Professions that digital nomads usually take up are writing and blogging, web design, software development and the occasional photography. But there are also researchers, accountants and journalists who take up the work-travel life. They can be freelancers, business owners or even employed by companies venturing into remote working.
In 2018, a survey conducted by FlexJobs found that on average digital nomads are usually married females aged between 30 to 40 years, working at least 40 hours a week. In the same survey, 70 percent of digital nomads were women. 
A digital nomad is not a job, but a work-travel lifestyle. But contrary to popular belief, digital nomads rarely work next to the pool with a coconut mocktail in hand. Working outside the office environment, they usually work from cafes, coworking spaces or their hotels or hostels.
Tourism market
The travel industry in ASEAN is evolving with low-cost flights, digital platforms and wider internet penetrations. It is easier to travel within the region due to the proximity of its cities and easier border crossings. Because of its lower cost of living (against stronger foreign currencies), ASEAN countries are the perfect destinations for nomadic tourism.
At the fourth ASEAN Marketing Summit in Jakarta in 2018, Indonesia's Tourism Minister, Arief Yahya hopes his country can cash in on the 39.7 million backpackers travelling around the world every year. Targeting to build 100 digital markets in 34 provinces and 10 nomadic spots at the country's favourite destinations, his ministry hopes to make nomadic tourism in Indonesia a hassle-free, easy and affordable option.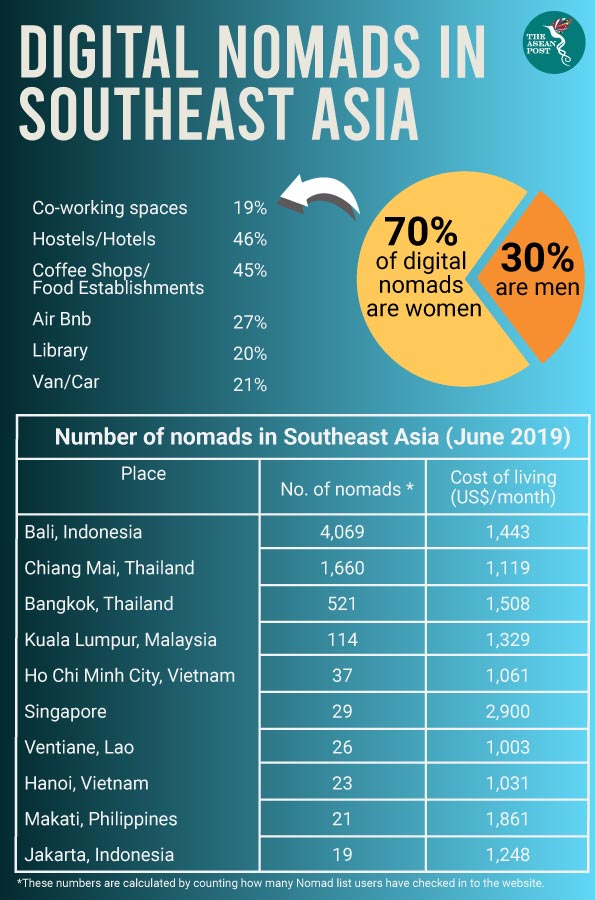 Source: nomadlist.com 
"We must know our positioning, and that is choosing the millennial market," said Arief Yahya. 
By 2020, the global workforce will consist of mostly millennials. Pieter Levels, the founder of 'nomadlist.com', says that by 2035 there'll be an estimated one billion digital nomads roaming the planet. He cites the rise of freelance work, increasing affordability of air travel and the decline in home ownership and marriage contributing to the rising number.
In 2017, a global survey was conducted by ῾peopleperhour᾽ to create a "digital nomads by city" index. It found that Bangkok, Thailand came in seventh place, followed by Kuala Lumpur, Malaysia in 11 and Singapore in 12. This ranking, however, did not include several other Southeast Asian cities that are well known for their digital nomad communities. 
According to nomadlist.com – a website that ranks cities by their nomad-friendliness – based on factors such as living cost, internet speed and entertainment options, Thailand is the place millennials head to for comfort, affordability and a warm climate. Chiang Mai's digital nomad communities are one of the best in the region. However, Bali remains one of Indonesia's most popular destinations for its four million tourists and digital nomads.
Work-travel appeal
The digital nomad lifestyle is one of the fastest growing lifestyles in an age of remote work and shared workspaces. 
Technology is shaping the way youth in Southeast Asia live and work. The rapid adoption of digital technologies, increasing affluence, and urbanisation, together with government efforts to bridge the region's populations, cultures and island archipelagos are some of the reasons attracting digital nomads to Southeast Asia. 
For digital nomads, the region's widespread access to the internet, deeper penetration of mobile connectivity and stable electricity is as important as internet speeds. Battling dodgy Wi-Fi connections is not ideal when deadlines are fast approaching. Thailand tops the region with the fastest average internet speeds at 15-40 Megabits per second (Mbps) with Indonesia's at 18-20 Mbps. Unfortunately, Malaysia's average internet speed is still low at just 8-11 Mbps. The internet economy in the region is worth a massive US$50 billion and the market is growing annually.
Digital platforms are also important for nomads to plan their travel itineraries. Increased visa facilitation and the proliferation of budget airlines are keeping digital nomads on the move. According to a report by Google and Temasek, an estimated 41 percent of all travel-related bookings in ASEAN for 2018 were made online. This freedom to travel also gives the digital nomad the opportunity to explore new places within the region. 
The influx of digital nomads into Southeast Asia is advantageous because any type of tourism has the potential to spur economic development. However, there is also a dark side to the curated lifestyle of digital nomads. According to one digital nomad, the trending lifestyle is "built off the back of impoverished nations, and the exploitation of less privileged people."
Digital nomads with their strong currencies can easily outspend the locals in a particular area. This influx of wealth into poorer areas in the region can damage economic ecosystems in the long run. It may also displace long-term residents due to the rising cost of living. In the end, digital nomads are still tourists with no stake in the spaces they briefly occupy.
Related articles:
Tourism could boost Indonesia's economy
Coworking is reshaping the workplace