Philippine President Rodrigo Duterte's ambitious 'Build Build Build' infrastructure program is coming under increasing pressure after claims that only nine of the planned 75 projects have started construction. 
Drawn up at the start of his presidency in 2016, Duterte's US$180 billion infrastructure construction campaign of roads, railways, airports and bridges has been plagued by poor planning, red tape, right-of-way issues, engineering problems and cost overruns.
Senate Minority Leader Franklin Drilon brought up the program's poor completion rate during plenary deliberations on the proposed 2020 budget on Tuesday when he asked the chairman of the finance committee, Senator Sonny Angara, how many of the projects have commenced construction.
In a bid to divide the projects into more feasible undertakings, Duterte's administration is now pushing a new list of 100 projects. A month ago, the number was 91 – so it was hardly surprising that Angara had a hard time answering Drilon.
Angara later replied that 12 projects were supposed to be completed by 2020 and an additional 17 would be finished in 2021. 26 more projects are supposed to be done by 2022 and 43 would be completed after 2022 – but Drilon said he didn't think any substantial progress will be achieved in completing the projects before Duterte's term ends in June 2022.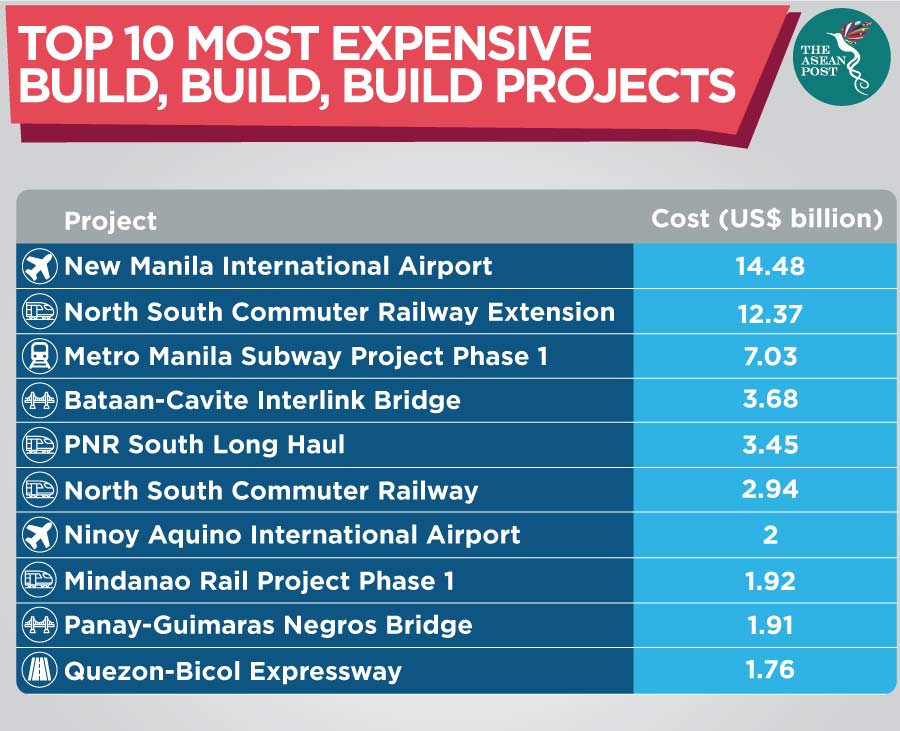 "It's sad to say that the 'Build Build Build' program of this administration is a dismal failure. Out of 75 projects proposed at the start of this administration, exactly nine have started construction," Drilon later told local media.
"Unfortunately, when we asked the question on the floor, they could not even provide us with the projects that are supposed to be scrapped and the projects that are supposed to be included.
"If the bureaucracy cannot even respond correctly to the request for information, you can imagine their capacity to actually implement the projects," he added.
'The facts cannot be any clearer'
Perhaps Drilon had a point when he said that the administration could not supply the correct information.
The very next day, Presidential Spokesperson Salvador Panelo issued a statement admonishing the "lethargic" Drilon – saying that "the facts cannot be any clearer."
According to Panelo, there are currently 35 ongoing projects and 32 more projects are expected to start construction within the next eight months. 38 are expected to be completed by 2022 and 40 projects will be completed beyond 2022.
Panelo also said that 9,845 kilometres (km) of roads; 2,709 bridges; 4,536 flood control projects; 82 evacuation centres and 71,803 classrooms have been completed under the program.
Numbers aside, Drilon is not the only recent critic of the program, with Angara also saying that certain projects may not have been "well thought out" and were "overly expensive."
The fact that some projects had to be completely scrapped due to cost or geographical reasons point towards a lack of feasibility studies, surveys or other assessments.
An 18 km bridge linking two islands was cancelled by Socioeconomic Planning Secretary Ernesto Pernia last month because "it's much more expensive than we thought" – adding that the terrain and the depth of the sea in which bridges would be built made certain projects too challenging to pull off. 
It is also interesting to note whether these recent U-turns have scared off potential international investors – most notably Japan and China.
The Japan International Cooperation Agency (JICA) last month announced it would be bank rolling US$1.36 billion worth of road and bridge projects, the majority of the funds going towards reconstructing nine roads and bridges that were damaged during a 2013 earthquake. JICA is also funding three-quarters of the Metro Manila Subway with a US$5.28 billion loan.
The Philippines' first intercity underground railway, the first three stations of the Metro Manila Subway is expected to be running by 2022 and all 15 stations should be fully operational by 2025.
China, meanwhile, has provided US$398 million in grants and US$273 million worth of soft loans for the 'Build Build Build' program according to the Chinese Ambassador to the Philippines, Zhao Jianhua, in September – with another US$421 million worth of grants to be provided over the next three years.
While unsolicited public-private partnerships (PPP) make up 26 projects in the new list, PPP agreements in the past have failed to promote public interest due to provisions such as automatic rate increases – which forced the government to approve rate increases proposed by concessionaires.
With so much ambiguity surrounding these projects, the public can expect to see more hard questions asked about the 'Build Build Build' program and Duterte's promise that it would usher in a "golden age of infrastructure" for the Philippines.
Related articles:
Can Duterte's "Build! Build! Build!" boost the Philippines' economy?