The number of digital consumers in Southeast Asia is growing exponentially and in a much quicker pace than expected. Just last year, Bain & Company, a global consulting firm predicted that the number of digital consumers in the region will reach 310 million by 2025. However, in its follow-up report titled, 'Digital Consumers of Tomorrow, Here Today,' they now expect the region to reach the projected number this year, instead of in five years. 
This means that almost 70 percent of consumers in Southeast Asia will go digital in 2020. 
Other than that, the report also revealed that the average spend per consumer will more than triple to US$429 in 2025 from US$124 in 2018. This exceeds their prior estimation of about US$392 in 2025.
The new Bain & Company study, in collaboration with Facebook, surveyed around 16,500 digital consumers across ASEAN member states Indonesia, Malaysia, the Philippines, Singapore, Thailand and Vietnam.
According to the report, although Southeast Asia is still cash-reliant, the number of people who prefer to pay with cash went down to 34 percent from 40 percent in 2019. Moreover, about 22 percent of respondents now prefer to complete transactions via e-wallets, an increase from just 14 percent last year. This shows the steady rise of e-wallet adoption in the region.
Mobile Wallets
China has long been a leader in the mobile economy. Media reports stated that fintech firms in the country have enabled almost "ubiquitous cashless payments" across the populous nation. But in recent years, a new competition has popped up to challenge the status quo – Southeast Asia.
The Boston Consulting Group (BCG) noted that 49 percent of urban consumers in the region who are commercial bank customers already use e-wallets. The consulting firm in its 2020 report titled, 'Southeast Asian Consumers Are Driving a Digital Payment Revolution' projects that the proportion will reach 84 percent by 2025. In fact, adoption could accelerate in the wake of the COVID-19 pandemic, which "has triggered a sharp rise in digital payments and home delivery," said the BCG. "The COVID-19 outbreak and its aftermath will prompt many more Southeast Asian households to embrace digital payments."
According to the Mastercard Impact Study 2020, Malaysia leads other countries in Southeast Asia when it comes to using e-wallets at 40 percent, ahead of the Philippines (36 percent), Thailand (27 percent) and Singapore (26 percent). The report also found that almost half of consumers surveyed in Malaysia have increased their online shopping activities. Other activities that saw an increase include surfing the internet for news and entertainment, online video streaming, social networking and home delivery for food or groceries. 
It is also believed that even as countries in Southeast Asia ease their virus restrictions and are preparing for a 'new normal', some of the trends' built in responses to the crisis would likely remain.
ASEAN member states Singapore, the Philippines and Thailand have also reported reducing their cash usage by 67 percent, 64 percent and 59 percent, respectively as they shift towards contactless payment methods.
E-Wallet Usage
A recent survey about e-wallet preferences of Asian consumers conducted by STICPAY, a London-based fintech company, found that users in the region consider fast withdrawals and low transaction fees as the main criteria for choosing e-wallet services.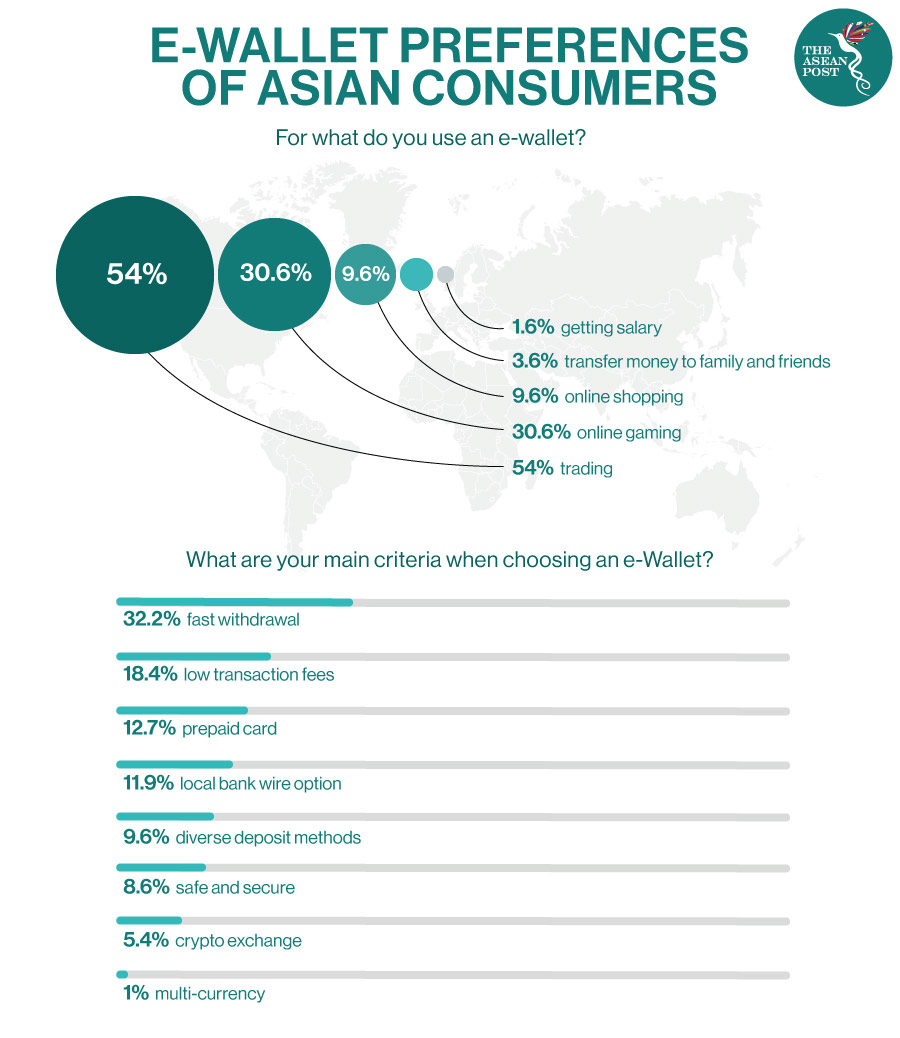 The study surveyed 400 of STICPAY's e-wallet users across the Asia Pacific region including Indonesia, the Philippines, Thailand, Indonesia, Malaysia, Singapore and Hong Kong.
The fintech firm found that while the trading and online gaming sectors lead as the main users of e-wallet services, 9.6 percent of respondents utilise digital wallets for online shopping. Other than that, respondents also cited prepaid cards, local bank wire options, diverse deposit methods, safety and security as some of the most important criteria for choosing an e-wallet solution.
E-wallet operators have expanded their solutions and services over the years. Some have provided top-up solutions for prepaid services or utility payments. According to Joel Yarbrough, vice president of Asia Pacific at fintech solutions provider Rapyd, the next wave of mobile wallet features will be in cross-border remittances and foreign exchange. 
For wallet operators, "there is a need to expand practical use cases by creating more ways of getting people to use e-wallets, such as paying in a store and online," said Yarbrough. "Wallet QR codes can be more alienating than enabling to customers."
Although the usage of e-wallets continues to increase in Southeast Asia – they do not come without challenges. BCG identified three challenges for e-wallet providers. These include making usage ubiquitous across populations, upgrading customer loyalty and value, and increasing merchant acceptance.
Related Articles:
Strengthening E-Payments In Vietnam