TMF Group, a multinational professional services firm headquartered in Amsterdam, recently released its Global Business Complexity Index 2019 report.
While the report looks at how easy it is to do business in 76 different countries around the world, it also shows just how diverse ASEAN can be with two member states positioned on opposite ends of the business-friendly ladder.  
Thailand on top
As for the top of the ladder, Thailand not only managed to grab fourth spot for easiest country in the world to do business in, it also sits in top spot for easiest country in Asia to do business in. Thailand beat the likes of the Netherlands, Japan and Singapore for this position. 
While Thailand's tax and accounting system is quite complex, it scored high for simplicity because its regulatory landscape and employment rules are business-friendly.  
The report noted that despite frequent changes in government, the country's leadership is consistently pro-business and keen to attract foreign investment. It was also acknowledged that the National Competitive Enhancement Act waives the need for work permits for highly skilled overseas workers and investors and incorporation is relatively simple. 
According to the report, once all documentation has been prepared, establishing a company can take less than a day. A local company secretary or director is not required, so incorporation can be carried out from anywhere in the world. 
The report also applauded the Land of Smiles for having a relatively straightforward process for hiring and maintaining a local workforce. Employee rights are enshrined in the law but few benefits are mandatory and are easier to administer. 
The Thai Labour Department also sets the health and safety requirements for companies in each industry but the requirements are not complex or overly difficult.
"The government is committed to reducing complexity. Authorities are trying to make the business environment easier for both Thai and foreign investors," said Janist Aphornratana from TMF Group, Thailand.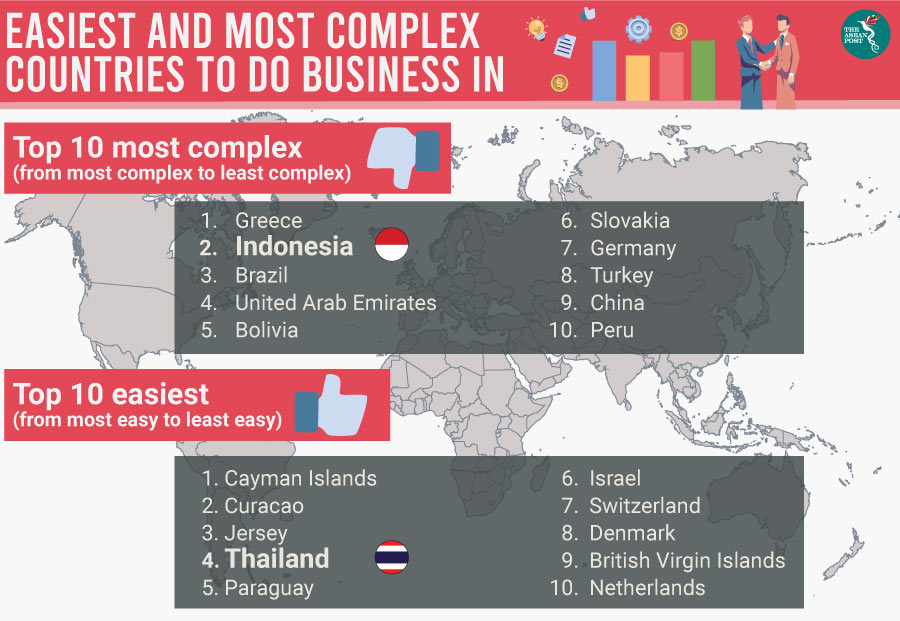 Source: TMF Group
Indonesia at the bottom
Meanwhile, Indonesia not only landed in second last place, only managing to beat Greece, it also ranks the lowest as far as Asia is concerned. 
Indonesia ranks second place in complexity because its legislation changes frequently and regulations can be at odds with each other. The report took the enforcement of value-added tax (VAT) on online sales as an example of this where a change was announced in 2018 and scrapped in 2019. The report notes that while Indonesia is gradually modernising, the existing legal infrastructure cannot always keep pace with the changes.
"Indonesia is one of the most complex jurisdictions in Asia Pacific for incorporation. The regulatory landscape is constantly shifting and is subject to some quite drastic changes." said Alvin Christian from TMF Group, Indonesia
But TMF Group is not the only one claiming that laws have made it difficult to do business in Indonesia. Indonesian consultancy firm Cekindo also notes that in order to successfully register a business in Indonesia, one must go through several government regulations and clearances. Additionally, one must also apply for a principal license from the Indonesia Investment Coordinating Board (BKPM).
"There are several documents required to apply for this license including a certificate of domicile, proof of taxpayer number, clearance from the Ministry of Law and Human Rights, among others. Keep in mind that the government is likely to renew or modify the Indonesian regulations on the matter regularly," Cekindo's states on its official website.
Regardless, Indonesia is in a good position due to the strength of its market. To not take advantage of the ASEAN market would be foolish of any multinational business and out of all the individual markets in ASEAN, Indonesia's continues to be strongest. This is perhaps Indonesia's saving grace and why it was recently revealed that Japanese and Korean electronics companies Sharp Corp. and LG plan to relocate their factories from Thailand and Vietnam, respectively, to Indonesia as part of their investment consolidation plans in Southeast Asia. 
Indonesia, however, must learn to find the right balance between ensuring laws that take care of its people are in place while making the country more inviting to investors and business people alike.
Related articles: