Market research firm Canalys has named Indonesia as the fastest growing market for smartphones in Southeast Asia. Quite frankly, this should not come as any surprise considering the fact that Indonesia has the largest population in Southeast Asia and one of the largest populations in the world. 
The smartphone market in Indonesia grew 20 percent throughout the year, spurred by its people's lifestyles and a growing economy.
The findings help to highlight Indonesia's potential to become an economic powerhouse due to the country's huge population. After all, China's population was also one of the factors that helped it grow into the giant it is today. However, Indonesia certainly has more than a healthy population going for it. Nonetheless, there are still obstacles Indonesia must face.
Slow internet speeds
A recent analysis by discount code portal CupoNation Indonesia found that Indonesia ranks low among Southeast Asian countries in terms of fibre optic internet connection speeds, which heavily depends on a country's infrastructure, geography, and many other factors. Being able to only provide a mere 200 megabytes per second (Mbps) to its internet users, Indonesia is placed fifth out of six countries, only managing to outperform Cambodia. 
The sad fact is that this comes as no surprise. In spite of the fact that we're only a few months into 2019, there have already been numerous reports that Indonesia is "lagging" behind other countries when it comes to internet speeds.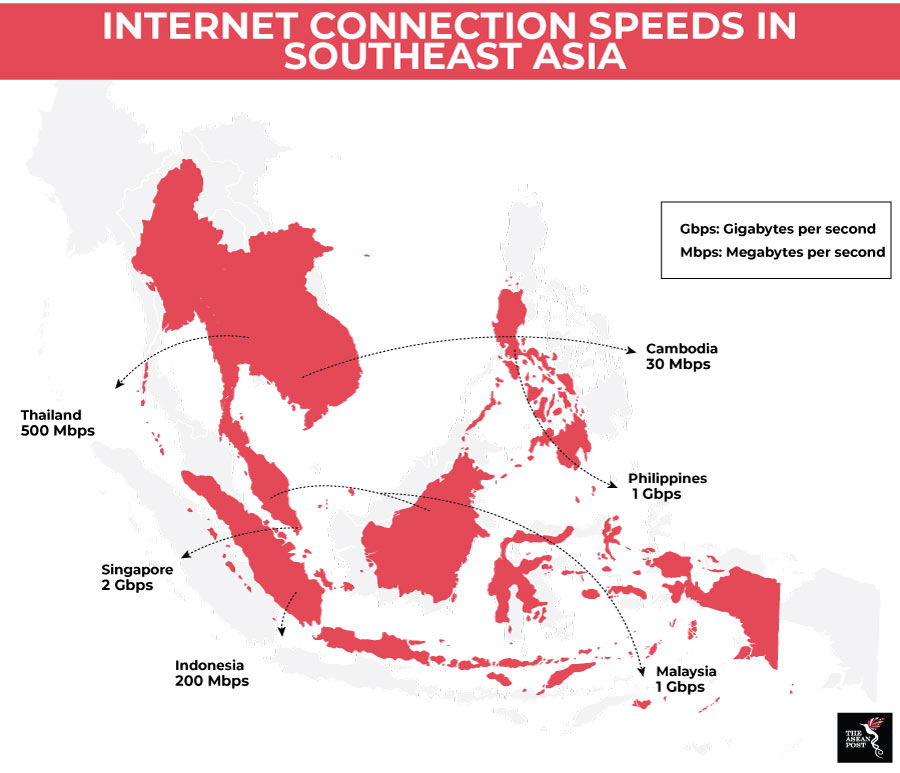 Source: CupoNation Indonesia
One such report comes from Speedtest Global Index which, as of March 2019, placed Indonesia at 118 out of 139 countries for its mobile internet speed of 10.51 Mbps, and 111 out of 178 for its fixed broadband speed of 16.65 Mbps. In February, Opensignal - a United States (US)-based company that specialises in mapping wireless coverage - found that in terms of the best 4G speeds offered in each country, Indonesia ranked 68 out of 77 countries with an average of 18.5 Mbps during off peak hours.
No high-skilled talent
Reports in October revealed a lack of high-skilled talent in the country. In an interview, Tom Lembong, the nation's investment board chief provided some interesting insight into the challenges of creating high-skilled talent when he spoke of a conversation he had with a local partner to a Chinese company that has invested US$5 billion in an industrial park in Central Sulawesi.
"The local partner told us they posted jobs for 500 positions. Nine people signed up," he said.
In fact, as far back as 2016, the problem of a high-skilled labour shortage had been highlighted in a report which quoted educationists, economists and business leaders. Eko Prasetyo, director of the Education Fund Management Institution, an arm of the Indonesian Ministry of Finance, said then that the problem was quality skills and productivity.
"We have to produce more engineers. We have to produce more researchers. We can't just be an economy led by natural resources," he enthused.
In all fairness, the Indonesian government has been looking at the matter seriously and is taking several measures to address the issue. In fact, even Alibaba Group co-founder Jack Ma revealed that he was in discussion with the Indonesian government regarding the possibility of opening an institute to train tech entrepreneurs in the country. 
This, he said, would help Indonesia meet the skill demands of Industry 4.0, also known as the Fourth Industrial Revolution (4IR). Speaking on the side-lines of the International Monetary Fund (IMF) and World Bank meetings in Bali, Ma, who is also an adviser to the Indonesian government for e-commerce, revealed that Alibaba was also planning to train hundreds of developers and engineers on cloud computing to help make Indonesian businesses more digital-savvy.
Indonesia has boasted a strong population for a long-time now. As we enter the Fourth Industrial Revolution it is hoped that it will soon leverage on that population and live up to the potential it has. Signs have shown that this is where Indonesia is headed. 
Related articles: