The International Day of the Girl Child (IDGC) falls on the 11th of October every year to recognise girls' achievements and encourage them to pursue their dreams, uplift their self-esteem and celebrating all their talents. This year's theme, 'Girl Force: Unscripted and Unstoppable,' has a main objective of empowerment while raising awareness on the challenges that girls face. 
There are more girls attending schools and completing their studies today with many focusing on their career and future. Girls are also leading global movements on issues ranging from climate change and poverty to gender-based violence and child marriages, proving themselves to be unstoppable. 
As part of the IDGC celebration, hundreds of Lao's youth gathered at the Vientiane High School to clean up their neighbourhood and at the same time, the activity engage young people, especially girls to take actions for their health, well-being and environment. 
In Lao PDR, youth below 25-years-old make up 59 percent of its 6.5 million population. According to the United Nations Population Fund (UNFPA), approximately 700,230 are girls between the age of 10-19 years.
Challenges
Adolescent girls in Lao still face prevalent issues that are preventing them from reaching their full potential, including being victims of trafficking, violence and sexual exploitation. Child marriages in Lao are the highest across the region with 37 percent of women now aged 20-49 were married by the age of 18. UNFPA states that at least 1 in 5 girls aged 15-19 are married, while 1 in 10 of these girls has begun childbearing.
The country also has the highest adolescent birth rates in the region with 83 births per 1,000 girls, aged 15-19. Unfortunately, girls from this age range have a 42.6 percent prevalence rate of anaemia, increasing the risk of stunting in children. Girls in rural areas have insufficient access to safe menstrual hygiene management. On top of that, in 79 percent of households without water, it is the females who collect from water sources.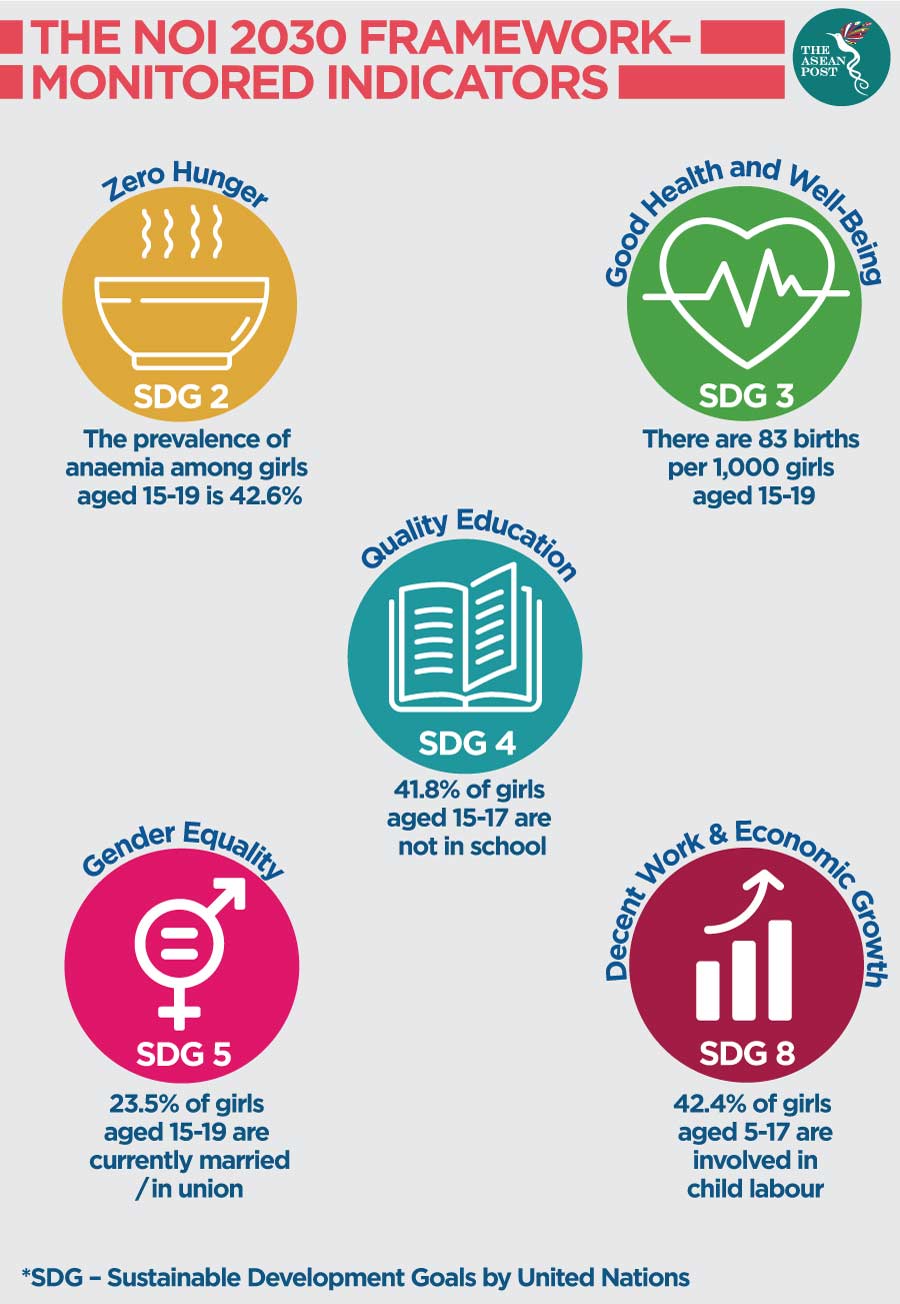 Surprisingly, Lao students have a high net enrolment rate in primary education with 98.7 percent. Yet, the literacy rates of young women aged 15-24 are lower than their male counterparts at 69 percent and 77 percent, respectively. UNFPA also revealed that one in five girls have dropped out of school while 1 in 20 has never attended school. Due to the lack of social protection, 42.4 percent of girls aged 5-17 are involved in child labour. 
Lao's generation 2030
UNFPA launched the Noi 2030 Framework in 2016 as an advocacy tool and entry point for dialogue to raise awareness on issues especially early marriages and early pregnancy in Lao. Noi was created to represent all the girls in Lao, where her progress will be monitored over the next 15 years to ensure she stays on track to achieve the United Nation (UN) Sustainable Development Goals (SDGs) of zero hunger, good health and well-being, quality education, gender equality, decent work and economic growth. 
The Noi framework has created a strong support system for adolescent girls in Lao. But efforts and investment are still needed to create a conducive environment where Noi can choose when and with whom to marry; choose whether, when and how many children she wants; be educated and able to find decent employment; contribute to the development of herself and her community. 
To mark the 30th Anniversary of the Convention on the Rights of the Child (CRC) in Lao, 130 youth from across the nation gathered in Vientiane last June, to share their vision for the country. Organised by the National Commission for the Advancement of Women, Mothers and Children and the United Nations International Children's Emergency Fund (UNICEF), the children put forward the need to promote parenting education and proposed policymakers to increase efforts to address violence against children, including the implementation of campaigns to put an end to bullying in schools. 
"I want every child to have access to quality education and be encouraged to learn. In 2030, I would like Lao to learn from other countries where children get free uniforms, school materials and access to technology in everyday learning," said 15 years old Vanatda Panyavatthanasinh. 
15 years old Salernmxay Sivongsa wished for equal access to quality health services, "I would like to see more and better-qualified health workers and better equipment and technology in health centres." According to UNICEF's website, the children's 2030 vision includes a greener country with more trees, public parks and an important reduction in plastic use.
Their future
Lao's Ministry of Health and UNFPA recently launched a campaign, 'Me, My Body, My Planet, My Future,' to encourage and engage the youth to make informed choices on issues that matter to them, particularly on health, environment, gender equality and sustainable development.
Youth are now willing to engage in activism to support causes they care about, bringing fresh energy and a renewed sense of urgency to tackling persistent issues. 
"We must ensure that young people are involved as part of the solutions as they stand central in achieving the 2030 sustainable development agenda," said Mariam A. Khan, UNFPA Representative in Laos, adding that each young person has a role to play in looking after themselves, their planet and their future. 
Related articles
Lao women are weaving for their future