The price of Bitcoin surged recently after social media giant Facebook, unveiled its very own digital currency, Libra, in June 2019. The announcement came together with a white paper, 'An introduction to Libra,' which details the project's vision.
Facebook's Libra is a cryptocurrency created for instant transfer with almost no fees to anywhere in the world. Libra is grounded on similar principles to Bitcoin, but unlike the latter, Libra is meant to have a stable value backed by international currencies like the US dollar, Euro and Yen.
The digital currency is aimed at promoting worldwide financial inclusion for both, the banked and the unbanked, through collaboration with global communities and policymakers. According to the Libra white paper, 85 percent of global transactions use cash, which costs the poor an average of US$4 in fees per month for access to cash. Comprehensive access to digital financial services can add US$3.7 trillion to developing economies as well as create an additional 95 million new jobs. 
Facebook recently reported it had 2.7 billion monthly users for its services – Facebook, Messenger, WhatsApp and Instagram. Initially, the social media giant intends to offer Libra to its users, as a payment method for things like ads on its social network. Most users visit these platforms at least once a day, and Facebook expects a steady increase in the number of users. Libra is however marketed to everyone for use daily.
Building a financial system 
Along with the cryptocurrency, Facebook has also set up Calibra which is a digital wallet for using, saving, sending and spending of Libra. Facebook's e-wallet also allows one to convert Libra into other traditional currencies based on current conversion rates. Calibra intends to eventually provide other financial services like lending and investing. 
Libra is powered by blockchain technology which makes it a secure cryptocurrency. It also aims to create a blockchain network that could trigger mainstream adoption with major key players such as financial institutions and merchants. Using blockchain, Libra is seemingly decentralised, ensuring users' security and the system's transparency. But Libra is also centralised via the creation of a governing body, called the Libra Association. Facebook will not have full control over Libra, extending the supervision of Libra to 27 other founding members of the Libra Association, comprised of companies which have invested at least US$10 million each into the project.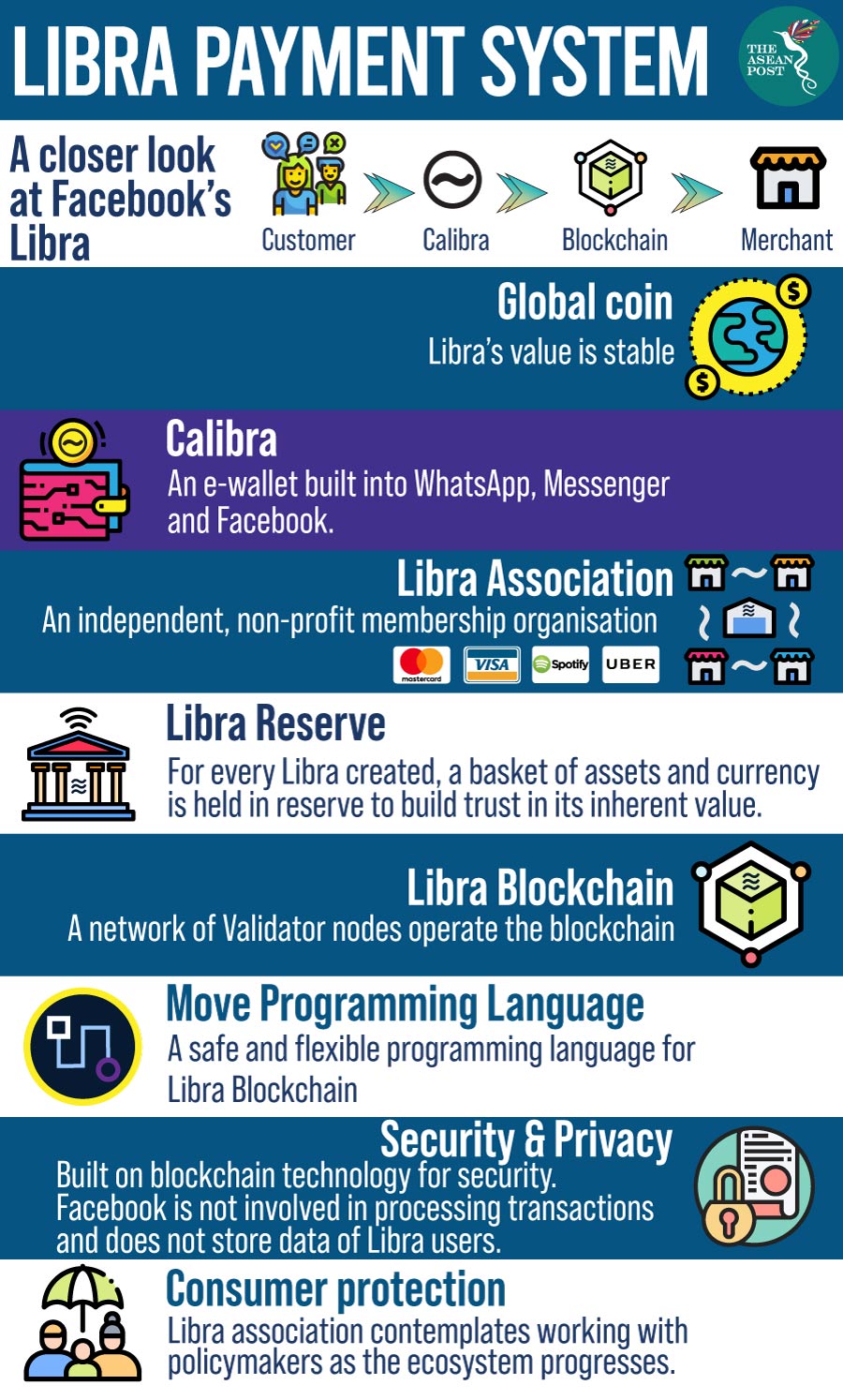 Source: Various
Mark Zuckerberg, founder of Facebook said at the launch of Libra that "building a financial system is not the kind of thing that a company can do by itself. So, we played a role in helping to stand this up. But the Libra Association is an independent organisation, and we will have one vote in it. By the time it launches, hopefully, we will have one hundred co-founding companies." The association may not be involved in processing transactions but they will run a validator node to process data on the Libra Blockchain.
However, decentralisation is crucial for a cryptocurrency. The Libra white paper states its plan to be completely decentralised, though not in the near future. "To ensure that Libra is truly open and always operates in the best interest of its users, our ambition is for the Libra network to become permission-less. The challenge is that as of today we do not believe that there is a proven solution that can deliver the scale, stability, and security needed to support billions of people and transactions across the globe through a permission-less network."
The Libra system is built with a reserve to ensure stability. For every Libra unit bought, the same amount will be deposited into a bank account. This means that every dollar's worth of Libra will be backed by a dollar in the bank. Creating new Libra will not require Bitcoin's mining process, which reduces the enormous amount of electricity consumed by the digital coin mining industry.
Libra aims to make money transfer easy, cheap and fast. "Libra can process about 1,000 transactions per second compared to Bitcoin's seven per second, and by keeping its value stable by tight controls compared to Bitcoin's wildly fluctuating values, Libra is targeting for mass adoption," said blockchain technology expert Dr Sanjay Sharma.
Privacy issues
Facebook was recently fined a record US$5 billion for privacy violations and failing to protect consumer information. The Cambridge Analytica scandal exposed how 87 million Facebook users' data was harvested without consent and used for political advertising purposes. 
But Facebook is not alone when it comes to failure in protecting users' information. In 2014, Libra's co-founder, eBay, was hacked by cyber thieves who were able to access data of all 145 million eBay users. Another of Libra's co-founders, Uber, had hackers breach into their system several times between 2014 and 2016. 
Facebook, however, promises new standards of privacy control, "We have a responsibility to protect people's privacy," Zuckerberg wrote on his Facebook. "We already work hard to live up to this responsibility, but now we're going to set a completely new standard for our industry."
Interestingly, companies behind the digital currency have had a history of system breaches. So, how can Libra protect customer's personal information – especially their financial data – when it launches later in 2020? Whether or not Facebook's Libra will be a powerful force for good in developing countries is something we will have to anticipate.
Related articles: 
A hotbed for fintech activities