The millennial generation of Southeast Asia comprises of half of the region's 644 million population. The region's high internet penetration and growing middle class is driving the adoption of digital financial services. However, according to CB Insights, as of 2018, only 47 percent of adults in the region had a bank account, and just one-third of small medium enterprises (SMEs) had access to loans or lines of credit. 
According to a recent survey by the Central Bank of Philippines, 77 percent of the population there is unbanked. In Vietnam and Indonesia, the unbanked populations are 65 percent and 52 percent, respectively. Having no access to financial services means no formal employment, no bank account and no opportunity to engage in e-commerce. 
Southeast Asia's growing economic activities, government incentives and healthy start-up ecosystems are attracting fintech companies to expand into the region. Fintech companies have seized the opportunity to offer loans, payments platforms, and other services to largely unbanked and underbanked populations. 
Fintech – short for financial technology – is providing the region with innovations, convenience and high accessibility to financial services. Fostering a financial inclusion strategy will reduce the growing wealth gap and provide the poor with critical resources. 
In a report by the Asian Development Bank (ADB), the effect of banking the unbanked could boost gross domestic product (GDP) by two percent to three percent in markets such as Indonesia and the Philippines, and as much as six percent in Cambodia. According to the 2016 KPMG report, reaching the unbanked population in Southeast Asia could result in an increase of economic contribution from US$17 billion to US$52 billion by 2030.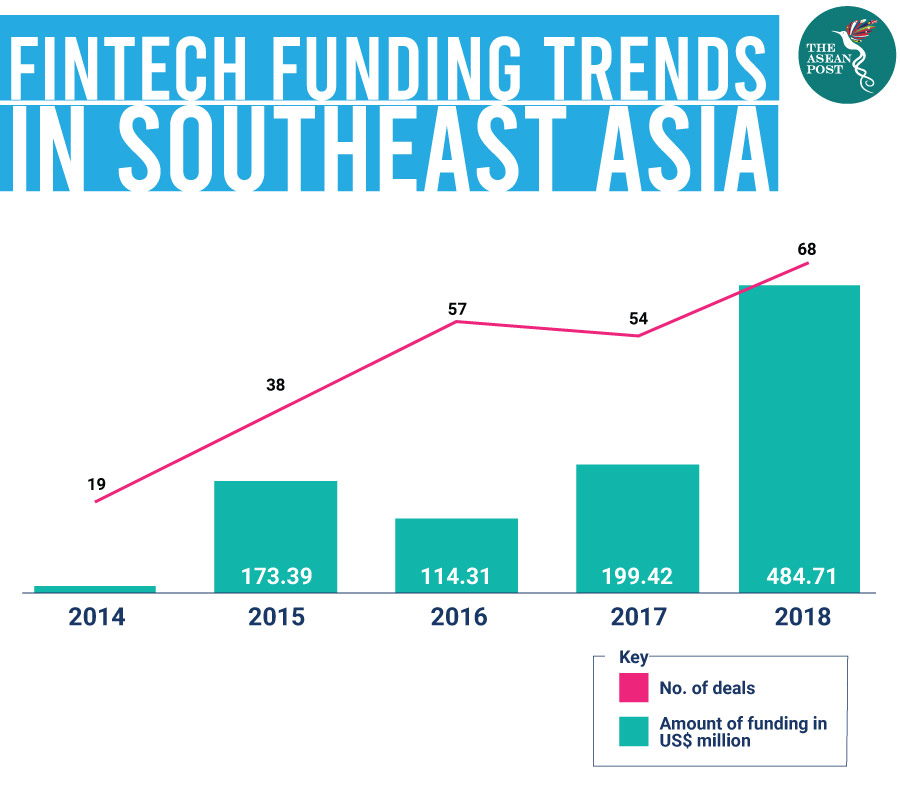 Source: CB Insights, 2018
Unconventional data
Convenience in a modern society is essential. And fintech companies are emulating aspects of customer-centric approach, real-time data integration, cost optimisation and advanced security to serve society's need for convenience. 
The landscape of payment in the region has changed thanks to access to mobile banking, wallet apps and mobile payment. The proportion of people using mobile services has increased, with Indonesia and Vietnam showing sevenfold growth.
Another service fintech companies provide is short-term loans to business owners, SMEs and micro SMEs. 30 percent of SMEs in Southeast Asia have limited access to loans or a line of credit, which limits them to scale their companies quickly and efficiently. "There are 78 million businesses in Southeast Asia, that's three times more than the US," says Andrea Baronchelli, CEO of Aspire, a Singapore based company offering direct loans to SMEs. 
SMEs lack collateral required of them to secure a bank loan, but Aspire sidesteps this to tap into unconventional data, such as business transactions, data from online accounting software, customer ratings and social activities to create a new foundation of credit scoring. 
Financing methods that focus on credit verification and speedy processing will help SMEs deal with demand surges and help them reach their true business potential. Customer feedback, ratings, and traction of a company's social media account are also legitimate factors that determine the health of a business. 
Analytics on performance, demand and purchasing trends can improve a business owner's approach to making a profit or reducing losses. 
Increase in funding 
Insights on the Fintech ASEAN Development 2018 – a Robocash report in partnership with Deloitte –revealed that fintech investments in Southeast Asia are driven by market capacity, where 89 percent of surveyed companies reported that the low penetration of banking services has brought the region to the forefront in the development of Fintech. 
Unicorn companies Grab and Go-Jek are also helping drive fintech growth in Southeast Asia. Both unicorns expanded their ride-sharing services to offer financial services to customers. In 2018, Go-Jek's e-wallet service app, Go-Pay, partnered up with almost 400,000 merchants to gain a transaction volume worth US$6 billion. 
In July 2019, Experian, a leader in information services, invested in Grab to improve access to financial services for the underbanked in the region. "We are proud to have Experian join our growing list of strategic investors who are convinced that they should join hands with Grab to unlock more opportunities for the unbanked and underserved communities...", said Reuben Lai, Senior Managing Director of Grab Financial Group. 
Grab and Go-Jek might just as well lead the fintech movement in Southeast Asia. 
2018 CB Insights data showed that fintech funding grew across Southeast Asia by 143 percent year-on-year, hitting a record of US$485 million invested across 68 deals. Major investors are coming in from neighbouring Asian countries such as China's Ant Financial and Japan's SoftBank. 
China's Ant Financial is expanding its reach into the region. It has partnered up with local companies to expand mobile payments, such as Dana from Indonesia and Pi Pay in Cambodia. Early 2019 saw Ant Financial investing US$40 million into Akulaku, an Indonesian e-commerce payment and lending platform serving customers in Indonesia, the Philippines, Vietnam and Malaysia. 
And in 2018, Modalku (or Funding Societies) a lending platform in Indonesia, garnered the largest funding round in Southeast Asia for a P2P platform, with a US$25 million series B funding from SoftBank Ventures Korea.
As Southeast Asia's internet economy grows, the demand for efficient financial services and faster access will likely increase. Fintech companies that adapt quickly to the ever-changing needs of consumers is a competitive advantage for start-ups. Fintech companies must also tailor their services to individual markets.
In early 2019, DHL launched a new service to allow the unbanked in the region to buy online through its Cross Border Cash-on-Delivery (COD) service. But online access may not be enough. Hendra Kwik, CEO of Payfazz says that "supply of the banks can't accommodate the burgeoning number of users." Many Indonesians store their money as cash, and a physical presence is needed to digitise the money. Payfazz, an Indonesia-based mobile platform for financial services, hopes to provide a solution for an offline service. 
The increase of funding and strategic partnerships shows that the fintech sector in Southeast Asia will continue to grow, presenting more opportunities for companies to tap into underbanked populations and bring more extensive financial services to the region.
Related articles:
Banking Southeast Asia's unbanked