In football, the yellow card is a warning for a player to behave himself as he may get sent off the pitch if he receives a second one – and a subsequent red card. It seems this system works just as well when it comes to combatting illegal, unreported and unregulated (IUU) fishing.
The European Union (EU) is the world's largest import market for fisheries products and it has estimated the global value of IUU fishing to be around US$11- to US$22 billion per year. Between 11- and 26 million tonnes of fish are caught illegally a year, accounting for at least 15 percent of the world's catches.
With the aim of making sure no IUU fisheries products end up on the EU market, the European Commission (EC) enacted tough legislation against IUU fishing in 2010 which identifies marine fisheries products by their exporting state or the flag under which shipping vessels operate. It holds these countries accountable for IUU activities within their jurisdictions and regularly issues a list of IUU vessels based on information provided by regional fisheries management organisations (RFMOs) – international organisations formed by countries with fishing interests in an area.
Countries that disregard IUU fishing are first put on notice and issued a yellow card. At this stage, called pre-identification, the EC will open a formal dialogue with the state and observe the situation for at least six months. If the country shows improvement in its anti-IUU fishing efforts, the observation period will continue until the yellow card is eventually rescinded.
Those that do not show satisfactory progress after the monitoring period are identified or categorised as uncooperative and issued a red card. Marine products from these countries are banned from entering the EU. The final state is the blacklist, which prohibits fisheries products caught by all fishing vessels operating under that country's flag. EU fisheries companies are also banned from operating in those countries.
ASEAN member countries jointly declared war on IUU fishing in 2016 and pledged to enhance sustainable fishing in the region during the ASEAN-Southeast Asian Fisheries Development Center (SEAFDEC) regional cooperation forum in Thailand. The association aimed at increasing the competitiveness of ASEAN's seafood industry and to comply with international standards and regulations.
At the meeting, Dr Theerapat Prayurasiddhi, then-Permanent Secretary of Thailand's Ministry of Agriculture and Cooperatives, declared IUU as a serious threat to the sustainability of fishery resources and the marine environment. He said that combatting IUU fishing was complicated as fishery resources are shared by several countries and fisheries products are traded intra-regionally before exportation.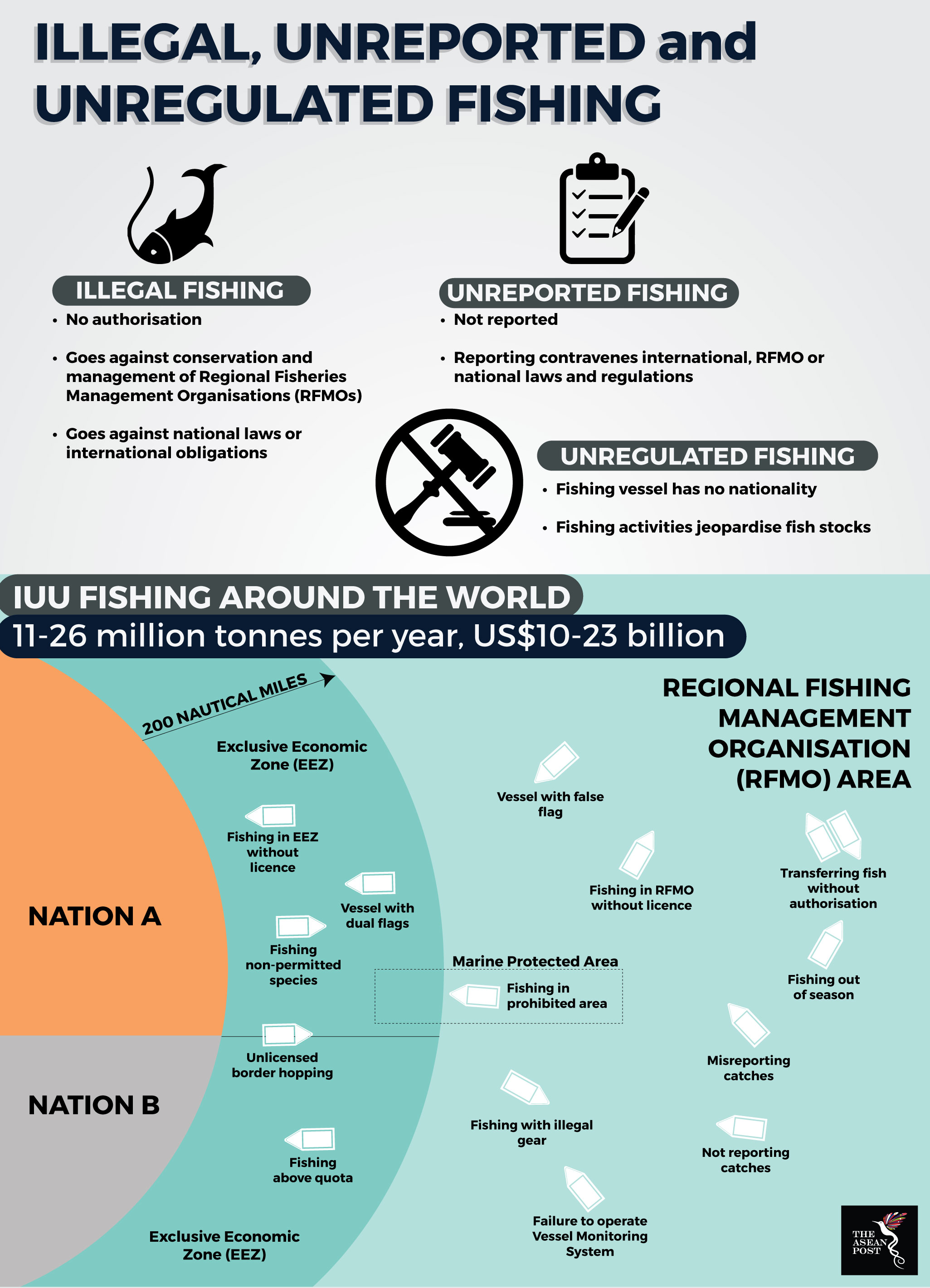 Source: European Commission, US National Intelligence Council
Yellow Cards For ASEAN
Addressing IUU fishing requires close cooperation between agencies in various countries. Monitoring, control and surveillance (MCS) programs need to be strengthened, and the traceability of fish and fishery product sources need to be enhanced at the risk of more ASEAN countries getting yellow cards from the EC.
The Philippines was yellow carded in June 2014 but managed to get it rescinded in April the following year. Thailand was yellow carded in April 2015 and had the card revoked in January.
Vietnam was the latest to get a yellow card in October 2017 and it is anxious to get it rescinded as its seafood export industry is thriving. Seafood exports surged to an all-time high of US$9 billion last year and the country has set a target of US$10 billion this year. While the United States (US), Japan, China and South Korea make up more than half of Vietnam's seafood exports, a ban by the EC will effectively shut out a big market.
Cambodia received a yellow card in November 2012 and was downgraded further to the EC's blacklist in March 2014, and all fisheries products caught by fishing vessels registered in Cambodia have since been banned from the EU.
As the second-largest marine capture fisheries producer in the world behind China, Indonesia has its fair share of IUU fishing problems. Up until 2014, it has been losing an estimated US$4 billion a year to IUU fishing.
It has since introduced restrictions on fishing, including banning fish transfers at sea and prohibiting foreign fishing boats from its waters. Illegal foreign fishing boats are seized and blown up, and this prevents illegal fishing syndicates from buying their vessels back when they are put on auction, said Susi Pudjiastuti, Indonesia's Minister of Fisheries and Maritime Affairs. Foreign fishing activity has dropped more than 90 percent since 2014.
A flurry of yellow cards may indicate an ill-tempered game of football, but with the United Nations (UN) backing the fight against IUU through its Food and Agriculture Organization (FAO), the end of IUU fishing may be on the horizon.
This article was first published by The ASEAN Post on 7 August 2018 and has been updated to reflect the latest data.
Related Articles:
Thailand struggles with fisheries management