Food delivery services are not new, but apps and smartphones are expanding the reach of delivery services. Globally, the online food delivery market is worth more than US$35 billion annually, and is forecasted to reach US$365 billion by 2030. 
One of the benefits to online delivery is that consumers are spoilt for choices as they can order from a variety of menus through a single app. The varieties available also allow them to try out new food every day. Delivery systems even tailor menus for health and weight loss with options of healthy meals and pre-selecting ingredients before cooking.  
The other benefit is convenience for those with no time to shop, prepare or cook food every week. Delivery services are used by office workers who have no time to go out for lunch and nomad digital start-ups who don't want to leave their paid "hot" desks in their coworking office. 
Food delivery systems are also beneficial to those who cannot get out of the house, for example, the elderly and people with disabilities.
The disadvantage for Southeast Asia right now is the polarity of price which depends on the service providers. Online food delivery in Singapore can be 5 to 10 times higher compared to markets in Indonesia and Vietnam, where cost can be as low as US$2. For some individuals, a limited food budget makes delivery a costly ordeal. 
Players in Southeast Asia 
Even with a slim profit margin, entrepreneurs and business people are turning towards food delivery systems because of its reach and revenue. It is the fastest growing market strategy for service providers, with a forecast larger than ride-hailing services. 
The region's food delivery market is expected to grow from US$2 billion in 2018 to an estimated US$8 billion in 2025, as reported by Singapore state investment firm Temasek and Google. Ride-hailing companies, Go-Jek and Grab have jumped on the bandwagon and used their advantage of well-known brands and larger user databases to compete with food delivery "pure-plays" like Deliveroo and FoodPanda. Last year GrabFood consumed UberEATS as part of the Grab takeover in Southeast Asia.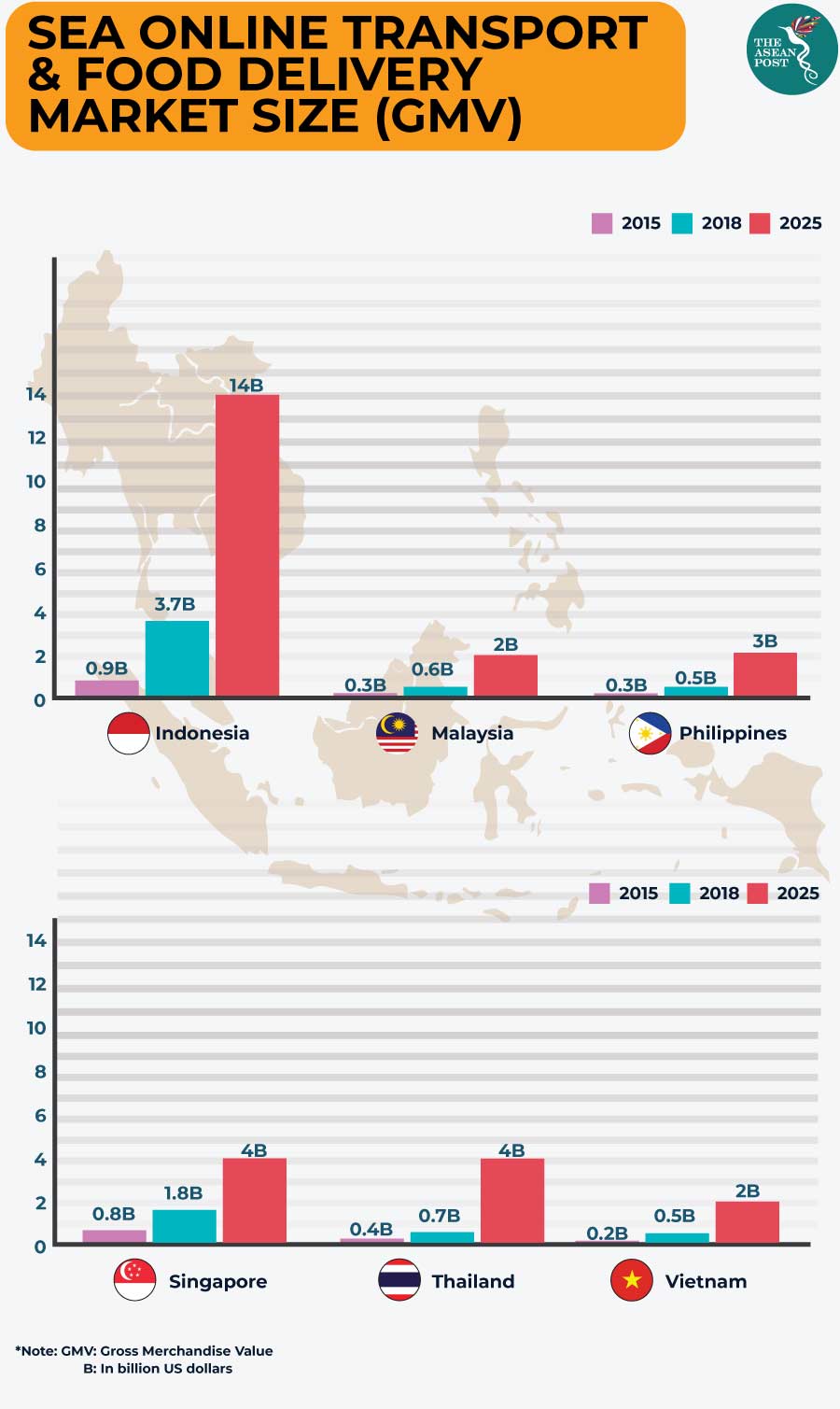 Go-Jek's founder and CEO, Nadiem Makarim, also saw the online food delivery services as bigger than their most frequently used motorbike-hailing services, generating US$2.5 billion in annual transaction in Indonesia alone. 
FoodPanda is an already popular food service in Malaysia, the Philippines and Singapore. It has also launched Streetpanda to offer delivery of street food.
There are different business models to the online food delivery service. The largest and most popular involve service providers to manage ordering website and mobile apps on behalf of restaurants, where consumers place orders for pickup and delivery. Here, the commission comes from the revenue of the restaurants without adding any more cost onto the customers. FoodPanda, GrabFood and Go-Food gets a commission of 15 to 30 percent.
The second business model is similar to the above, only that service provider recruits and manages a pool of independent contractors as delivery couriers, and charging consumers premium fare on the delivery. 
Another model picking up traction in Southeast Asia is the delivery only kitchens, or "cloud kitchen," which operates straight from the kitchen to the front door. 
"Cloud kitchen"
Cloud kitchen is a term to describe restaurants with no retail, geared to only deliver food. Here, chefs are hired to prepare meals in a central place before shipping them out to customers. Europe's food delivery system, Deliveroo, has built shared-kitchen services or "dark kitchens", for chef start-ups who wish to venture into the food delivery services.
The elimination of customer seating, air conditioning and lighting slashes rent costs and bills and also reduces the need to employ serving staff. All these reductions earn for itself the better economies of scale, while catering to consumer preference.
Cloud kitchens are the big thing in food delivery, and gaining momentum in Southeast Asia. Grain from Singapore and Dahmakan, a Malaysia-based food company, both use this business model. 
Grain, founded in 2014, is a food delivery start-up that specialises in clean food and believes in improving lives through meaningful food experiences. Founded in 2015, Dahmakan recently raised an additional US$5 million financing from new investors. Both start-ups focus on healthy eating.
Both Grain and Dahmakan's "cloud kitchen" model uses unwanted retail spaces to cook up meals via digital orders. Dahmakan co-founder, Jessica Li, found a way to "scale food production for thousands of deliveries while maintaining quality and keeping costs at 30 percent below comparable restaurant prices." On the other hand, Grain works with its own chefs, menu and delivery team. Grain now delivers meals across Singapore, and is starting to look overseas into Bangkok. 
Dahmakan and Grain have also introduced "satellite" hubs that allow them to serve customers located in different parts of the city efficiently.
Eventhough customer loyalty largely lies with the food company and not the delivery services they use, reviews and ratings should keep delivery services focused on quality and customer care.  
As mobile penetration continues to grow, so will the market for online food delivery services. And as Southeast Asians get busier, so will the demand. 
Related articles
Ride-hailing in Malaysia: Driving downhill?