On 26 March 2018, GrabTaxi Holdings Pte. Ltd. (Grab), a technology company that offers ride-hailing, ride sharing, food delivery and logistics services through its mobile app in Southeast Asia; announced that it had acquired its competitor's (Uber) Southeast Asia operations. In a statement, Grab said it would integrate Uber's ridesharing and food delivery business in the region into Grab's existing multi-modal transportation and fintech platform. 
A common worry among many Malaysians at the time was the issue of monopolisation. With a monopoly, Grab would be able to set its fares higher than marginal cost and at the same time, the quality of service which made Grab as well as other ride-hailing services a popular alternative to traditional taxis in the first place would slowly but surely dwindle.
Half of that worry was warranted.
Driving up prices
Monopolisation did not happen. A quick search on Google shows that Malaysians have a wide array of different ride-hailing options including MyCar, JomRides and MULA. On the other hand, fares did go up for loyal Grab users and it happened only a little over five months after the Grab-Uber merger.
In September 2018, Malaysian media published a report in which Grab explained that the increase in their fares was due to high demand after its major competitor was taken out of the picture.
"Our major competitor is not in the market anymore and passengers are falling back on Grab. When the demand is higher but supply of drivers stays the same, fare prices tend to be pushed up, especially during peak hours and peak places," Grab's head of outer cities Justin Tiew was quoted as saying.
Grab, in fact, insisted that it had not hiked up its fares after its acquisition of Uber. Customers, however, tell a different story.
Customer complaints
Earlier, on 19 May 2018, unhappy users vented their frustrations about Grab's rates on social media. Based on the comments, picked up by local media, some had accused the ride hailing giant of using the elimination of its "only serious rival" to do away with the price and promotion war it had waged against Uber.
Meanwhile, others also claimed that service levels by drivers within the Grab network had also deteriorated as a result of a lack of serious competition.
"Grab did a fare hike before expected Uber transition making short trips expensive more income to them. Then super bad service. Drivers always cancelling booking. Surging of price is scheduled, not due to no available drivers. Really hoping for better service due to merger but Grab failed so hard. Monopoly at its finest!" wrote Facebook user Amaan Farro on Grab's page.
Another user calling herself Diana Menggan said she was "totally disappointed" with the service and pleaded for the return of Uber.
Vindicated taxis
It is important to note here that one of the reasons ride-hailing took off so well in Malaysia was because it provided an alternative means which was cheaper and more passenger-friendly than the notorious taxis which, prior to the arrival of ride-hailing in the country, had enjoyed a form of monopoly.
In 2015, a list of the worst taxi drivers in the world was compiled by British comparison site, LondonCabs.co.uk. In a top 10 list of the worst taxi drivers in the world, Malaysia came in first place. Some of the biggest complaints was that taxi drivers refused to use the meter when charging customers and that they were simply rude to passengers.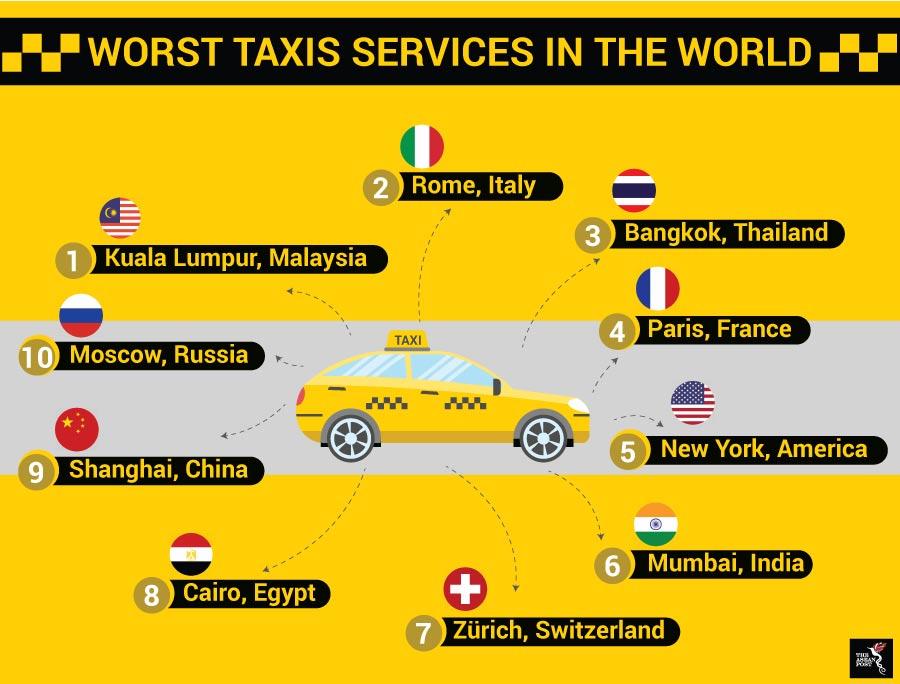 Source: LondonCabs.co.uk
Naturally, disgruntled Malaysians abandoned the country's taxis and moved towards ride-hailing services. In the face of this exodus and at the risk of being unable to feed their families, taxi drivers staged several different protests against ride-hailing services. Even the heads of some taxi associations came out and shunned taxi drivers who had given the taxi industry a bad name, promising the public that not all taxi drivers were like that.
On 2 April 2016, Malaysian Taxi Drivers Transformation Association deputy president Kamarudin Mohd Hussain, when contacted by local news agency Bernama, admitted some taxi drivers behaved in an unruly manner. 
"But don't let a few bad apples penalise the rest," he said. 
He also claimed that it was the price that was driving people towards ride-hailing services more than any other factor.
"Actually, drivers' attitudes are not the main reason for people switching to alternatives. It's the low price which is a major factor for them to use services like Uber and Grab."
If Kamarudin's assertion is correct and price is the key factor for deciding between a conventional taxi and a ride-hailing service, then – like Malaysia moved away from taxis – it is likely that ride-sharing services which do not keep their fares in check will also see their consumer-base dwindling. Meanwhile, the question remains as to whether the few taxi drivers with attitudes have learnt their lesson.
Related articles: