The ASEAN Post recently published an article about the fact that while a large portion of people – including children - in Southeast Asia are starving, tonnes of food is wasted every day. The image is a terribly depressing one and shows the peculiarities of the world that we live in today. 
Still, it would not be fair to suggest that countries are not aware of this ironic state of events and aren't doing their part to at least attempt to solve the problem. Here is a list of some ASEAN countries and some of the initiatives they have undertaken in order to address the problem of food wastage. 
Malaysia
In December, Malaysia's deputy prime minister Wan Azizah Wan Ismail said that a law on food waste was being formulated. Azizah said that by having such a law, society would be indirectly taught to appreciate and not waste food.
"On average, a Malaysian throws almost one kilogramme of food daily. As such, the government is carefully studying, from various aspects, the need to formulate the Food Waste Act," she said when closing the Malaysian Agriculture, Horticulture and Agro-Tourism Exhibition (MAHA) 2018.
She revealed that the government was also considering imposing fines on customers at hotels and restaurants who wasted food.
Meanwhile, Grub Cycle – a Malaysian social enterprise that was launched in 2016 – sells surplus food from supermarkets online. Mutiara Food Bank, located in Penang, Malaysia, was also set up in 2017, to distribute surplus food to charitable organisations.
Singapore
Apart from the partnership between Food Bank Singapore and Compass One mall which was highlighted in the previous article, Nanyang Technological University (NTU) is teaming up with food and beverage company F&N to research more effective methods of recovering food nutrients from food waste, before returning them to the food chain.
More specifically, the lab will look at sustainable ways to incorporate micronutrients that are produced as a by-product of the fermentation process into F&N products to enhance their nutritional value. These micronutrients include amino acids, vitamins and antioxidants.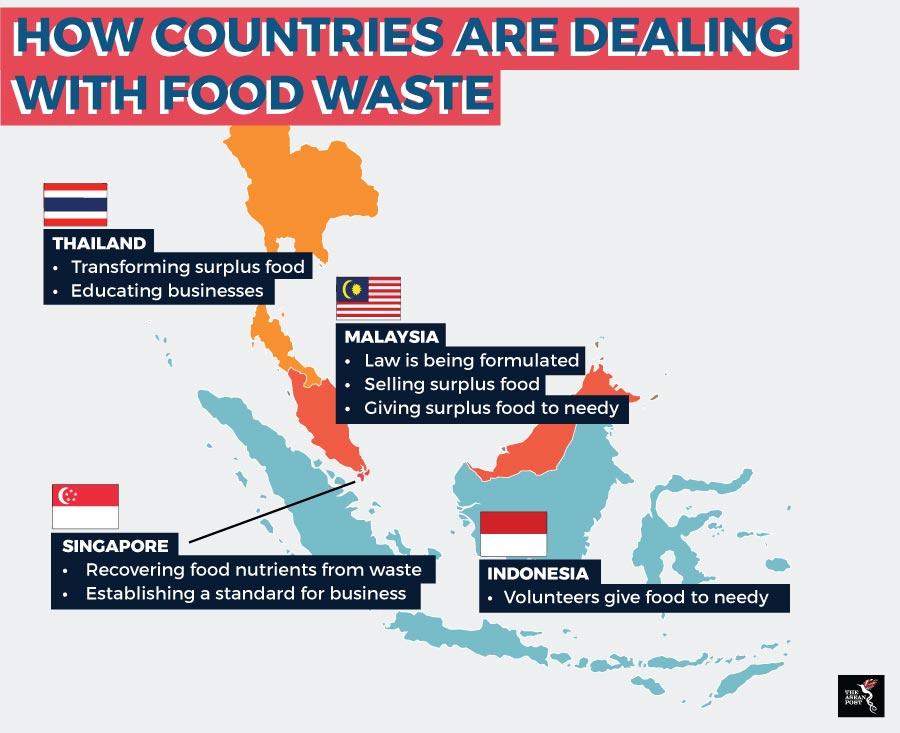 Source: Various sources
In May last year, the Food Standards Committee (FSC) together with the Agency for Science, Technology and Research and the Singapore Institute of Manufacturing Technology also established its first standard for food manufacturers to limit food waste, along with new technology to record production inefficiencies.
This standard is expected to help reduce food waste and improve manufacturing practices through the more efficient use of food resources at every level of the supply chain, taking into account food loss, waste, overproduction, expiration, spoilage, overcooked items, and contaminated foods.
Indonesia
In November 2017, Indonesians started a programme called "A Blessing To Share" which involves volunteers who pack leftover food from events – mainly weddings – and deliver them to those in need.
"There are lots of weddings in Indonesia and lots of surplus food. And there are lots of hungry people, unfortunately. So, this programme is trying to close that gap between the rich and needy," the founder of the programme, Astrid Paramita said. 
Since its inception until June 2018, it was reported that about 50 weddings had participated in the programme with about 1.6 tonnes of food collected for distribution through a local food bank.
Thailand
Scholars of Sustenance (SOS), a grassroots charity based in Bangkok, Thailand, takes surplus food and makes it useful by transforming it either into wholesome meals for the hungry or nutrient-rich compost, as well as placing the food in public fridges for the community.
Aside from rescuing food from businesses and providing it to those in need, SOS (also known as Thai Harvest|SOS following a merger with OzHarvest) has built relationships with more than 20 compost farms which recycle inedible food and scraps. The long-term goal is for community recipients to grow vegetables and sell them back to hotel donors. They've also set up community fridges at Bangkok shopping mall, The Commons, to provide local people in need with a free food resource.
Meanwhile, Lightblue Environmental Consulting, a Bangkok-based consulting company, has been focusing on educating businesses on how to prevent food waste and it's been doing so for over five years. Their clients include large five-star international hotels, like Pullman King Power and So Sofitel.
These are but a handful of countries which have joined the war against food waste in the region. While the problem persists and there is much more work to be done, it is good to know that there are heroes amongst us.
Related articles: