ASEAN member states have had an eventful seven days.  
In recent years, Southeast Asia has enjoyed increasing democratisation along with economic growth. Nevertheless, civil liberties and human rights issues such as the freedom of expression and freedom of press, have not progressed as much compared to the region's phenomenal economic growth. 
The lack of press freedom and free speech in ASEAN member states continue to be growing concerns – and this was highlighted following a number of controversial events from different parts of Southeast Asia.
Human rights watchdog Freedom House stated that ASEAN member states are either "not free" or "partly free" in terms of press freedom, which is repressed by the authorities. Southeast Asian governments are becoming stricter, resulting in a shrinking civic space for an individual, organisation or news media outlet to voice their opinions, especially those that are critical of ruling government.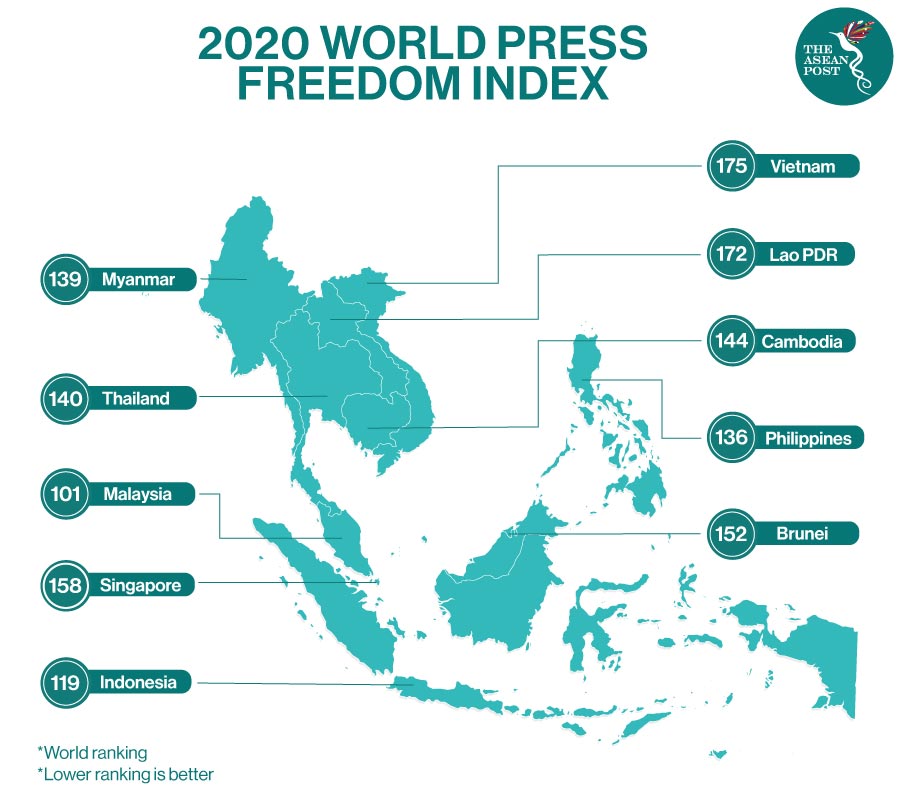 Rappler's Maria Ressa
On Monday, high-profile journalist Maria Ressa was found guilty in a cyber libel case that press freedom advocates have branded a ploy to silence critics of Philippine President Rodrigo Duterte. The verdict was handed down in a Manila courtroom against Ressa who heads popular news site, Rappler. Another writer for the site was also convicted, and both journalists could face up to six years in prison.
The case relates to a Rappler article published eight years ago by former Rappler journalist Reynaldo Santos Jr. The article claimed that businessman Wilfredo Keng had links to illegal drugs and human trafficking.
The prosecution came under a cyber libel law which was enforced back in September 2012 – four months after the article was published on the site. Nevertheless, prosecutors stated that an amendment to the story to fix a 'typo' made in 2014 meant the article was republished after the law had already come into effect, said a media report.
It is said that the libel case is one of seven that Rappler is facing, including alleged tax evasion and illegal foreign ownership of the media entity.
Maria Ressa who founded Rappler in 2012 and is critical of the Duterte administration and its war on drugs – denied the charges and believed they were politically motivated.
"Rappler and I were not the only ones on trial," Ressa told a British news agency after the verdict. "I think what you're seeing is death by a thousand cuts – not just of press freedom but of democracy."
The conviction of Maria Ressa this week raised concerns and uproar within the international journalistic community and rights organisations such as Human Rights Watch (HRW), calling it a "devastating blow to media freedom in the Philippines." 
Malaysian Politicians - Hannah Yeoh And Syed Saddiq
Over in Malaysia, Hannah Yeoh – a local politician and former Deputy Minister of the Ministry of Women, Family and Community Development (KPWKM) is being probed for her tweet posted around March regarding child marriage and an apparent fake quote that has "tendencies to be seditious and incite hate among communities".
In her old tweet, Yeoh questioned the fate of the 'National Strategy Plan in Handling the Causes of Child Marriage' under her successor Siti Zailah, who is a member of the Malaysian Islamic Party (PAS). She responded by saying "now, even asking questions is not allowed" after being informed that local police are investigating her regarding the matter.
Whereas the issue with the quote - Yeoh herself shared it on her social media months ago in order to alert the public about the authenticity of the statement. 
"Since the deputy minister of KPWKM (Ministry of Women, Family, and Community Development) is from PAS, then child marriage (to make sex with children permissible) will be widespread after this. This is a disease among Muslims in this country who are uncivilised," said the quote that went viral.
The politician tweeted on 17 June: "So police is now investigating me for a fake quote?"
Yeoh is not the only one. Yesterday, former Youth and Sports Minister Syed Saddiq was also quizzed by Malaysian police regarding his interview with Al Jazeera in March discussing the political crisis in Malaysia.
He is being investigated under section 4(1) of the Sedition Act 1948 and Section 233 of the Communications and Multimedia Act 1998 for the interview he gave, according to local media.
Malaysian politics has been in turmoil since early 2020 when the current ruling Perikatan Nasional coalition (National Alliance) formed an alleged backdoor government by unseating the Pakatan Harapan-led coalition. 
Indonesia's Papuan Activists
An Indonesian court has issued guilty verdicts against a group of Papuan activists for treason this week over anti-racism protests last year in a case that has sparked fears of a clampdown on free speech, said media reports. 
In 2019, Indonesia saw a series of protests by Papuans in the archipelagic nation in response to the arrests of Papuan students for allegedly disrespecting the national flag. In several locations, the protests turned into violent riots, which resulted in the destruction of buildings and even death. Media reports stated that the riots broke out following allegations of racist abuse and mistreatment of Papuan students. The uprisings sparked renewed calls for Papua's independence from Indonesia. 
A leading figure in Papua's independence movement, Buchtar Tabuni was sentenced to 11 months in jail. The panel stated that the activist used the anti-racism protests as a cover to push for self-rule through street demonstrations and social media campaigns.
Rights groups have claimed that more than 50 Papuan activists and about a dozen critics of the government are facing charges after last year's bloody protests.
"These Papuan activists and students should not stay even a single night behind bars," said Andreas Harsono, senior Indonesia researcher at HRW.
"They were protesting against racism, but are convicted of treason," he added.
Of course, these are only three instances that happened this week. ASEAN has a long history of issues and cases of press freedom and expression.
ASEAN's Human Rights Declaration states that "every person has the right to freedom of opinion and expression, including freedom to hold opinions without interference and to seek, receive and impart information, whether orally, in writing or through any other medium of that person's choice."
This should not only be words in the ASEAN Charter 2025, but must be widely practised in all ASEAN member states. 
Related Articles:
Duterte's History Of Clashes With Philippine Media