Southeast Asia is one of the most popular tourist destinations in the world filled with historical sites and beautiful beaches across the region. Nevertheless, Southeast Asian cities are also known for their congested roads filled with honking cars and motorcycles. Congested roads have become synonymous with Southeast Asia, and that is not going to change anytime soon.
According to media reports, vehicle sales in Southeast Asia is set to outpace all other regions in the world. It is estimated that vehicle ownership across the region is expected to grow more than 40 percent by 2040.
Car ownership in the region is particularly high compared to other parts of the world. It's not uncommon to have more than one car per household in countries such as Brunei, Thailand, Malaysia and Indonesia. Meanwhile in Vietnam, motorcycles are the vehicle of choice. The Vietnam Investment Review have highlighted that Hanoi has an average growth rate of 10 percent and it is projected that by 2025, Hanoi alone will have 11 million motorcycles on its streets.
Aside from problems arising due to traffic congestion, another concern is the air pollution these vehicles cause. Since most vehicles in the region run on gasoline or diesel, they contribute significantly to the worsening air pollution in Southeast Asia's cities. For example, increasing car ownership in Jakarta has worsened air quality there. Despite phasing out leaded gasoline 10 years ago, Jakarta's air quality hasn't improved much. A study by the Faculty of Public Health at the University of Indonesia found that 58 percent of all illnesses among people living in the city were related to air pollution. With demand for automobiles increasing, this will only get worse.
EVs
Electric vehicles (EVs) could however change all that. EVs, including hybrid electric cars can drastically reduce carbon emissions released into the environment. Compared to conventional cars that release unhealthy amounts of carbon dioxide, carbon monoxides and nitrogen oxides into the atmosphere, battery-electric cars effectively produce zero-emissions from their tailpipes.
According to a 2018 study commissioned by Nissan and carried out by business consulting firm, Frost & Sullivan, it was revealed that a third of Southeast Asian consumers are open to buying an electric car. Titled "Future of Electric Vehicles in Southeast Asia", the study found that consumers in the Philippines, Thailand and Indonesia are the most enthusiastic about the future of EVs.
Nevertheless, consumer interest alone is unlikely to deliver electrification of the transport sector to the region.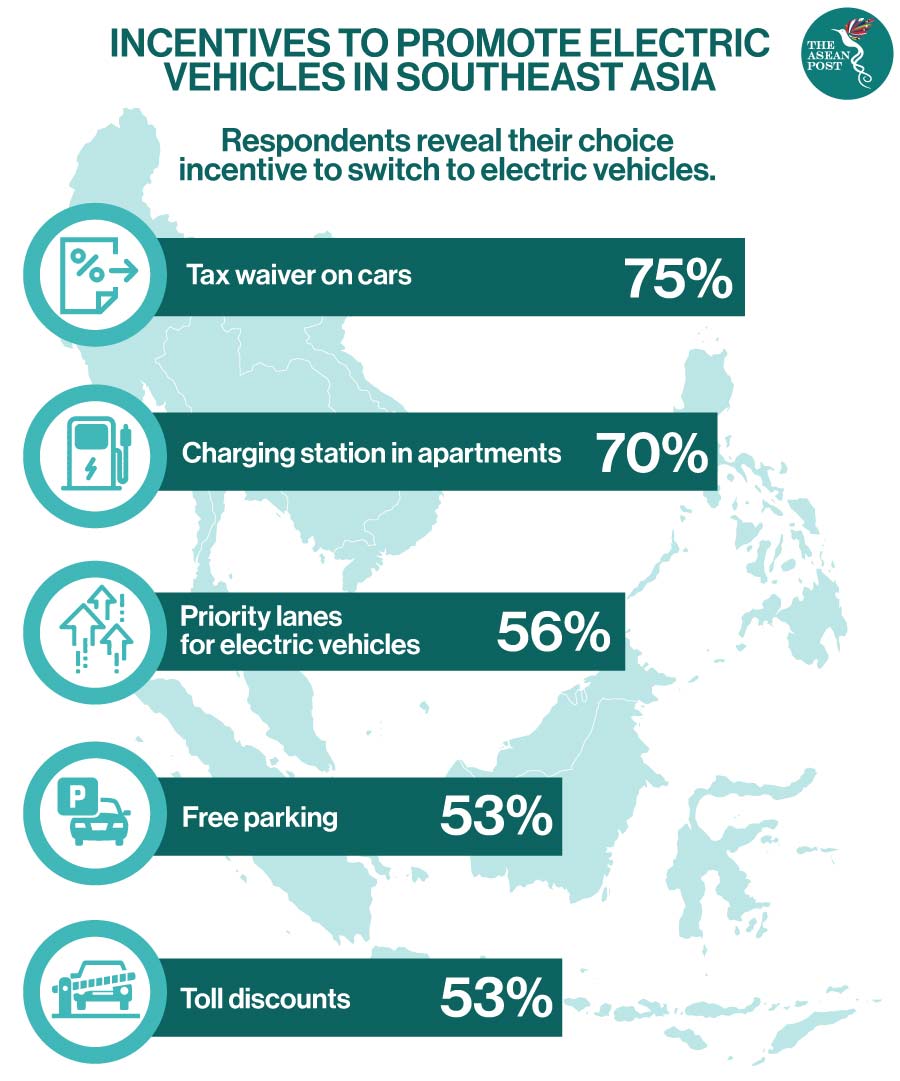 Incentives
ASEAN member states need to encourage their respective citizens to switch to EVs. In the same Frost & Sullivan study, respondents said that the best incentive to make them switch to EVs would be tax exemptions. While tax incentives usually mean governments would incur some sort of cost due to loss of tax revenue or having to bear the cost of subsidies, ASEAN governments need to realise the irreversible impact vehicles are having on the environment.
"The region lacks a supply of electric vehicles, attractive consumer economics, government incentives (in most countries) and a charging infrastructure. Yet electric vehicles are certain to be a catalyst for building up Southeast Asia's mobility industry," said Bain & Company in its 2019 brief titled, 'Finding a New Route to Southeast Asia's Electric Vehicle Future.'
"The region's annual new investment in passenger electric vehicles will grow to US$6 billion by 2030… and it will need another US$500 million in new charging infrastructure as service providers support electrification needs," stated the report.
Some Southeast Asian countries have already made a head-start in encouraging the use of EVs. To promote the use of EVs, the Thai government has drafted a 'Electric Vehicle Promotion Plan for Thailand' under its Thailand Alternative Energy Development Plan 2012-2021. As a result, Thailand went from having 60,000 hybrid passenger cars and 8,000 battery electric motorcycles that were registered in 2014 to a total of 102,308 hybrid cars and 1,394 battery electric vehicles.
Vietnam's first car manufacturer, VinFast is also planning to release EV's of its own. VinFast announced that it will produce 250,000 electric scooters a year and is planning to release its own electric car.
Currently the region is also, rightly, investing in public transportation. Despite this, it is unlikely that the dependence on cars and motorcycles would decrease. 
"Governments in countries such as Singapore and Thailand prefer to prioritise getting passengers out of cars and onto public transportation. In other countries, governments worry about losing local manufacturing jobs as electric vehicles are not likely to be produced locally in the near future," stated Bain & Company.
The reality is that many Southeast Asian cities are designed with cars in mind rather than public transportation. Other than that, a properly planned public transportation system could take years to develop. Many of the public transport infrastructure projects in the region will only be completed at the end of the next decade. For example, the first subway system in Manila is only expected to be completed in 2025. 
With this in mind, EVs could well be the immediate solution for the region's transportation woes. 
Related Articles:
Bruneians' Insatiable Appetite For Cars