After Indonesia's Petrosea embarked on the digital transformation of its Tabang coal mine in Kalimantan in June 2018, it soon became apparent that initiatives like real-time performance monitoring and predictive maintenance would help ensure the company's sustainable growth.
Indonesia is ASEAN's largest producer of coal and fifth largest in the world, and as demand for energy continually increases, a number of Southeast Asian countries continue to utilise coal as a cheap way to meet their energy needs. In a 2017 report, the International Energy Agency (IEA) stated that Southeast Asia's energy demands are forecasted to grow as much as 60 percent by 2040 with coal accounting for almost 40 percent of that growth. 
Despite various challenges such as the volatility in global coal prices, disruptions in the mineral and coal markets and sustainability concerns, Petrosea took the plunge and adopted Fourth Industrial Revolution technologies such as big data and advanced analytics in a bid to further improve the company's operational and financial performance.
The results came in just six months when Petrosea was able to increase its production by 30 percent and transform a challenging project in a remote area into one of the company's most profitable operations.
Fast-forward one year, and the company made headlines last month after being the only ASEAN-owned company to feature in the World Economic Forum's Global Lighthouse Network – a community of manufacturers that are showing success in integrating Fourth Industrial Revolution technologies to drive efficiency, innovation and financial impact.
A factory in Indonesia owned by France's Schneider Electric joined the Tabang mine as among the 10 newest additions to the Global Lighthouse Network – no mean feat considering there were over 1,200 applicants. There are now 26 lighthouses across multiple geographies and industries, serving as beacons to guide others to overcome challenges in upgrading systems and applying cutting-edge technologies.
"This is a very proud moment for us," said Hanifa Indradjaya, President Director of Petrosea.
"Our digital transformation at Tabang enabled us to reduce cost and increase production, and as a result, we have achieved incredible results in a very short amount of time. This is only the first step of our company-wide digital transformation," he added.
Transforming operations
In an interview with The ASEAN Post, Petrosea explained how the real time monitoring system of its mining fleet in Tabang led to improved decision-making.
The mine's heavy equipment was installed with sensors that captured data (e.g. fuel consumption, driver performance and road conditions) in real time for improved analysis and decision-making, allowing operators to instantly know which equipment is consuming more fuel, which driver is inefficient and which patch of road requires maintenance.
A predictive maintenance system used to monitor the mine's heavy equipment has extended its lifetime and helped increase average equipment availability to over 90 percent.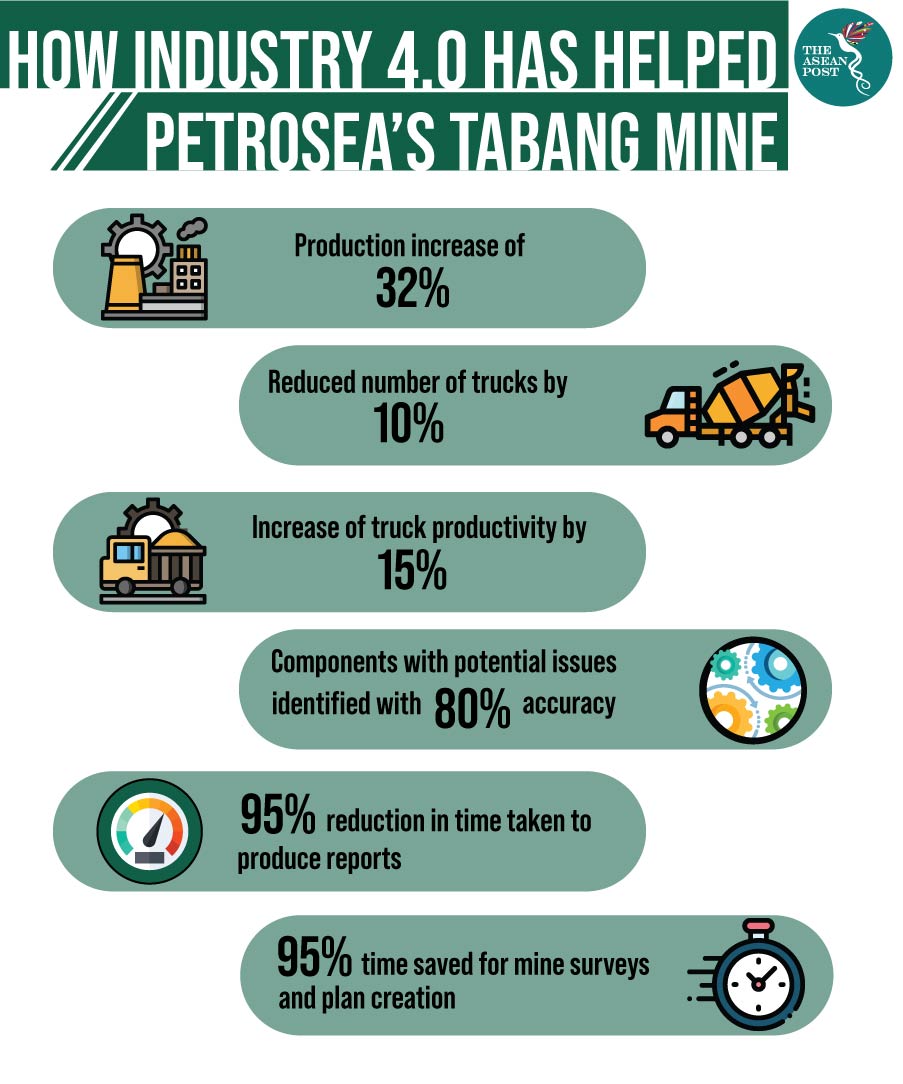 Source: Petrosea
Drones took to the skies to plan mines, conduct mine surveys and monitor road conditions, and an app was specifically developed to control operational activities and enable supervisors to make decisions and action plans to increase productivity.
"We have seen first-hand how advanced analytics, machine learning and Internet of Things (IoT) have transformed our operations, and we believe it has wide applicability and scalability," explained Hanifa.  
Plans are now underway to implement similar digital transformations in the company's other business lines and supporting units. However, implementing these changes have not been easy.
Due to its remote location – reaching the Tabang mine requires around seven hours of travel by car and a further three hours by boat – a stable network connection proved to be a huge barrier, particularly when using, sharing and integrating big data.
In addition, shifting the behaviour and mind-sets of employees to get them to fully embrace new ways of working was another challenge towards creating a more technologically advanced and sustainable mine.
Raising skill levels, promoting sustainable mining
As the United Nations Development Programme (UNDP) and UN Environment noted in its 'Managing mining for sustainable development' report in 2018, the growing trend of automation in the mining industry means that raising workers' skill levels might increasingly become a necessity instead of an option. 
It is estimated that further diffusion of automated technologies in the mining industry will likely reduce the number of jobs in a typical mine by 30 to 75 percent. Demand for lower-skilled jobs such as truck drivers and drilling and blasting workers will decline while demand for remote machinery operators will increase. 
Mining is a sector with rapid technological progress, and enabling people to learn and acquire skills can foster the productive capabilities of other companies in the country – arguably the single most important factor in driving economic development.
The main constraints to sustainability in the mining sector remain the ever-increasing demand for mined resources, the consumption of resources needed for extracting and processing the mined material, and the increasing pollution generated by the extraction process.
While more environmentally friendly technologies might be costlier in terms of capital and operational expenditures, these technologies can also be more efficient – thereby increasing revenue and reducing environmental clean-up and liability costs.
Thus, incentives for companies to incorporate more innovative solutions and cleaner technologies in a more cost-effective manner will improve the competitiveness of the mining industry and uphold strong environmental standards.
With solar and wind power dropping in cost as technology improves, and renewable energy enjoying a surge in investment, the coal mining industry faces some long-term profitability challenges.
Given the importance of mining to revenue and employment in some developing countries, fostering sustainable and efficient mining practices with the help of Fourth Industrial Revolution technologies will be critical in ensuring the industry's survival in the years to come.
Related articles:
Showcasing IIOT to ASEAN and beyond
Southeast Asia's over-reliance on coal