Illicit activity in the Sulu and Celebes Seas continues to pose a daunting maritime security challenge for the Philippines. The recent kidnapping of nine fishermen off the coast of Borneo and the increasingly violent modus operandi of the militant Abu Sayyaf Group (ASG) have raised safety concerns amongst Philippine policy makers and local communities. Although the Philippines has initiated several maritime enforcement initiatives, including the extensive National Coastal Watch System (NCWS), the government needs to enhance cooperation between land-based and maritime operations and increase engagement between military and civilian agencies to improve regional maritime stability.
To prevent a resurgence in illicit activity, the Philippines has been developing its ability to counteract irregular maritime threats by implementing surveillance and information sharing systems and procuring additional physical assets. Established in 2011, the NCWS strengthens informed decision-making and maritime domain awareness by institutionalising intelligence-sharing mechanisms between agencies such as the Philippine Navy, Philippine Coast Guard (PCG), the Bureau of Fisheries and Aquatic resources, the National Anti-Terrorism Task Force and the Philippine Ports Authority. This integrated system will have 20 offshore platforms, mostly centred around the Sulu and Celebes Seas, and is equipped with surveillance and interdiction capabilities. To achieve its full potential, however, the NCWS will also need an increase in both, human resources and physical assets. 
Additionally, the PCG, along with the Philippine Navy, supports the NCWS by performing maritime law enforcement, search and rescue, and environmental protection responsibilities. The PCG is expanding its maritime capacity by constructing 21 more substations and three provincial stations, increasing its floating assets with fast response boats procured from France and MRIV's from Japan, and has reportedly expanded the deployment of personnel to the tri-border area by 200 percent.
The Philippine Navy, deputised to operate within the Philippine exclusive economic zone and coastal waters, works in coordination with the PCG by contributing necessary logistics support vessels, frigates, and corvettes to maritime enforcement operations. 
Regional initiatives
The Philippines has also invested in regional initiatives with neighbouring countries like the Trilateral Cooperative Arrangement (TCA) and the Contact Group on Maritime Crime in the Sulu and Celebes Seas. Formed in 2017, the TCA coordinates maritime and aerial patrols and synthesises information sharing between Malaysia, Indonesia and the Philippines to combat illicit trans-border activity. Established in August 2018, the Contact Group aims to enhance coordination and build mutual trust between stakeholders from various military and civilian agencies in the three countries. 
To facilitate communication between stakeholders and to further develop the Philippines' maritime enforcement capabilities, the Stable Seas program of the One Earth Future Foundation and the Asia Pacific Pathways to Progress Foundation invited Philippine policymakers to a two-day workshop in June 2019. This workshop, which stems from the recently-released Sulu and Celebes Seas maritime security report, seeks to examine how the report's findings could be transformed into policy impact. The valuable discussions highlighted two key policy requirements: the need to expand cooperation beyond the maritime domain and to increase engagement between military and civilian stakeholders.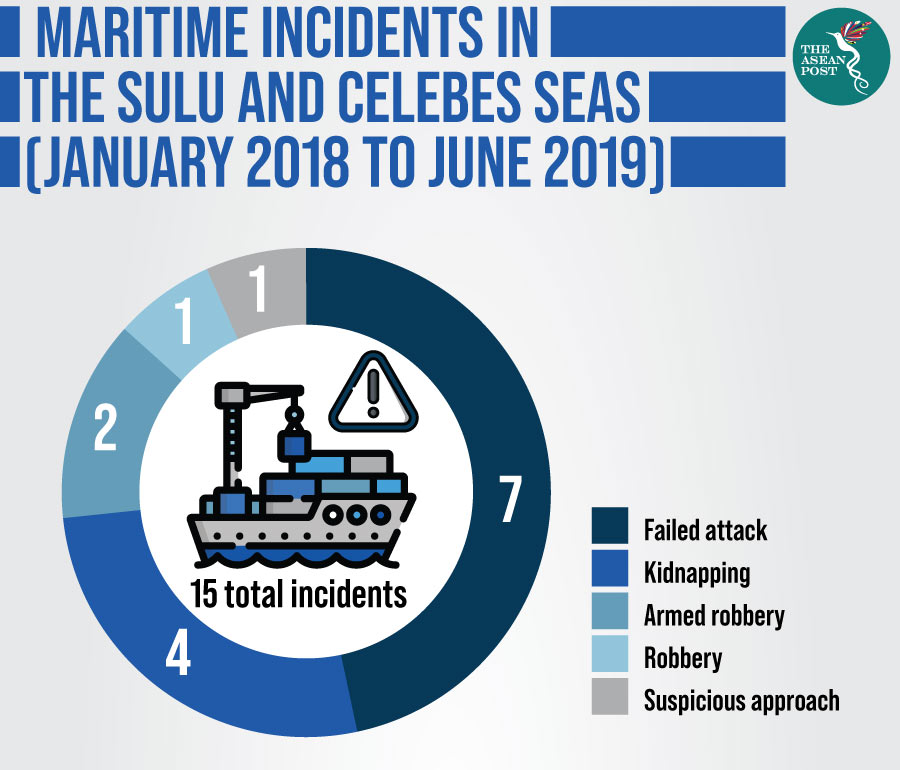 Integrating efforts with land-based organisations creates a unified front against the multi-dimensional nature of maritime crimes. While illicit activity frequently occurs in ports and coastal waters, they are ultimately linked to land-based activities and networks, such as inland recruitment for piracy and financial institutions for money laundering. In July 2019, for instance, Philippine authorities arrested Mahmoud Afif Abdeljalil for using several mosques and religious seminaries in the southern Philippines to extend financial support to the ASG, an armed group responsible for piracy, kidnappings, illicit trading, extortion, and armed attacks. 
Recognising the interconnected nature of land-based and sea-based operations, the TCA plans to incorporate land based military exercises into the existing maritime cooperative framework to deter transborder crime. Within the Philippines, creating systems of resource distribution will reduce inter-agency competition and encourage collaboration across inland, coastal, and maritime organisations. 
The Philippines can also expand on cooperative measures by involving land-based stakeholders like the Armed Forces of the Philippines and the Bureau of Immigration and Deportation in official meetings on maritime security policy.  
Civilian-military collaboration
To exploit the full potential behind civilian-military collaboration, single points of contact for the TCA and grassroots initiatives to support maritime enforcement need to be implemented. By creating a structured information-sharing system, focal agencies for international, national, and regional points of contact would harmonise response strategies between military and civilian agencies. Recognising the benefits, the National Coast Watch Council (NCWC) has decided to explore central points of contact options through a dedicated study group. 
Increasing community member engagement in maritime stability also supports the intelligence, surveillance, and reconnaissance operations of Philippines' maritime law enforcement agencies. Diminishing support from the Tausug community, for example, allegedly contributed to the surrender of nine ASG members to the AFP in July, 2019. Philippine military intelligence has long suspected that locals have harboured ASG operatives and overlooked their illicit activity. Without the cooperation of local communities, the activities of armed groups become more vulnerable to detection. 
PCG programs that recruit fishermen as auxiliaries against illicit trading forms another successful precedent for civilian-military collaboration. By widening the focus of the program to encompass other illicit maritime activities, the initiative could boost accountability amongst coastal communities and increase trust between the military and civilian sectors. Tapping into civilian resources to counter maritime threats will allow the NCWC, TCA, and PCG to expand the scope of their operations while working within budgetary constraints. 
While the Philippines has successfully implemented national and regional counter-measures against illicit maritime activities, the expansive coastline of the Philippine archipelago, socio-economic difficulties experienced by coastal communities, and the destabilising presence of armed groups have created a complex environment for maritime enforcement efforts. 
To heighten the effectiveness of Philippine maritime policy, officials need to invest in more land-based community involvement programs and strengthen civil-military relations. Combined, these initiatives would ensure the efficient use of state capacity and encourage a unified approach by national and regional actors to eradicate maritime security threats in the Sulu and Celebes Seas.
Michael van Ginkel conducts research with One Earth Future (OEF) Foundation, a non-profit research organisation focused on international conflict and governance. His work concentrates on conflict resolution and peacekeeping operations. This article is derived from his research with the Stable Seas program, an OEF initiative providing innovative research on maritime security issues.  
Related articles:
Vietnamese hostage rescued in Philippines: military
Philippine navy chief sacked in surprise move