Malaysian athletes come from different ethnicities, cultures and backgrounds which have created an environment of tolerance, understanding and respect among the nation's sportswomen and sportsmen. 
Sport is one of the great drivers of gender equality which is an important enabler towards achieving the United Nation's (UN) Sustainable Development Goals (SDGs). Yet, when it comes to equality, are women equally represented in Malaysia's sports scene? In previous major sporting events such as the 2016 Olympic Games and the 29th Southeast Asian (SEA) Games in 2017, the Malaysian team saw almost equal participation of women at 46 percent and 44 percent, respectively. 
But at the 18th Asian Games in 2018, the nation's representation of women was only at 38 percent. And among the 40 events that Malaysia took part in, women were not represented in 10 of them and were underrepresented in at least 16. 
This is not to say that Malaysia is not producing outstanding female athletes, as they've done so in squash, karate, bowling, swimming, diving and wushu. But women's participation in typically male-dominated sports such as football and rugby has been lacklustre which says a lot considering women's football took root in Malaysia as early as the 1960s. 
'Progressed spectacularly'
How then have sportswomen in Malaysia progressed? National artistic gymnast, Farah Ann Abdul Hadi, says that sportswomen "have progressed spectacularly," adding that women have won "multiple medals in various levels of competition." Farah Ann herself captivated the country with her performance at the 29th SEA Games where she took home the gold medal. 
Malaysia's gold medal haul for women (61 medals) at the SEA Games nearly rivalled that of its men (77 medals), but the country's women were less successful at the Asian Games, having only won 12 medals out of the 36 won by Malaysia in total.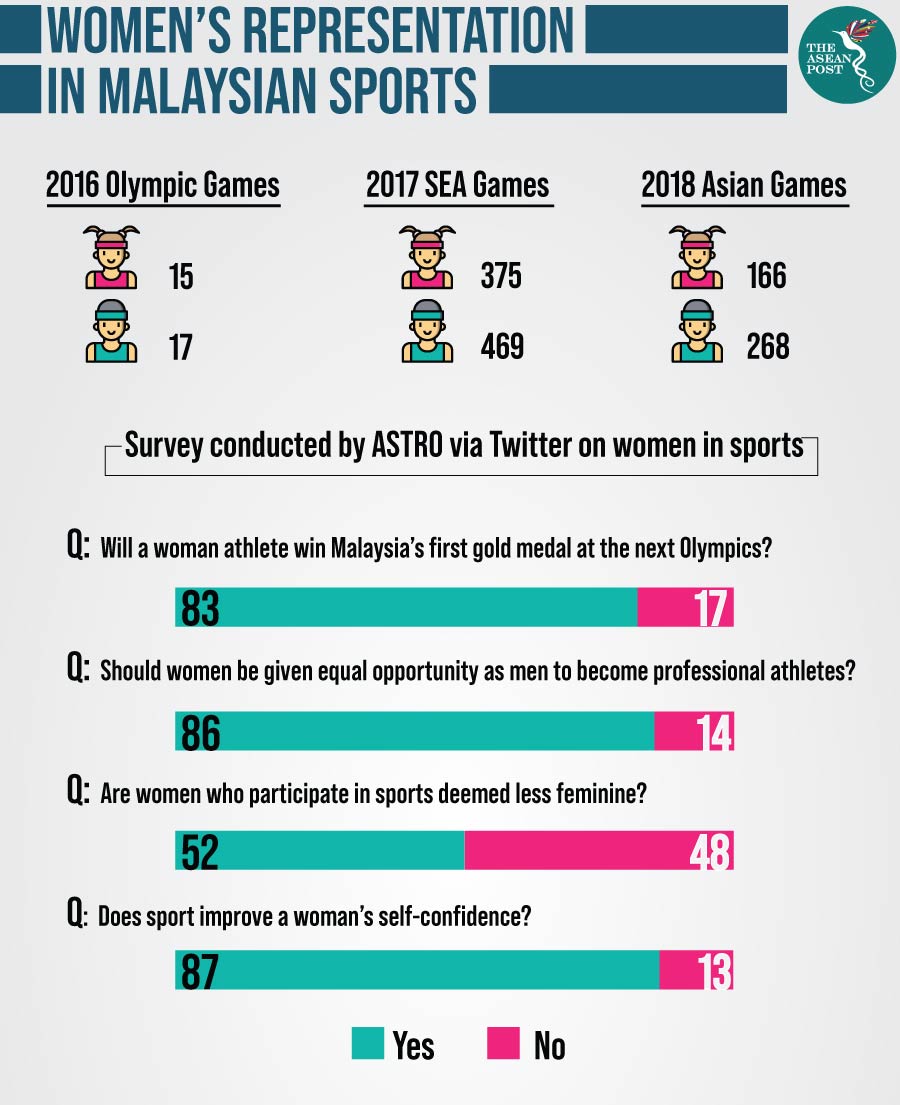 Source: Various, 2019
Farah Ann told The ASEAN Post that some of the challenges faced in Malaysia were a lack of support and recognition of sportswomen as assets to the nation. She also spoke of how sports is sometimes viewed from a traditional gender role perspective that questions "women's choice of participating in sports."
Gender disparity still exists, even when female athletes are starting to bridge the gender gap. Choosing sports may also not be easy in a society obsessed with policing women's clothes. Societal expectations of valuing women's bodies in terms of what they look like rather than what they can do is also a challenge. 
Grassroots level
According to the United Nations (UN) Women's report, 'One Win Leads to Another' (OWLA), a girl's confidence drops two times than that of a boy's at puberty, and at least 49 percent of girls drop out of sports. The report insists that adolescence is a critical time to instil a love of sports.
Farah Ann says that "some girls do not continue sports due to several reasons," citing minimal support from parents or guardians and the expected "gender roles that are placed on women, that makes them feel that sports somehow makes them less ladylike or too masculine."
Nicol David, the recently retired legendary professional squash player from Malaysia, concurs with this observation. "It's a tough situation that a lot of girls face because they're worried about being seen as a tomboy." She too agrees that encouragement has to start at home.
In schools, the government of Malaysia's 'Education Blueprint 2013-2025', makes it a requirement for every student to participate in one Sport, one Club, and one Uniformed Body. While the emphasis on sports development at the grassroots level has seen more girls taking up sports, there is the issue of balancing sports and academics. Achieving sporting excellence is hard when students are too busy studying. However, responsibility should not fall on schools only. A pipeline of support systems is just as important.  
On whether there is already a support system for girls to pursue a sport, Farah Ann said that "there is a good support system for girls in place, especially in core sports such as athletics, swimming and badminton. However, access may still be limited in certain rural areas where a career in sports is deemed to be less enticing."
She adds that having a level playing field in schools is recommended. "It is important that both girls and boys are treated with the same respect in sports," she explained, citing the need to separate the association of athleticism and being strong with a single-gender. 
Funding 
To further encourage young people to take up sports, Malaysia's Youth and Sports Minister, Syed Saddiq Syed Abdul Rahman is hoping to make existing sports facilities in the country, available to the larger public. Syed Saddiq said that Malaysians are embracing healthy lifestyles, so it is only proper that existing sports facilities be made available to the public as soon as possible. 
"We should not keep these facilities for ourselves and our athletes. We need to ensure that the public gets to enjoy them," he told local media. 
At another press conference, Syed Saddiq announced that next year, Malaysia will see a significant growth of funding – especially for women – to inspire more young girls to take up sports. Syed Saddiq also wants to ensure the budget is distributed equally among the genders. 
Visibility matters 
Stereotypes, discriminatory social norms and lack of representation remain some of the most pervasive barriers to gender equality around the world. Though Malaysian women are taking strides in breaking the barriers set by traditional gender roles.
A few years ago, Malaysia saw their very first pro female MMA fighter in Ann 'Athena' Osman. Her eventual retirement only birthed more athletes to follow in her footsteps, among them a 17-year-old Nur Amisha Azril Rizal who already has several Muay-Thai championships under her belt. 
Malaysia also has a female-wrestler known as 'Phoenix' who is also breaking stereotypes. Putting aside her hijab, Phoenix takes on hulking opponents while standing at 155 centimetres only and weighing just 43 kilograms, with just her skills, speed and agility. The 19-year-old was an instant hit on social media, spurring interest in other hijab-wearing women. She fights professionally for the Malaysia Pro Wrestling (MyPW) organisation which has the same standing as the United States' (US) World Wrestling Entertainment (WWE). 
To encourage girls to stay in sports, Farah Ann advises them to "believe in their goals in sports, work hard for what they want to achieve, and don't allow others to pull them down." She also asks that people "believe in themselves and pursue what they are passionate about."
Female athletes have an opportunity to put these ideals into action towards achieving gender equality and empowerment. And in sports, visibility matters because young girls want to see female athletes that they can look up to for inspiration and in turn, lead them to believe in their own capabilities. 
Nelson Mandela once said that "sport has the power to change the world. It has the power to inspire. It has the power to unite people in a way that little else does. It speaks to youth in a language they understand."
Farah Ann believes that Malaysia should show support to its women and men in sports by celebrating their wins as much as their efforts of "continuously fighting to bring pride to the country." Farah Ann and the rest of the Malaysian contingent will be in action at the upcoming Philippines SEA Games in November. 
Related articles: