Today, there are nearly eight billion people living on the planet. As this number continues to grow, the need for water, food, land, and energy will also rise. The climate is one of the earth's fundamental life support systems which determines if the planet is habitable or not. Rapid development in many countries, deforestation for agriculture, ever-growing cities, mining and industries have all contributed to a drastic change in the earth's climate.
The Philippines, home to an estimated 111 million people, is highly vulnerable to the impacts of climate change including sea level rise, increased frequency of extreme weather events, rising temperatures and extreme rainfall. Just last year, the country was hit by a number of deadly natural disasters such as Super Typhon Goni and Typhoon Vamco whilst battling the COVID-19 pandemic.
According to the World Wide Fund for Nature (WWF), "there is no path to protecting the climate without dramatically changing how we produce and use electricity."
Therefore, many organisations, activists and experts are preaching about powering a greener future through cleaner sources of energy.
Geothermal Potential
The Philippines' current energy mix highly favours fossil fuels, with coal, natural gas, and oil, which account for 73.5 percent of the country's total energy needs. This is mainly because these are relatively cheaper sources, especially coal – which is the country's most heavily used energy source. Out of the country's 75,266-gigawatt hour (GWh) electricity demand in 2013, approximately 42.6 percent was sourced from coal. 
However, Duke Energy, one of the largest electric power holding companies in the United States (US) stated that a wide variety of environmental impacts are associated with generating electricity from coal. 
As the effects of climate change are clearly visible around the world, including the Philippines, a cleaner source of energy is very much needed. Organisations around the world have also stressed about building a better world after COVID-19 through clean energy.
An energy source that has the potential to make a difference in the Philippines is geothermal.
Southeast Asia is home to 25 percent of the world's geothermal generation capacity. Most, if not all of this geothermal capacity is located in Indonesia and the Philippines – both ranked as the second and third largest producers of geothermal energy in the world, according to geothermal news site Think GeoEnergy in 2019.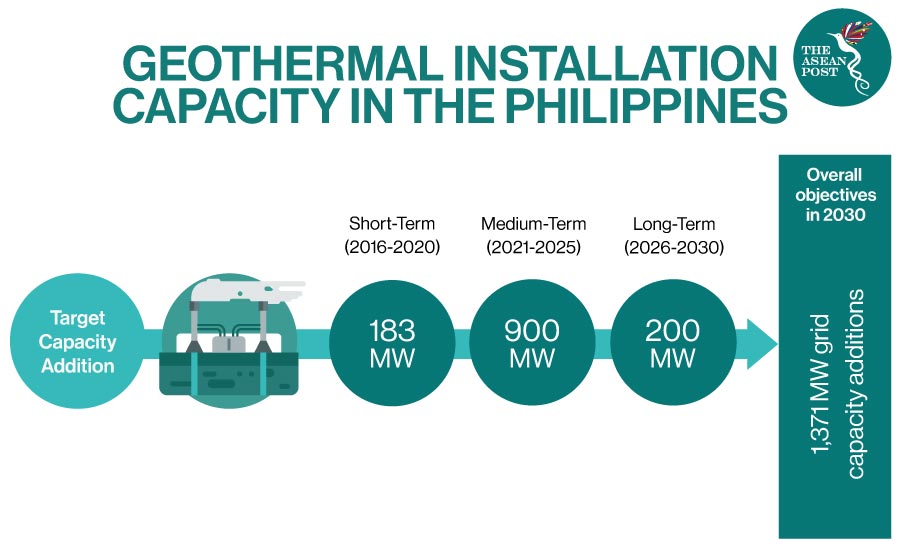 Geothermal energy is a form of renewable energy produced by heat from the earth. It is considerably safer than most other energy sources. The environmental impact of geothermal energy is minimal, especially when compared to fossil fuel power plants.
The Philippines is one of the world's top producers of geothermal power, as it is located along the Ring of Fire zone of Pacific volcanoes. However, in 2018, the country dropped in the global rankings for geothermal countries, just behind Indonesia. This prompted the Philippines to consider revamping its geothermal development again.
In June 2018, the country launched a new string of exploration surveys, which is an addition to roughly 10 contracts with power companies on geothermal exploration, said Think GeoEnergy.
The Philippines currently has seven geothermal fields which supply about 12 percent of the nation's energy, with a long-term plan to nearly double capacity by 2040. According to a report titled, "Philippines Geothermal Energy Industry 2020-2025: Trends, Developments, Policies, Regulations and Key Players," the Philippines government has a target to phase out its coal usage by 2040 and focus more on energy production from natural gas and renewables. This will potentially create several opportunities for the country's geothermal energy market in the future.
The Philippines' Department of Energy stated in its report titled, "Philippine Energy Plan 2016-2030," that geothermal energy will continue to be the country's major renewable energy resource in 2030, accounting for more than 40 percent of the total renewable energy under the government's Business As Usual (BAU) Scenario. 
To note, the report presented a few scenarios and the BAU scenario simulates how the future supply of energy will evolve without further government policy intervention and as the most likely to happen scenario.
The Energy Development Corporation (EDC), a geothermal trailblazer and leading renewable energy company, believes that geothermal is the key to establishing a stable energy baseload suited to the constant yet dynamic power needs of the Philippines' developing economy. 
Related Articles:
ASEAN's Future Energy Landscape Post COVID-19
The Philippines Tops Energy Ranking For Environmental Sustainability