Swiss-based International Institute for Management Development (IMD) recently released its World Talent Ranking for 2019. The ranking involved 63 countries from around the world, including five ASEAN member countries (Indonesia, Malaysia, the Philippines, Singapore and Thailand). The results, as far as the Southeast Asian bloc is concerned, could be considered bittersweet as is often the case in a region as diverse and dynamic as this. 
The IMD World Talent Ranking assesses the status and the development of competencies necessary for enterprises and the economy to achieve long term value creation. It does so by using a set of indicators which measure the development, retention and attraction of a domestic and international highly-skilled workforce.
Looking at ASEAN, first of all, and – honestly, at this point – unsurprisingly, Singapore performed the best out of the five ASEAN member countries involved in IMD's talent ranking. Managing to make top 10 this year, Singapore was sandwiched between other European countries which were Switzerland (1st place), Denmark (2nd place), Sweden (3rd place), Austria (4th place), Luxembourg (5th place), Norway (6th place), Iceland (7th place), Finland (8th place), and Netherlands (9th place). In 11th place, after Singapore, was Germany, followed by the United States (US) in 12th spot. 
The next best-performing ASEAN country was Malaysia which is ranked far behind Singapore (by more than 10 countries) in 22nd place on IMD's World Talent Ranking. 
Nevertheless, despite the large gap between Singapore and Malaysia, the latter performed quite well considering the other three ASEAN countries in the ranking which were left even further behind with Indonesia coming up in 41st place, followed by Thailand (43rd), and the Philippines (49th).
According to the IMD report, rankings were obtained by looking at three main factors: Investment and Development, Appeal, and Readiness. For Investment and Development, what IMD looked at was the investment in and development of home-grown talent. For Appeal, IMD looked at the extent to which a country taps into the overseas talent pool. Thirdly, for Readiness, IMD looked at the availability of skills and competencies in the talent pool.
"Finally, to compute the overall World Talent Ranking, we aggregate the criteria to calculate the scores of each factor which function as the basis to generate the overall ranking," IMD explained in its report.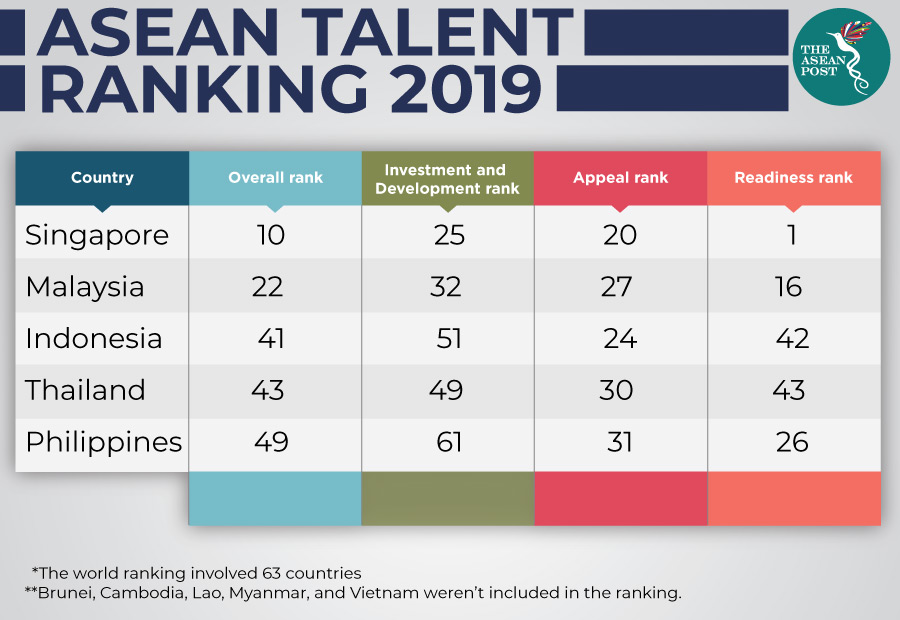 ASEAN's best performer, Singapore, ranked 25th for Investment and Development, 20th for Appeal, and 1st for Readiness. Meanwhile, ASEAN's worst performer, the Philippines, ranked 61st for Investment and Development, 31st for Appeal, and 26th for Readiness. 
Interestingly, while the Philippines' performed poorly compared to other bloc members in terms of Investment and Development as well as Appeal, both Thailand and Indonesia ranked worse than the Philippines in terms of Readiness at 43rd and 42nd, respectively.
Diverse ASEAN
In most instances, when it comes to rankings and indices, there is clear disparity between how ASEAN countries perform. Usually, it's Singapore which comes out tops, while countries like Lao are often bottom placed. Why is this the case?
Previously, ASEAN Parliamentarians for Human Rights (APHR) member Wong Chen explained why he believed these stark differences exist in rankings and indices. He told The ASEAN Post that the problem is rooted in the differing levels of economic and political development, which he says "do so greatly". As a result, he adds, rankings can and do vary greatly.
Wong said the key was for ASEAN countries to be more helpful of each other in improving circumstances. This, he said, was also the case for matters regarding non-political issues such as health, education, and infrastructure.
"The more prosperous ASEAN countries must be ready to share and transfer knowledge to the lesser advanced countries," he said.
It is important to note that while Singapore is often the top performer in the bloc, this has not always been the case. While there may be huge differences in how IMD sees competitiveness across the Southeast Asian region, the important thing is that ASEAN countries learn and continue to grow. 
Related articles:
WEF: Singapore world's most competitive economy