Singapore has dethroned the United States (US) as the world's most competitive economy in yet another international survey.
The Singapore government's long-term vision and the country's robust infrastructure and diverse workforce were among the factors which saw it edge the US in the World Economic Forum's (WEF) Global Competitiveness Index released yesterday.
The US, which held top spot last year, dropped into second place this year – with Hong Kong moving up four spots in the list of 141 economies to finish third, followed by the Netherlands and Switzerland.
It marks the second time that Singapore has beaten the US in a global competitiveness ranking this year after edging them in the IMD World Competitiveness Rankings published by Swiss business school International Institute for Management Development (IMD) in May.
The next best ASEAN economies in the WEF Global Competitiveness Index were Malaysia (27th) and Thailand (40th), both of which slipped two spots from 2018. Despite finishing 65th, Vietnam especially impressed as it jumped 10 spots – making it the most improved economy in the index.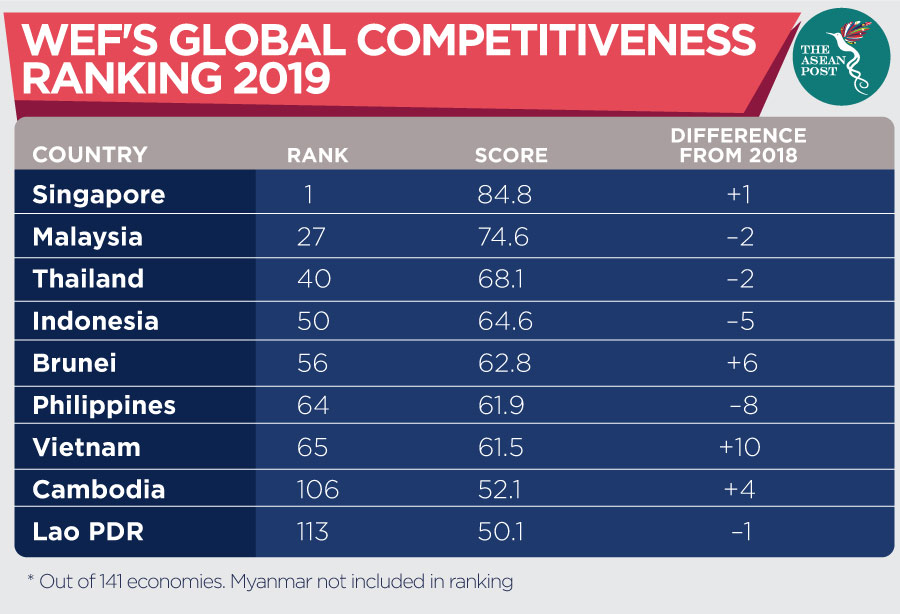 Now in its 40th year, this year's edition of the WEF Global Competitiveness Index is based on 103 key indicators such as critical thinking, trade tariffs and life expectancy – which were divided into 12 pillars such as institutions, infrastructure and macroeconomic stability.
The Singapore government's stability, its responsiveness to change and the efficiency of the country's legal framework in settling disputes all topped the charts in the annual yardstick which pushes for policy-makers, business leaders and other stakeholders to look beyond short-term and reactionary measures and, instead, assess their progress against the full set of factors that determine productivity.
"This is encouraging news as it reflects how our strong fundamentals have continued to distinguish us from the competition," said Singapore's Minister for Trade and Industry, Chan Chun Sing, in a Facebook post.
"Nevertheless, as a small and open economy, we cannot afford to take things for granted. We must continue to build on our strong fundamentals, improve the capabilities of our enterprises, transform our industries and ensure that our workers are well-equipped with the right skills to stay competitive," he stressed.
Inclusive and sustainable growth
Despite being first in the world in indicators such as the prevalence of non-tariff barriers and cooperation in labour-employer relations, the report highlighted several notable shortcomings in Singapore such as the lack of press freedom (124th) and the enforcement of environment-related treaties (119th).
While its fixed broadband internet subscription rates and its ratio of pupils-to-teachers in primary schools average to about 45th in the list of 141 economies, Singapore's lack of commitment to sustainability – highlighted in its renewable energy regulations, which are only 62nd in the index – pose a grave threat going forward. 
Singapore is already grappling with the effects of climate change and the rising cost of living – which if combined, could take an especially harsh toll on those in the lower rungs of the socio-economic ladder.
Building shared prosperity and managing the transition to a sustainable economy are two defining issues of the day, and there is a clear moral case for a focus on the environment and inclusivity after decades of unsustainable growth have seen the acceleration of climate change for hundreds of millions globally and the undermining of social cohesion due to rising inequality.
"The report demonstrates that there are no inherent trade-offs between economic growth and social and environmental factors if we adopt a holistic and longer-term approach," said Klaus Schwab, WEF's Founder and Executive Chairman.   
"While few economies are currently pursuing such an approach, it has become imperative for all economies to develop new inclusive and sustainable pathways to economic growth if we are to meet the (United Nations') Sustainable Development Goals," he added.
Since environmental constraints are global, effectively reducing environmental threats require very close cooperation among countries in addition to national efforts.
Schwab called for bold leadership and proactive policy-making, often in areas where economists and public policy professionals cannot provide evidence from the past, as economies push towards a new inclusive and sustainable system.
While competitiveness is undoubtedly important in today's globalised world, the choices and decisions that leaders make in Singapore and beyond must take into account the joint objectives of growth, inclusion and sustainability.
Related articles:
ASEAN competitive despite global turmoil
Taking the fight to climate change