Singapore's status as the world's most competitive economy in the IMD (International Institute for Management Development) World Competitiveness Rankings is not the only thing ASEAN can be proud of.
While Singapore dethroned the United States (US) to stand atop the annual rankings for the first time since 2010 as Hong Kong remained second, the four other ASEAN countries in the list of 63 economies also performed strongly. The 63 economies were judged in four categories: economic performance, infrastructure, government efficiency and business efficiency.
Most notably, Indonesia shifted up 11 spots to 32 due to greater government efficiency and better infrastructure and business conditions in the rankings released by Swiss business school IMD earlier this week.
While Malaysia retained last year's position of 22, Thailand jumped five places to 30 thanks to increases in foreign direct investment (FDI) and productivity. 
The Philippines moved up four spots to 50, and in a statement released to Philippine media, the Malacanang presidential palace said the improvement shows emerging investor confidence.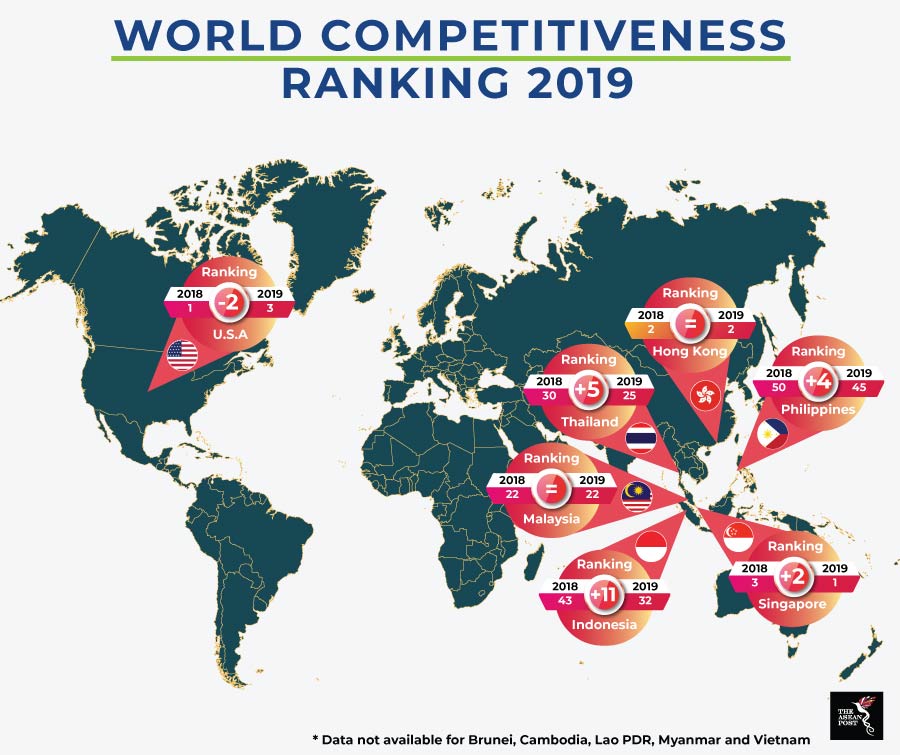 Source: IMD World Competitiveness Center
'Our competitors are getting stronger too'
Singapore's rise is driven by its advanced technological infrastructure, availability of skilled labour, favourable immigration laws and efficient ways to set up new businesses.
Warning of an uncertain economic outlook given the tensions over trade and protectionist sentiments, Singapore's Trade and Industry Minister Chan Chun Sing said that the country must continue to diversify its linkages to more markets while ensuring their workers are equipped with the skills of tomorrow.
"We may be ahead today, but our competitors are getting stronger too," said Chan in a post on his Facebook page.
"To stay competitive, Singapore, as a small and open economy, must ensure that we continue to get our fundamentals right. We cannot afford to compete on cost or our size, but on our connectivity, quality, and creativity. We must leverage the brand of trust and standards that we have become known for, and continue to be a safe harbour for partnerships and collaboration," he added.
Brunei, Cambodia, Lao PDR, Myanmar and Vietnam were not included in the rankings.
Vietnam's exclusion is something of a surprise considering its growing economy and reputation as an attractive investment destination.
Why is competitiveness important?
Economists regard competitiveness as vital for the long-term health of a country's economy as it empowers businesses to achieve sustainable growth, generate jobs and enhance the welfare of its citizens.
Established in 1989, the IMD rankings assess the 63 economies based on 235 indicators. The ranking takes into account a wide range of hard data such as unemployment, economic growth, gross domestic product (GDP) and government spending on health and education, as well as data from a survey of international business executives on topics such as social cohesion, globalisation and corruption.
This year's biggest climber was Saudi Arabia, which jumped 13 places to 26 thanks to strong investment in education. Venezuela remains anchored to the bottom of the ranking, hit by inflation, poor access to credit and a weak economy.
"In a year of high uncertainty in global markets due to rapid changes in the international political landscape as well as trade relations, the quality of institutions seem to be the unifying element for increasing prosperity," said Arturo Bris, IMD Professor and Director of IMD World Competitiveness Center, the research centre which compiles the ranking.
"A strong institutional framework provides the stability for business to invest and innovate, ensuring a higher quality of life for citizens," he added. 
In today's highly interconnected and rapidly changing world, economies are affected by issues ranging from reservations over globalisation to scepticism over automation – and not all of them approach these problems in the same way. 
With the world now entering the Fourth Industrial Revolution, countries that are more competitive are also better equipped to address the challenges faced by adapting new technologies.
As the World Economic Forum (WEF) noted in its Global Competitiveness Index 2018 – which Singapore finished second – enhancing the fundamentals of competitiveness today will improve resilience to shocks tomorrow.
Ultimately, building economic resilience through competitiveness has become more important than ever in the face of climate change, geopolitical tensions and other potential flash points around the world.
Related articles:
Vietnam to overtake Singapore in a decade