Around 64 percent of consumers in Southeast Asia are confident of going cashless for a full day, highlighting the region's strong drive towards digital payments.
And while almost half of ASEAN's citizens in a recent survey by Visa are confident they can go cashless for up to three days, awareness of cashless payment systems in Myanmar is still relatively low.
Although more than 40 percent of the survey's respondents expect to utilise cashless payment in the coming year, awareness of contactless and QR systems is still low according to the study which explored consumer perception, attitudes and behaviours towards payment and new payment systems in Myanmar.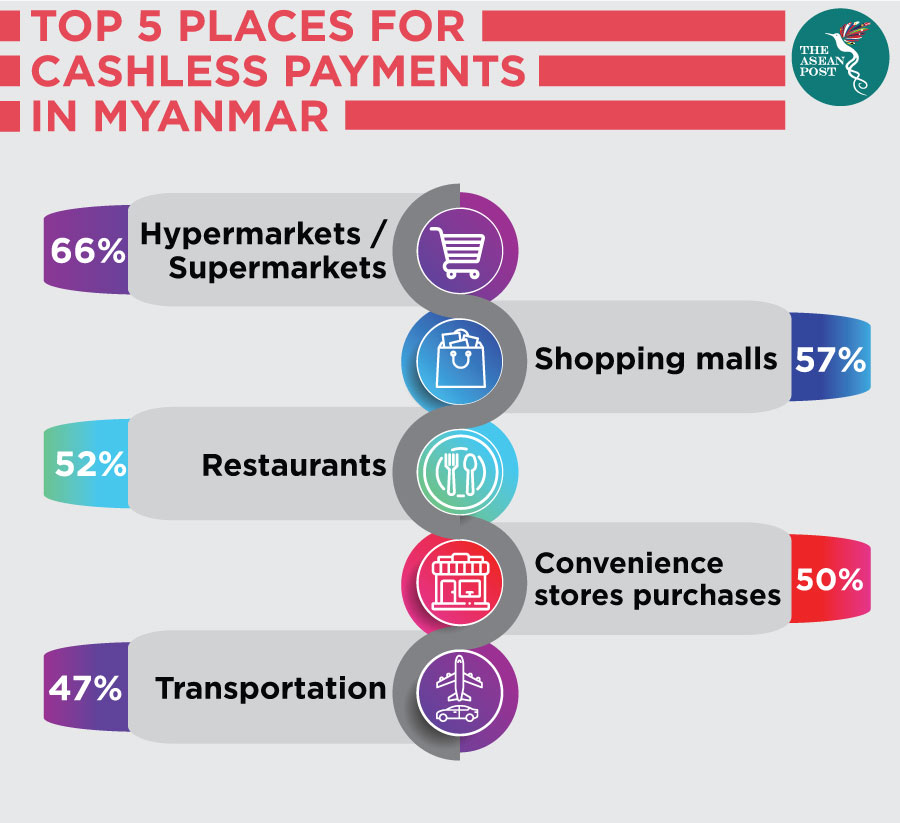 Surveying 504 people across Yangon, Pathein, Mandalay and Magway in September 2018, Visa found that up to 60 percent of consumers use cashless payments to settle payment in hypermarkets and supermarkets.
However, awareness about other contactless payment methods is still low, with only 21 percent of those surveyed stating that they are aware of contactless cards, 10 percent aware of mobile contactless payments and nine percent aware of QR code payments.
Contactless payments allow people to make payments by tapping their payment cards or phones on point of sales (POS) terminals instead of swiping or inserting their cards. QR (quick response) codes are two-dimensional bar codes which can carry purchase transaction information – allowing merchants to receive payments from customers when scanned.
Obstacles
There are several challenges in getting Myanmar to go cashless.
Digital payment solutions rely on electricity and the internet, and the lack of reliable electricity supply in rural areas is probably the biggest obstacle in converting people from cash to digital.
Another problem in Myanmar is a lack of training around such technology.
"Even in Yangon and Mandalay, where people are familiar with technology, some employees do not know how to accept payments by phone or card and sometimes ask for cash instead because the internet is down," Nyein Chan Soe Win, CEO and co-founder of e-commerce and ride hailing platform Get Myanmar told local media in April.
Although the Ministry of Transport and Communications revealed last year that there were over 56.8 million mobile subscribers in the country during the fiscal year 2017-2018, relatively few people have bank accounts in Myanmar.
Payment consultants Mercator Advisory Group estimates that 74 percent of Myanmar's citizens do not have a bank account and only five percent have debit cards – making it hard to develop an e-payment system based on mobile phones.
However, the interest is definitely there.
Last year, Visa noted how 64 percent of people it surveyed in five urban areas in Myanmar expressed interest in opening a bank account and utilising modern payment systems.
'Much to gain'
"There is so much for Myanmar to gain by moving away from cash to digital payments," said Arturo Planell, Visa Myanmar's country manager last year.
"At a micro level, consumers will enjoy fast, secure and reliable electronic payments with immediate access to the funds held at the bank or to a line of credit.
"For merchants, electronic payments will provide an enhanced purchasing experience, reduced cash and check handling costs, and access to a global pool of customers with guaranteed payment," Planell added.
The government is also pro-actively trying to encourage more use of cashless payment methods and to introduce such solutions into the daily lives of its citizens.
U Aung Soe, director of Myanmar's Export Promotion Department warned that the country's economy will be left behind if digital settlements and e-payment systems do not improve as they are playing an increasingly key role in facilitating trade, especially among the country's youth.
About 2.4 million of Yangon's seven million residents rely on the Yangon Bus Service for their daily transport needs, and a card payment system on city buses is expected to be fully operational by the end of the year as the government there seeks to improve fare collection rates.
Electronic payments make for greater transparency and provides the government with an easier way to collect taxes, with Get Myanmar's Nyein estimating the government could get at least three percent sales tax if all purchases were made online.
Elevating financial literacy will play a key role in getting more people to adopt new forms of payment, and equipping consumers with an understanding of how modern payment methods work will lay the foundation of the country's digital economy development.
Related articles:
Mobile wallets in Southeast Asia