A new wave of technology is helping to change the face of golf across Southeast Asia and the rest of the world.
From sensors embedded in golf gloves that record swing paths to drones which are helping to map golf courses, new technologies are increasingly finding its way into ASEAN's market of two million golfers and helping to provide the sport a wider reach.
There are 1,120 golf courses scattered across ASEAN. Thailand leads the way with 315 – which makes it 20th in the list of countries with most golf courses according to golf's governing body, the R&A (Royal & Ancient).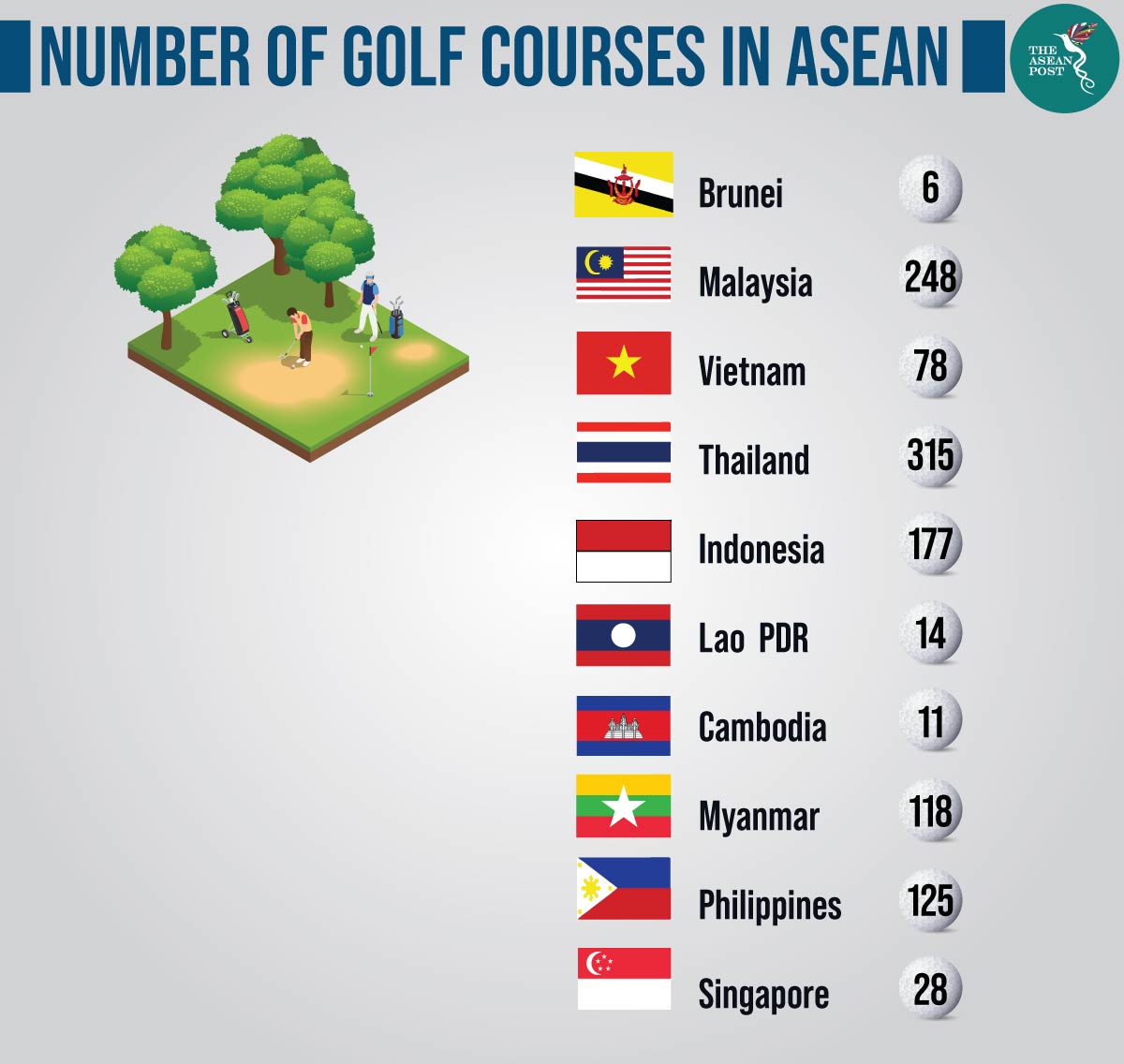 Source: R&A
An influx of new golfers – younger executives aged between 25 to 35 years – is pushing this demand for new technologies and the benefits they offer, with golf courses also implementing more technology to create efficient processes.
After initial resistance from 'senior' players, there has been a general acceptance that technology can be good for the game, according to the Asian Golf Industry Federation (AGIF).
Distance measuring devices and GPS systems which accurately tell players how far they need to hit the ball are two of the most dominant new technologies in golf today.
Golf clubs across the region have slowly been embracing other new innovations, from tee-time booking apps to the installation of GPS systems on golf buggies the AGIF said. On the industry side, automated mowers are making maintenance easier and courses' moisture readings and irrigation have also benefited from technological improvements in their respective fields.
Apps
Apps which help golfers find playing partners, map local golf courses and act as a GPS rangefinder are widely available across a range of platforms, putting vital technology into the hands of golfers across the region.
Golf courses and golf tournament organisers have started to leverage on the number of golfers using apps by creating daily games and tournaments on such platform so that golfers can join easily. Instead of calling up a golf club, golfers just join and fill up tee times/slots on the app.
One such app is Deemples – which helps golfers find playing partners across five countries in Southeast Asia; Malaysia, Singapore, Indonesia, the Philippines and Brunei. 
"Technologies will come in to help make golf courses run more efficiently, reducing the reliance on people and more on tech," David Wong, the Malaysian CEO and co-founder of Deemples told The ASEAN Post.
"Pricing (to play) will also be dynamic where it mirrors how airlines tickets and hotel rooms are sold; last-minute bookings become more expensive and earlier purchases are heavily discounted. With more participants per golf course, ancillary income will increase, including food and beverage, spas, equipment, academies, driving ranges and advertising sales," he added.
Social media
Live-streaming apps such as Periscope, of which Rory McIlroy was an early adopter, give fans an insiders' look into the sport and golf's governing bodies are also increasingly investing in social media and putting greater thought in curating the content they produce.
Pointing out that rivalry in the men's game between stars such as McIlroy, Jason Day and Jordan Spieth is helping the sport attract interest from fans across the world, Peter Dawson, president of the International Golf Federation (IGF), said this is having a positive effect on golf's younger audience.
"All this… is coming at a time of unprecedented technological advances in the way our fans can watch and access golf. More young people have more ways than ever before to connect with our game," he was quoted as saying in the HSBC State of Play 2020 report.
Coaches still key
While technology such as motion sensors, cameras and monitors are being combined with data analytics to fine-tune aspects of golfers games' such as their swing, for Ahmad Bateman, there is no substitute for a good coach.
"I am definitely an 'old school' instructor and feel that technology has its place, but that it cannot take the place of a good instructor," Bateman, Director of Golf and Instruction at the Bangkok Golf Centre in Thailand, told The ASEAN Post.
"To be honest, I think that video and launch monitors have helped players and coaches see issues and solutions better, but a lot of the other stuff… has very minimal or no impact on the quality of golf in ASEAN or the world for that matter!," added Bateman, who has played in 300 world-ranked events on the PGA, Web.com, Asian and Japan PGA Tours.
While technology's impact on golf in ASEAN has seen the sport evolve and keep pace with today's increasingly digitalised world, perhaps nothing can replace interaction with coaches and the years of experience they can bring to a golfer's game.  
Related articles:
Food delivery services in Southeast Asia
Building successful apps for Southeast Asia