After more than two decades, the region is well on its way to achieving its vision of a transboundary haze-free ASEAN by 2020.
In three months' time, the haze will be a distant memory thanks to the effective work of the regional body and its member states in combatting ASEAN's worst environmental crisis.
In three months' time, Southeast Asian governments will have found a long-term solution to the pale shadow cast over the southern regions of ASEAN every year caused by smoke from the burning of land for palm oil and other plantations – most of it in Indonesia's Kalimantan and Sumatra.
In three months' time, ASEAN citizens will breathe fresh air once and for all.
However, for many residents in ASEAN, a look out their windows is enough to give them a reality check. 
Back in the real world, citizens across Brunei, Indonesia, Malaysia, Singapore and Thailand are fed-up with ASEAN's inaction and continued empty promises of "cooperation" and "coordination" towards reaching its haze-free 2020 target which was announced three years ago.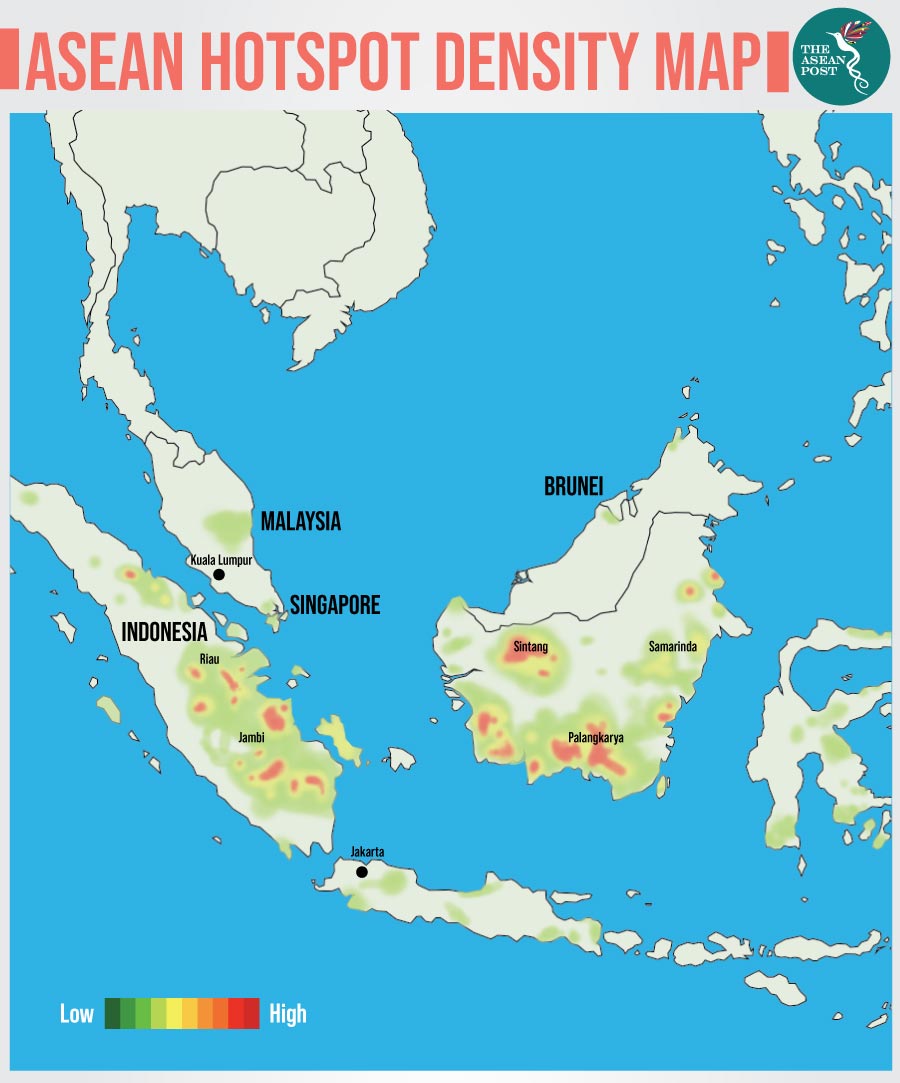 Hazy agreements and patronage politics
It is clear that ASEAN is nowhere nearer to solving the problem now than they were in 2002 when the ASEAN Agreement on Transboundary Haze Pollution (AATHP) was signed; the treaty serving as the main instrument governing transboundary haze mitigation in the region.
That it was only ratified by all member states 13 years later in 2015 after Indonesia finally got on board is proof of just how irrelevant the agreement is.
Fast forward to last month, and ministers at the 21st Meeting of the Sub-Regional Ministerial Steering Committee on Transboundary Haze Pollution in Brunei once again agreed to step up cooperation to effectively address transboundary haze as part of the goal of a haze-free ASEAN by 2020.
Let's imagine a similar scenario but in a corporate setting. Picture a group of business leaders meeting 21 times to discuss the exact same targets and then failing miserably to deliver – be it in achieving increased revenues or decreased costs. Such a group of inept leaders would soon find themselves looking for new jobs.
ASEAN, however, works differently. 
By its very nature, the ASEAN style of regional engagement does not lend itself well to haze mitigation.
Indonesia is the world's largest palm oil producer, and Malaysian and Singaporean firms are among the largest investors in this sector. The economic importance of palm oil to the states involved, coupled with traditionally close relationships between key economic actors and political elites, means that the maintenance of the status quo – where major plantation companies could continue to clear land using the cost-effective method of burning – is of crucial national interest, argues Dr Helena Varkkey, a Senior Lecturer at the Department of International and Strategic Studies at the University of Malaya in her 2012 paper titled 'The ASEAN way and haze mitigation efforts'.
"The ASEAN style of regional engagement has enabled member states to shape ASEAN initiatives to preserve the interests of these political and economic elite, while the public continue to suffer the haze," she added in the paper published in the Journal of International Studies.
State-led, state-incentivised agribusiness development lie at the heart of transboundary haze as Dr Helena noted in her 2016 book titled 'The Haze Problem in Southeast Asia: Palm Oil and Patronage', which in a nutshell talks about how ASEAN's haze mitigation initiatives have failed to curb the problem because of the undue influence of patronage networks in the palm oil plantation sector and the understandable difficulty in overturning this system of 'patronage politics'.
Responsibility and image
Although the link between the palm oil industry, corrupt practices and transboundary haze has been well documented, certain parties still live in denial. That some of these parties are ministers is something the haze-shrouded public will have to analyse for themselves.
Last week, Indonesia implicated four Malaysian companies – Sime Darby Plantation, IOI Corporation, TDM Bhd and Kuala Lumpur Kepong Group – as contributing to this year's haze. The latter two have since confirmed their involvement. 
This despite Malaysia's Primary Industries Minister Teresa Kok last week claiming that all four companies were among the "most respected palm oil cultivators" with certified sustainable cultivation practices.
Saying that reports of the Malaysian companies being involved were a "serious accusation," Kok had more choice words yesterday.
"When there is haze, you blame palm oil. What does it have to do with palm oil? There's no proof that all these hotspots are in palm oil plantation areas," Malaysian media quoted her as saying.
Touching on how these allegations hurt Malaysia's image, perhaps for the minister, saving face internationally is more of a concern than the health issues her compatriots have to deal with locally.
Sales of face masks, cough syrup and eye drops have been brisk, and school closures in Malaysia have affected around 1.7 million children from more than 2,600 schools.
Affected parents should look at this as a blessing in disguise; their children now have more time to help out with household chores which will in turn equip them with important life skills and a sense of confidence, self-esteem and responsibility.
Armed with a newfound sense of responsibility, perhaps this next generation can finally make the dream of a haze-free ASEAN come true.
Or maybe ASEAN will get its act together and make transboundary haze a thing of the past – in three months' time!
Related articles:
Fighting deforestation with technology