On 20 January, media reports of a medical officer who allegedly passed away from exhaustion shocked Malaysians. A charity group called 'Skuad Pengurusan Jenazah Malaysia' (Malaysian Funeral Management Squad) claimed that one of its members, Dr Ali Noor Hassan fell ill due to his workload – highlighting a lack of rest. According to the group's post on social media, Dr Ali fell asleep and then fainted, leading to his death.
However, Malaysia's Health Ministry clarified that the death of the doctor was not due to exhaustion nor COVID-19, but to an underlying illness. 
Despite the misinformation about the Malaysian doctor – it is not a secret that health workers around the world are feeling the brunt of the coronavirus pandemic. 
Total COVID-19 cases worldwide are inching towards the 100 million mark with over two million deaths recorded. Although some countries have begun vaccine campaigns and inoculations, new waves and fresh lockdowns have been reported in numerous nations in recent weeks.
Health systems in countries including the aforementioned ASEAN member state are at breaking point. 
In Indonesia, specifically on the island of Sulawesi which was struck by a 6.2 magnitude earthquake last Friday, doctors are reported to be overwhelmed with the number of earthquake survivors needing treatment amid concerns about the increased risk of COVID-19 transmission. 
Across the archipelago where the country has recorded the highest number of COVID-19 infections in Southeast Asia – frontline workers are suffering from burnout, a nurse association said in November.
"Our nurses are exhausted because the pandemic has been going on for quite some time," Dedy Afrizal, head of the Lampung chapter of the National Nurses Association (PPNI) explained to the media. He added that if nurses become incapacitated from exhaustion, entire communities will be affected.
The University of Indonesia's Faculty of Medicine conducted a nationwide survey of 1,461 health workers and found that 82 percent of respondents said that they had experienced a moderate level of burnout.
Over in Malaysia, which has seen 3,000 to 4,000 daily COVID cases in recent days, premier Muhyiddin Yassin warned that the country's "healthcare system is at breaking point" and "the situation today is indeed very alarming." 
Earlier this month, the country's Health Ministry said that its hospitals could only accommodate 23,000 patients at a time. Today, Malaysia has over 40,000 coronavirus patients, with some 200 of them in critical condition.
An open letter written by a tired Malaysian doctor was recently published by a local news portal and went viral.
The letter discussed about the current situation in one of the country's hospitals, Hospital Sungai Buloh, also known as the COVID Hospital of Malaysia. The doctor claimed that there is a shortage of basic facilities like rooms and food for the shift workers on call, and urged authorities to improve medics' work environment in order for them to carry out their duties, and to "treat us like humans working long hours."
"Do you know how exhausted and tiring our shifts are plus wearing PPE in the midst of all this? And yet, when we want to take a break there is no proper place to rest and worst of all, we can't even have a proper meal," said the doctor.
"Most of the doctors are annoyed. Some of my colleagues fell into depression and started taking anti-depressants. Some of us haven't even met or visited our own families or loved ones for months. We are tired, exhausted, annoyed and way past the breaking point," the letter continued.
At Risk Of COVID-19
Other than fatigue and over-working that could possibly lead to mental health issues, medical workers are also at risk of COVID-19 as they treat patients on a daily basis.
By December 2020, Myanmar's Ministry of Health and Sport said that about 1,000 health workers had been infected since the beginning of the outbreak, with one death. 
"When medical workers get infected, we have to work twice as long to make up for the absent positions. So, we are so tired physically and depressed on the frontlines against the virus," said Win Win Myint, a Myanmar nurse.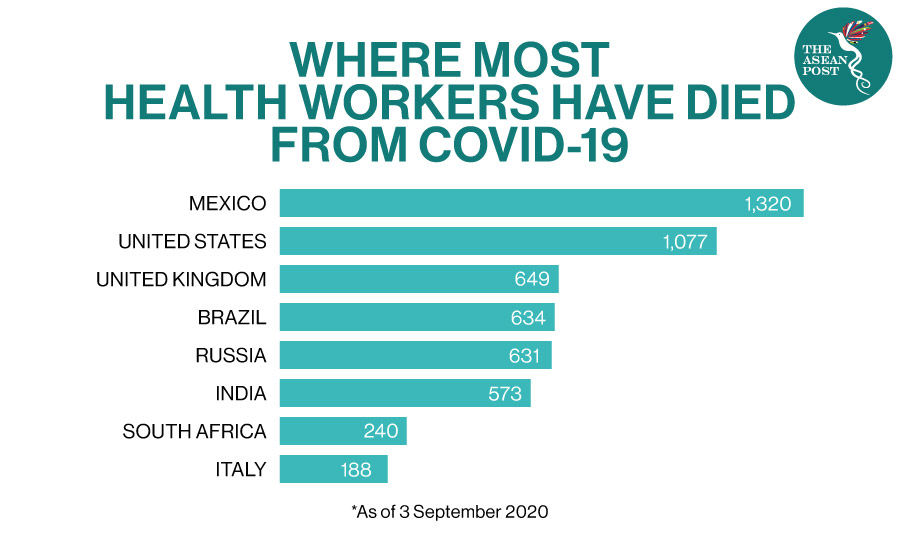 In Indonesia, as of September 2020, the COVID-19 mortality rate for doctors in the country is the highest in Southeast Asia, according to the Indonesian Medical Association (IDI). It was reported that at least 105 doctors have died from COVID-19.
The pandemic has indeed taken a heavy toll on medical workers everywhere – not just in the countries highlighted here. Stress, anxiety, frustration, burnout and the feeling of being overwhelmed are some of the most commonly reported on the front lines. 
"The dedication of health workers is humbling, but calling them 'heroes' ignores the fact that these are human beings; and no human being makes it unscathed through months of proximity to death and illness, gruellingly long hours and minimal pay," wrote Tamaryn Nelson from Amnesty International in an article published on the organisation's website.
There needs to be a global effort to protect health workers. If they are not safe, then neither are we.
Related Articles:
Malaysia's Health System At Breaking Point