The last 24 hours have been rather eventful in Malaysia.
Just yesterday, the country's Prime Minister Muhyiddin Yassin announced strict new curbs in over half the country to combat a coronavirus surge. 
A two-week partial lockdown will be imposed in the worst-hit parts of Malaysia including the capital city of Kuala Lumpur and five of the country's 13 states, starting Wednesday (13 January). All non-essential businesses are to close, with five key economic sectors such as manufacturing and construction to continue operations. 
Following the televised address, the country's Health Minister confirmed yesterday evening that an individual with a travel history to the United Kingdom (UK) has tested positive for the B117 COVID-19 strain. 
"The Health Ministry would like to inform that one case involving the COVID-19 B117 UK variant or 202012/01 spike protein mutation has been detected in Malaysia today," said Health director-general Noor Hisham Abdullah. However, he said that there has been no outbreak in the country linked to the variant.
Another event that shocked the nation was the declaration of a nationwide state of emergency by Malaysia's king this morning. 
Sultan Abdullah Sultan Ahmad Shah agreed to declare an emergency until 1 August in order to fight the pandemic that is overwhelming the country's hospitals. However, critics suggest that it is a desperate bid by an unstable government to cling to power.
Hospitals Nearing Limit
As COVID-19 vaccines are rolled out, fresh waves and new infection records of the coronavirus have also been reported in several countries.
The United States (US) lost more than 22,000 lives to the virus last week, setting a record for the second week in a row, as new cases also hit a weekly high. Closer to home, Thailand is still reporting three-figures daily tallies as an outbreak at a seafood market in December has spread the virus to over 50 provinces. Total cases in the kingdom breached the 10,000 mark over the weekend, from just 4,000 in November.
Malaysia has also seen an upsurge of cases in recent days, with over 2,000 infections reported daily – reaching a new high on 7 January when the country reported 3,027 new cases. The ASEAN member state imposed a nearly three-month partial lockdown in 2020 and relaxed restrictions after infections fell to almost zero.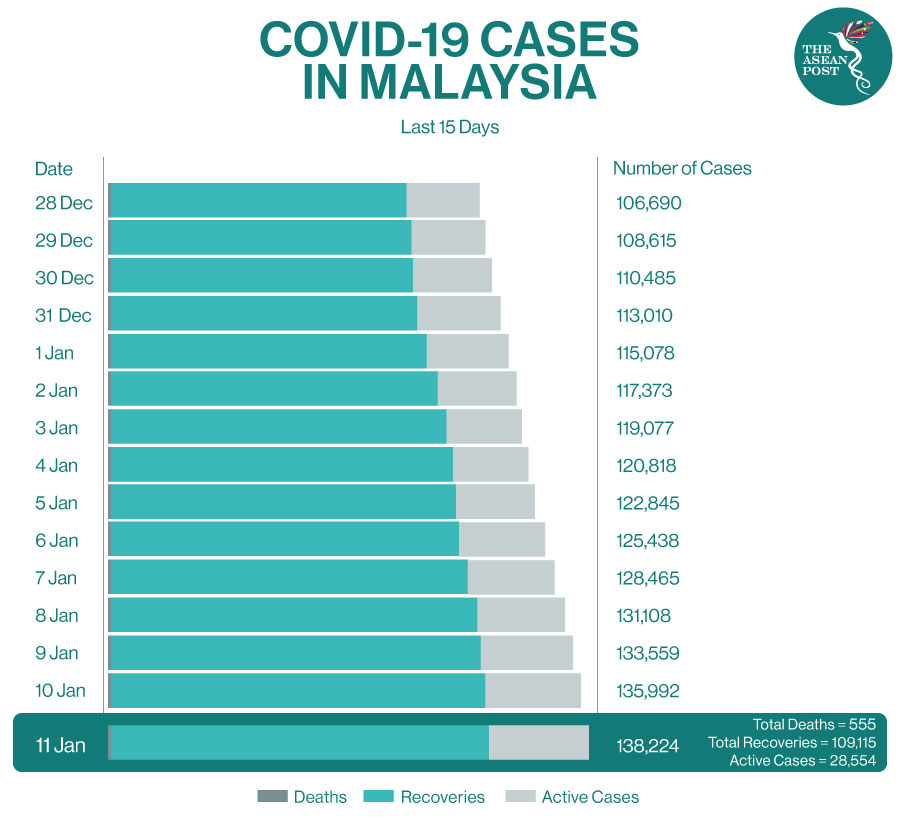 At the time of writing, the country of 33 million people has recorded more than 138,000 cases since the beginning of the outbreak. Of those cases, around 20 percent (28,554) are considered active.
However, Noor Hisham Abdullah said in a press conference earlier this month that the country's hospitals could only accommodate 23,000 patients at a time. He also explained that "we are currently making preparations in anticipation of more increase."
During the lockdown announcement yesterday, the country's premier warned that the surge in number of patients will paralyse the existing capacity of the healthcare system in a "blink of an eye."
"Our healthcare system is at breaking point; the situation today is indeed very alarming," said Muhyiddin. 
He added that 15 hospitals are seeing utilisation rates of more than 70 percent of non-intensive care unit (ICU) beds. 
In Kuala Lumpur and its surrounding areas – known locally as the Klang Valley, the take-up of ICU beds for coronavirus patients at Hospital Kuala Lumpur and Universiti Malaya Medical Centre have reached maximum capacity, while Sungai Buloh Hospital has reached 83 percent of its total capacity.
Moreover, the high number of daily cases has also caused a delay in medical officers transporting patients to hospitals, quarantine centres, and low-risk treatment facilities.
On a grim note, Malaysia's Health Ministry also warned that COVID-19 cases could hit 8,000 a day by the middle of March if the country's infectivity rate rises from the current level.
COVID-19 Vaccines
According to local media, the Malaysian government has signed an agreement for the first phase delivery of Pfizer's COVID-19 vaccines covering over 12 million doses. 
Muhyiddin said yesterday that the country is expected to receive the vaccine by the end of February. He explained that in order for Malaysia to obtain herd immunity, some 60 percent to 70 percent of the population should be vaccinated.
The government is also in the final phase of discussions with China's Sinovac, CanSino and Russia's Gamelaya, in order to boost Malaysia's vaccine supply to reach 80 percent of the population. 
Related Articles:
How Malaysia Is Winning The War Against COVID-19