The new coronavirus pandemic has unleashed chaos on the world. Governments and organisations are scrambling to manage and contain the deadly virus from spreading further. As of 16 April, more than two million people have been infected worldwide and over 100,000 have succumbed to the deadly virus. In Southeast Asia, 22,174 confirmed cases have been reported across the 10 ASEAN member states as of 15 April, according to a daily tally run by The ASEAN Post on its Facebook page @TheASEANPost.
Despite concerns of poor healthcare infrastructure and limited test kits in certain nations, many countries in the region have showcased remarkable recovery rates such as in Cambodia, Vietnam and Brunei. 
In Malaysia, a country of 31 million people, over 5,000 have been infected with COVID-19 and 83 fatalities have been reported. A few weeks ago, the country had the highest confirmed cases in the region with triple digit cases recorded every single day. However, on 15 April, Malaysia reported 85 new cases, a significant plunge after a few weeks of high infections. Out of the 5,072 COVID-19 cases reported in the country, more than 50 percent have been cured. 
Malaysia's strategies in attempting to break the chain of infection appears to be successful so far. So, what have they been doing to flatten the coronavirus curve in the country?
Unpleasant Beginning
The COVID-19 virus first reared its ugly head in Malaysia on 25 January. The first three cases in the country were related to a 66-year-old man that was confirmed by Singaporean health authorities to have tested positive for the virus, according to media reports. 
Since then, the number of confirmed cases in the country soared, following a religious event that was held in Sri Petaling, a suburb in Kuala Lumpur, the capital city of Malaysia. The event organised by the Islamic missionary movement, Tablighi Jama'at was attended by an estimated 16,000 people from all over Asia. Of those participants, 14,500 were Malaysians, while 1,500 were foreigners from Brunei, Indonesia, Singapore and some other countries.
The number of positive COVID-19 cases in Malaysia rose from 99 on 8 March to a whopping 200 people in less than a week, following the event. The country recorded its first two deaths from the disease in mid-March, in which one of them had previously attended the tabligh event in Sri Petaling.
Movement Control Order
Yesterday, Malaysians received a broadcast short message service (SMS) from the Malaysian National Security Council (MKN) stating that the third phase of the country's Movement Control Order (MCO) had begun – effective from 15 April and due to end on 28 April. The decision to extend the MCO was announced on 10 April by Malaysia's prime minister, Muhyiddin Yassin.
Malaysia first enacted a partial lockdown on 18 March and has since extended the initial two-week MCO twice. Going into phase three of the MCO, authorities hope that this could break the chain of infections and flatten the curve.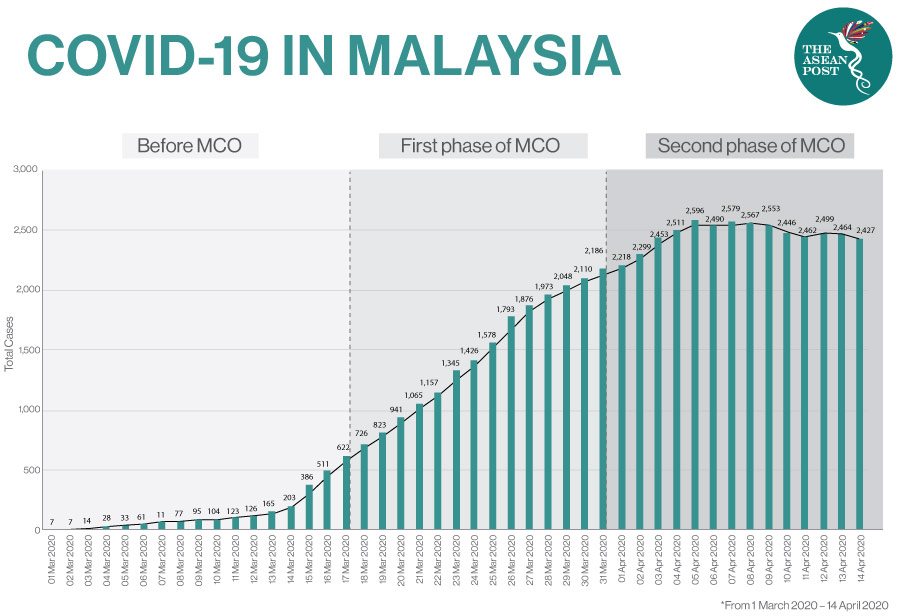 The extension of the MCO comes after multinational investment bank and financial services holding company, JP Morgan released a study which stated that Malaysia could see a surge in COVID-19 cases in mid-April. The possibility of a third wave of infections was also raised by authorities in the country and members of the public.
"We expect the peak infection to be by the middle of April, at approximately 6,300 cases," noted JP Morgan basing its forecast on three factors: sample population, secondary infection rate (RO) and mortality assumptions.
"We believe the government's actions are proving effective in curbing the spread and intensity of the epidemic. Mortality rates in Malaysia are low," it added.
The MCO has been strict on Malaysians with over 9,000 people arrested for violating the order as of 14 April, according to local media. Roadblocks have been implemented across the country and a curfew has also been imposed for all vehicles, including e-hailing, from 10pm to 6am daily. 
"As mentioned before, the government will no longer compromise with MCO violators. Stern action will be taken against them, so I hope the public will cooperate on this," Senior Minister Ismail Sabri Yaakob told Malaysian media. 
Other than that, any kind of gatherings is also prohibited, including the much-anticipated Ramadhan bazaars, typically held yearly throughout the whole fasting month. 
'Test, Test, Test'
"We are following the South Korean model to test everyone. Test, test, test – and then test again. By testing everyone, we can detect positive cases early and help minimise the spread of COVID-19", said Dr Nur Abdul Karim, a consultant emergency physician and head of Accident & Emergency Services at the KPJ Damansara Hospital in Kuala Lumpur:
Local media reported that Malaysia's testing capacity for the virus which currently stands at 11,500 samples a day is expected to rise with five new laboratories, making up to a total of 48 testing facilities across the country. Nevertheless, Malaysia has yet to reach its target of conducting 16,500 tests per day.
According to Dr Noor Hisham Abdullah, Malaysia's Director General of Health, at the present time, the Ministry of Health is working to optimise the use of existing laboratories in the country by shifting its strategy to conduct an antibody test (serology) instead of a polymerase chain reaction (PCR) test for those who have been in close contact with COVID-19 patients and have been quarantined.
He added that the reason for the shift of strategy is because PCR tests are more time consuming as samples need to be sent to laboratories, compared with antibody tests that can be done on-site.
Dr Noor Hisham said the antibody tests will be conducted for close contacts who are about to end their 14-day quarantine period to determine if they are cleared for release. However, close contacts will still be required to undergo a PCR test at the start of their quarantine.
In March, a video of Malaysian nurses using plastic bags as personal protective equipment (PPE) suits went viral on social media. The video sparked concerns among the general public regarding the safety of medical front liners who are using self-made gear in order to protect themselves. Since then, top local fashion designers such as Jovian Mandagie and Rizalman among others, have come together to sew and produce PPE suits. 
"I chose to sew this PPE not only because it is one of the most essential things needed by our front liners, but also because it is what I do best as a fashion designer," said Jovian Mandagie.
A website called #KitaJagaKita (We Take Care of Each Other) was also set up by Malaysian author, Hanna Alkaf and a few others where people can donate money and lend a helping hand to front liners and those in need during this time of crisis. Malaysians who need monetary assistance or even counselling can also seek help from the website. 
"I started a Twitter thread compiling positive things that people on the ground are doing for their communities, and a few people contacted me to ask how they can do more. We started a WhatsApp group, and in 24 hours, we launched the site," the author explained. 
Despite being forced to remain in isolation, the pandemic has brought Malaysians closer together – from government, and front liners, to activists and the public – in the war against the COVID-19 virus. 
Related articles:
COVID-19: ASEAN is preparing for the worst