To date, over 35.7 million people worldwide have been infected with COVID-19. While Southeast Asia accounts for less than 10 percent of the total number of cases reported across the globe, some countries in the region have seen a surge in coronavirus cases in the past few weeks. This can be observed in Myanmar, which has recorded three to four-digit daily tallies recently and also fellow ASEAN member state Malaysia. 
Malaysia once sat at the top of the chart for the greatest number of coronavirus cases across ASEAN. Nevertheless, COVID-19 measures such as compulsory mask wearing, a strict movement control order (MCO) which placed a ban on interstate travel and the introduction of curfews, among others – quickly had the outbreak under control. The country has also seen days where zero cases were reported.
Following a drop of infections as strict preventative measures were introduced, Malaysia then gradually eased its restrictions as it entered a Conditional MCO (CMCO) phase in May. The government then announced not long after a Recovery MCO (RMCO) phase in June, which allowed nearly all activities to resume, after letting most economic sectors to reopen following the CMCO. 
But a recent surge of cases in Malaysia might lead to renewed COVID-19 restrictions.
Malaysia confirmed 432 COVID-19 infections yesterday, the highest daily increase since the pandemic hit the country. This surpasses the 317-case record which was set just two days prior on 3 October.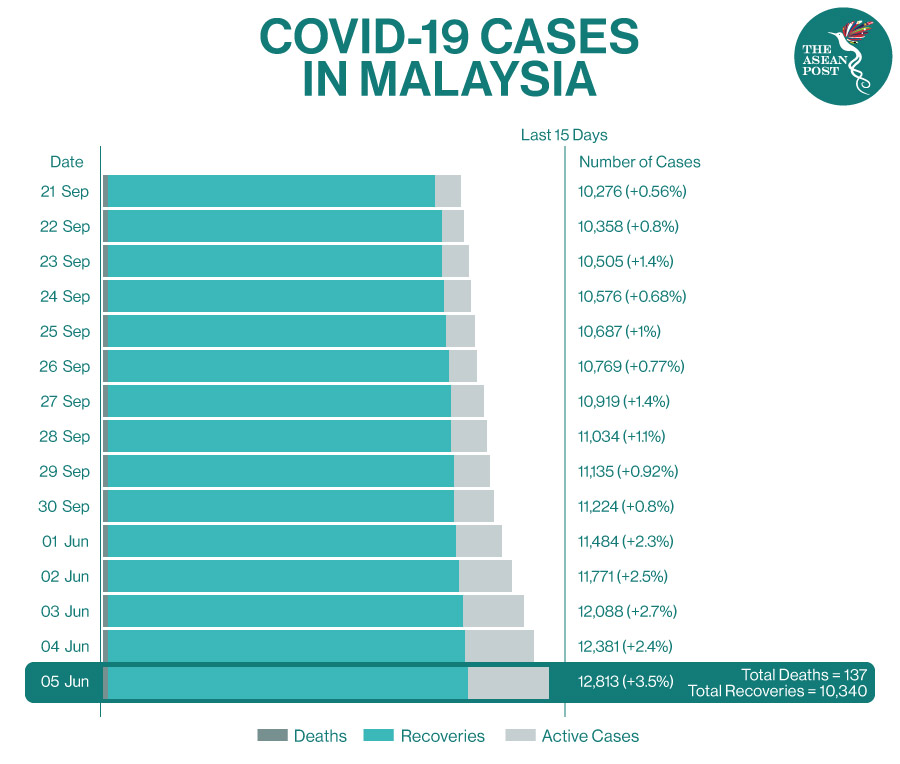 On the same day, it was reported that Malaysia's premier Muhyiddin Yassin has gone into a 14-day home quarantine after a minister who attended a meeting he chaired, tested positive for the coronavirus. All close contacts of Zulkifli Mohamad Al-Bakrir, the Minister of Religious Affairs at the meeting have since been served a Home Surveillance Order for two weeks. A few other local politicians have also tested positive for the virus. 
The increase in number of infections followed a local election in the eastern state of Sabah on 26 September. In fact, the hashtag "klustermenteri" (minister cluster) trended on social media platform Twitter yesterday after the Religious Affairs Minister tested positive. He was heavily criticised for not self-quarantining following his return from Sabah.
Even before the Sabah state polls, Malaysia reported a steady climb in cases after an increase in travellers to Sabah and an outbreak from a few clusters in the state. 
Health director general Noor Hisham Abdullah explained in a briefing that the surge in Sabah could have been mitigated by compliance with the guidelines, which include minimising physical contact and regular hand washing.
"We are not blaming (anyone), but we are reminding… we hope that all of us learn this lesson so we do not repeat this mistake again," he said.
The government announced that a CMCO has been put in place for a few districts in Sabah which will start on Wednesday, 7 October following a spike in cases. This means that there will be a ban on inter-district travel in the state. The northwest state of Kedah has also seen a rise in cases, reporting most of the infections recorded yesterday.
MCO 2.0?
As Malaysia sees a significant increase of cases in a few states, the question whether the government should re-impose a partial lockdown, also known locally as the MCO has become a heated debate among locals.
Experts are saying that there is no need for a nationwide lockdown for now. Dr Sazaly Abu Bakar, an expert virologist at the University of Malaya said that community transmission has stayed low and could be curbed with targeted movement control orders such as those imposed in Sabah. 
"But this would only be effective if there is a high degree of compliance," he told local media. "We should tackle the problem's root causes – false optimism, complacency and a lack of compliance with preventive measures."
Dr Helmy Haja Mydin, a respiratory physician at Pantai Hospital in the capital city of Kuala Lumpur also noted that another lockdown will put a dent in the country's economy. 
According to the Malaysian Industrial Development Finance (MIDF), even a targeted movement control order for the Klang Valley alone (an area that is centred in the capital city of Kuala Lumpur, including its adjoining cities and towns in the state of Selangor and Putrajaya) would alter the trajectory of Malaysia's economic recovery in a negative way.
"The effects of an MCO on the economy will be detrimental," Darren Yeoh, a Malaysian journalist told The ASEAN Post. 
"It won't just be about staying at home making Dalgona coffee or posting TikTok dances anymore. More businesses will have to shut down, more retrenchment, more pay cuts. Thankfully, even though the numbers are high, as explained by the health ministry, a majority of the cases are from known clusters in Sabah, and from an outbreak in a prison in Kedah. The community spread in Selangor is worrying, but for now it seems under control but just barely," he continued.
At time of writing, local media reported that Malaysia's prime minister is set to be on air at 6PM today to deliver a special address to the nation on the COVID-19 situation in the country. Any relevant information will be updated here following his speech later in the day.
Related Articles:
How Malaysia Is Winning The War Against COVID-19