A few days ago, an Iranian man was sentenced to prison for beheading his 14-year-old daughter with an axe back in May 2020, in a so-called 'honour killing'. The victim, Romina, was decapitated in her sleep in their family home in Gilan Province in Iran. 
Local media reported that Romina ran away after her father refused to give permission for her to marry a man 15 years older than her – she was detained by authorities and sent home. It was reported that in Iran, 'honour killings' are punishable by up to 10 years in prison, whereas murder is punishable by a life sentence or capital punishment. 
Nevertheless, Romina's father was only sentenced to nine years in jail which sparked an outcry in the country. The victim's mother, Rana Dashti, has called for the verdict to be reviewed and changed to 'execution'. She told the media that she now fears for the lives of the rest of her family, and the verdict has "terrified" her.
Unfortunately, violence against women is still prominent in today's world where policies and efforts have been introduced by governments and organisations to protect women and girls. Stories of sexual violence, human trafficking and domestic abuse, among others have headlined worldwide news, from the West, to the Middle East and even in Southeast Asia. 
Violence against women comprises a wide range of acts from verbal harassment, and emotional abuse, to daily physical or sexual abuse. At the far end of the spectrum is femicide, the murder of a woman. 
In The Name Of 'Honour'
According to the World Health Organisation (WHO), there are a few types of femicide which include intimate femicide (killing committed by current or former partner), dowry-related femicide, non-intimate femicide and also murders in the name of 'honour'.
Media reports have stated that 'honour' crimes mainly occur in South Asian, Middle Eastern and North African communities where a woman's behaviour can be seen as key to preserving a family's honour. These murders involve a girl or woman being killed by a family member for "an actual or assumed sexual or behavioural transgression, including adultery, sexual intercourse, or pregnancy outside marriage – or even for being raped," noted the WHO. 
Dr Aisha Gill, Professor of Criminology at the University of Roehampton, writing for the United Nations (UN), explained that honour killing, or honour violence is "any form of violence perpetrated against females within the framework of patriarchal family structures, communities, and/or societies, where the main justification for the perpetration of violence is the protection of a social construction of 'honour' as a value-system, norm, or tradition."
Perpetrators typically see 'honour killings' as a way to protect family reputation, to follow tradition or to adhere to wrongly interpreted religious demands. 
An estimated 5,000 murders in the name of 'honour' happen every year around the world. However, it is widely believed that the number could be greater as many cases go unreported.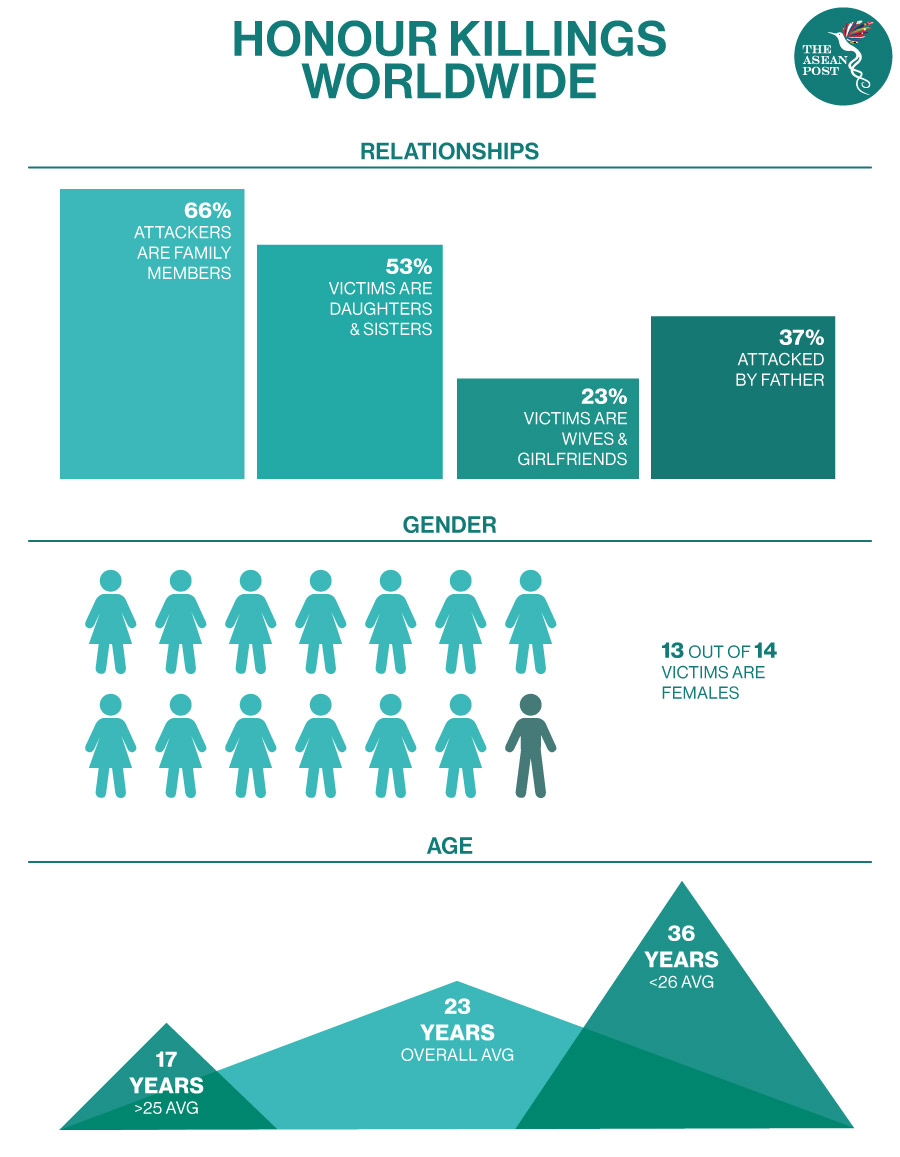 Although 'honour' violence is common in countries like Pakistan, India or in Arab nations – these crimes have also been reported across Europe, East Asia and the Americas. 
In a high-profile case back in 2012, a Pakistani-born couple were jailed for life by a British court in London for murdering their "westernised" teenage daughter in the name of 'honour'. Prosecutors said that the parents killed her because they felt her "western" habits such as wearing make-up and talking to boys brought shame on the family.
Does It Happen In Southeast Asia?
'Honour killings' are rarely heard of in the region. However, a recent murder of a schoolgirl has shocked Indonesia, deemed as the archipelago's first reported case of honour killing. 
It was reported that a 16-year-old girl, Rosmini binte Darwis from South Sulawesi of Indonesia died on 9 May after her brothers hacked her to death with a machete and a wooden log, while the rest of the family watched. They believed that the victim had sexual relations outside of marriage with a cousin. 
"She surrendered herself to her fate," said Wawan Sumantri, police chief of the Bantaeng regency. He also added that investigations showed she was killed because the family felt ashamed, and that she had said she was in a relationship with Usman, a cousin. "This is a case of honour killing," declared the police.
Andreas Harsono from Human Rights Watch (HRW) Indonesia told the media that he was concerned about the effect the case could have. "It will prompt other families to do the same," he said.
Any Rufaedah, a lecturer in social psychology at Indonesia's Nahdlatul Ulama University explained that although many Indonesians condemned the killing, a "contagion" effect was possible. "If the incident was due to cultural values, the chances of it encouraging other people to do the same is much higher," she explained. 
"Why did they kill a woman? Were there no other solutions? The use of murder is like an era from centuries ago when people knew no law or dialogue," the lecturer questioned in reference to Rosmini's murder.
There is definitely no 'honour' in 'honour killings'.
Related Articles:
Rising Gender-Based Violence In A Pandemic