Can you imagine waking up and not being able to check your phone? For most of us it is as essential as our morning coffee to look at our texts, emails and social media. To be informed of the world and inform the world of us. 
But imagine not just a day but weeks, and then months without internet connection. 
Internet is a fundamental tool for society because it has the ability to make entire towns, cities and even countries visible to the rest of the world. Connectivity is visibility.
Take North Korea for instance, designated photograph sites left a majority of the country's condition hidden from the rest of the world. The lack of evidence of the country's condition is the strongest evidence that a humanitarian struggle exists. 
In 2016 the United Nations (UN) declared that access to internet is a basic human right. This means that disconnecting people from the internet is a violation of human rights and international law. 
Nonetheless, many countries around the world are blocking internet access for its citizens in the name of "keeping the peace".
During medieval times, cities would be put under siege until they surrender. People would be cut off from basic supplies such as food and water, not to mention the constriction of movement. Enemies then wait for the city to crumble from the inside. 
While the Islamic State (IS) have been observed in Al Yarmouk to still practice the tactic of sieging, other countries have resorted to a different, modern form of starving out a city. 
Local media reported that the Rakhine State of Myanmar currently holds the longest internet blackout in the world, going over six months to date.
Despite demands by local civil societies and pressure from the UN, Myanmar stubbornly refuses to reconnect the northern part of Rakhine. 
At the initial implementation of the blackout, a representative from the local government explained that it was important to "maintain the stability and law and order in these areas", while critics question how it could still be valid six months later, one should question if it is a lawful tool in the first place.
In October of this year, citizens of Jammu and Kashmir looked to the legal system to restore internet in the region after a one-week blackout. While efforts to legally prohibit governments from implementing blackouts remain futile, internet shutdown by governments are ever increasing.
In 2016, 75 internet shutdowns were recorded. That number has more than doubled in three years, recording 196 in 2019 according to Access Now, an organisation that began as an emergency response team of technologists working to help people get back online and ensure their safe communications.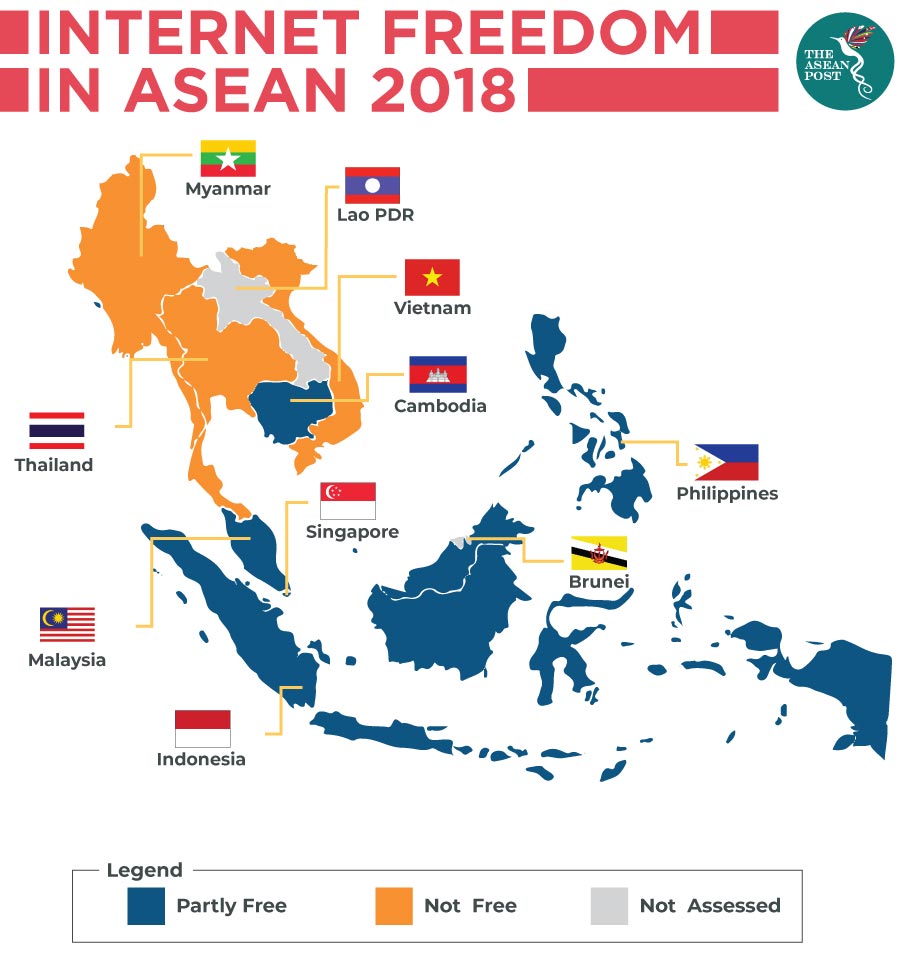 What happens when your situation can't be communicated? 
A study by the Stanford Global Digital Policy Incubator provided statistical analysis on internet shutdowns and their detrimental effects on social and economic well-being. Additionally, the study found a strong association of internet shutdowns with violent collective action. 
Myanmar is not the only ASEAN country to implement internet shutdowns, despite the region's rapidly growing internet economy, in January 2018 watchdog organisation, Freedom House, reported that "censorship is on the rise and internet freedom is declining in Southeast Asia".
Their report on the region categorises all countries as either "partly free" or "not free", and using "opinion shapers" to promote pro-government views.
The organisation also found that government restriction on internet services were often enforced in areas populated by ethnic and religious minorities. 
"Everybody knows that Burma [Myanmar] is in a democratic transition. But we [still] cannot fully enjoy democratic rights, especially for the Rakhine people. In Rakhine, there is communal violence, military conflict and - after that - now we have no internet access. Internet access is a universal right. But now we cannot enjoy that. This is unjust," U Oo Hla Saw, an Arakan National Party member of the Lower House for Mrauk-U told local media. 
Authoritarian governments employ internet shutdowns as a tool to regain its grip on control. "It has a significant humanitarian and economic cost" said Adam Shahbaz from Freedom House, "essentially silencing unrest" he said. 
The concept of "digital rights" is not talked about enough. The process to outlaw the use of connectivity blackout as collective punishment or as a security measure is a long, difficult but necessary step to protecting the rights of ASEAN citizens.
Related articles:
Still no internet in Rakhine state