Every 14 February, prices of chocolates and flowers will spike and restaurants tend to be fully booked by couples looking for a romantic date night. Some singles might feel left out from the celebration, but with numerous dating sites and apps – the new 'swipe' culture makes it easier for one to find a partner or a companion in an instant.
In 1995, Match.com became the first major online dating site in existence. In 2009 and 2010 respectively, dating apps Grindr and Scruff were launched. Both apps were commonly used by the gay community which helped connect users – single men within a specific geographic radius. In 2012, now dating app giant, Tinder was introduced to the world and it quickly became one of the most popular dating apps today. Tinder started the 'swipe' trend where users find matches by swiping left or right on their mobile phones.
Since then, there have been a plethora of dating apps developed like Bumble, OkCupid, and Paktor. Even Facebook jumped on the dating app bandwagon and released Facebook Dating in 2018. Some apps even cater to specific target markets such as Minder which is similar to Tinder but for Muslims. It is estimated that the dating market is worth around US$12 billion globally.
According to co-founder of Tinder and CEO of Bumble, Whitney Wolfe – dating apps have become great tools to meet new people. Most times, social media is used to keep in touch with those who are already in one's circle – whereas dating apps expand users' networks to various types of people, at a very fast pace. Ng Jing Shen, co-founder of Paktor – a Singapore-based dating app claimed that by "spending 10 minutes on a toilet bowl swiping on potential matches, you essentially 'meet' more new people than you possibly would in a year."
Dating apps are also breaking barriers and changing social norms. An example of this is Bumble – which only allows women to start the conversation with the man that they have been matched with on the app. "Traditionally speaking in real life, women wouldn't have made the move. They generally don't because society says that's not the right way to do it and society judges them for that," explained Wolfe. In the United States (US) and Europe, online dating has also become inclusive for the LGBTQ community – such as Her which is an app for lesbians and bisexuals. It was also reported that 70 percent of gay people in America meet online.
Dating apps 
ASEAN countries are not far behind when it comes to online dating. Homegrown sites and apps such as Singapore's Paktor and Thailand's Noonswoon are some of the region's go-to dating apps. Nevertheless, despite the growing number of dating apps available in Southeast Asia, online dating is historically frowned upon especially in conservative countries like Brunei and Indonesia. Initially, Tinder did not even include Asia as their target market as pre-marital sex and the 'hook-up culture' are strongly condemned by society. 
Nevertheless, in recent years, dating apps still managed to make their way to ASEAN, especially among busy executives who prefer a faster way to meet people than the time consuming traditional approach. In 2019, Singaporeans spent US$7.1 million on dating apps, an increase from US$5 million in 2018 and US$3.9 million in 2017 while Malaysians and Indonesians spent about US$5.8 million on dating apps.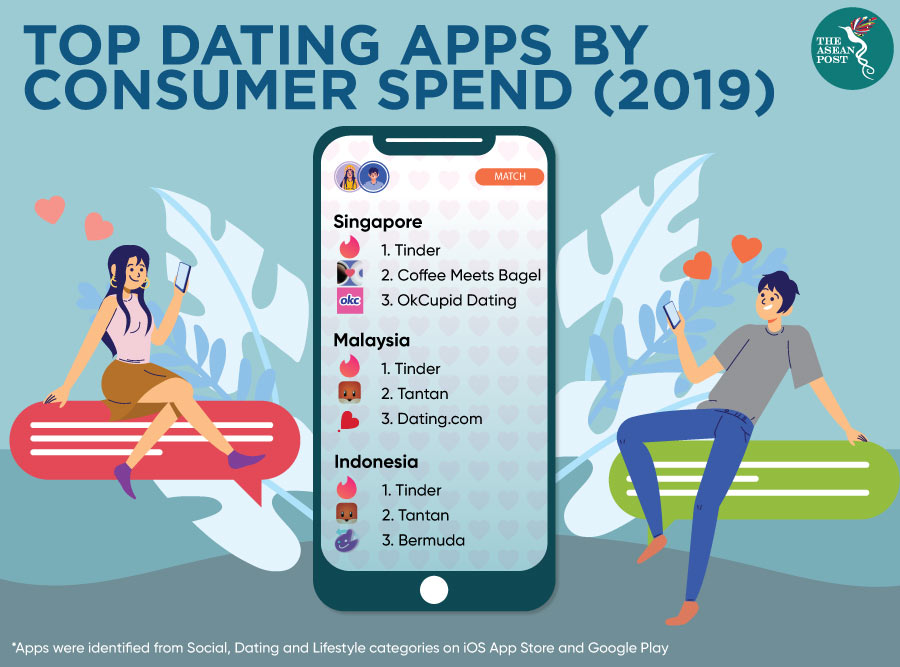 Paktor has grown to become one of the biggest dating apps in Asia, and has 15 million users in Taiwan, Singapore, Malaysia, Indonesia, Vietnam and Thailand. The team discovered that successful methods used by Western dating apps didn't translate as well to Asian societies because of their more conservative dating norms. Paktor differentiated itself by tapping into their knowledge of local culture and people. For example, they introduced features such as Paktor Group Chats which provides an environment to facilitate chats within a collective community. According to Joshua Phua, the co-founder of Paktor, Asians prefer to first meet fellow users in groups, rather than a more intimate one-on-one date.
Other than that, the Philippines' Peekawoo made headlines back in 2014 with its unique approach to online dating. It was described as a woman-friendly dating app that focuses on safety and quality. It was reported that at one point – they even offered chaperone services for users to avoid any monkey business from their matches. However, the company's current status is uncertain as their site appears to be down since 2018. 
Despite these novel approaches from ASEAN's own dating apps, Tinder is still a leader in Southeast Asia. In 2019, Tinder announced plans to focus on "emerging markets" by reshuffling its management team in the Asia Pacific region. It was also reported that Tinder is working on a leaner version of its flagship app in an effort to attract more users in Asia.
Swipe culture
The wonders of technology do not come without a price. Just last year, a Malaysian man was sentenced to five years in jail for deceiving and cheating a woman of SGD68,000 (US$48,000) by pretending to be a silver trader by the name of "Daniel" on a dating app. In December 2018, a British backpacker, Grace Millane was killed by a man in Auckland, New Zealand after they met on Tinder. Many cases of rape, fraud, peeping toms and other crimes related to dating apps have been reported through the years.
Do dating apps work in terms of creating successful relationships? Media reports claim that a significant number of marriages and unions occur because of dating apps and sites. Technology has paved the way for strangers to network and fall in love. Potential matches on dating apps seem to be limitless – despite the many flaws that comes with it. On a positive note, it is believed that 30 percent of relationships will start online by 2026.
Related articles:
Polygamy dating app sparked controversy in Indonesia