Earlier this week, Thai Prime Minister Prayut Chan-o-cha was quoted as saying that rallies were a "waste of time". He was, of course, referring to Sunday's Future Forward Party (FFP)-backed rally referred to as "Run Against Dictatorship" by some quarters and "Run to Oust Uncle" by others.
"I am not an enemy of anyone. Everyone should figure out how to steer the country forward rather than wasting time on such things," local media quoted Prayut as saying on Monday. 
He was speaking at the launch of a project "Youth Build the Nation" initiated by the Ministry of Higher Education, Science, Research and Innovation, attended by more than 500 students from state and private universities.
Fears that Sunday's run would turn ugly had been expressed by some quarters but the event remained largely peaceful and there were no untoward incidents. However, FFP continues to "prod at the lion's cage" as it will be hosting another similar run for Chiang Mai on 2 February. The previous run was held in Bangkok.
There could be some wisdom to Prayut's advice that Thais should be thinking about how to steer the country forward. While it would be difficult to deny the importance of protests in a democratic country, there are cons when it comes to growth by certain definitions. This is especially true for a country which has seen numerous protests turn ugly like Thailand.
In a recent report, it was revealed that the University of the Thai Chamber of Commerce (UTCC) had lowered its economic growth forecast to 2.8 percent for this year. Aside from lower exports, widespread drought, baht strength, and poor business sentiment, another important factor for this lowered forecast was "political uncertainty".
Local Thai media reported Thanavath Phonvichai, the UTCC's president, as saying that the domestic political situation was the business sector's biggest concern because – should there be violence or other chaos - it will hurt tourism and investment.
In December, the university forecast 2020 economic growth would average 3.1 percent, in a range of 2.7 to 3.6 percent.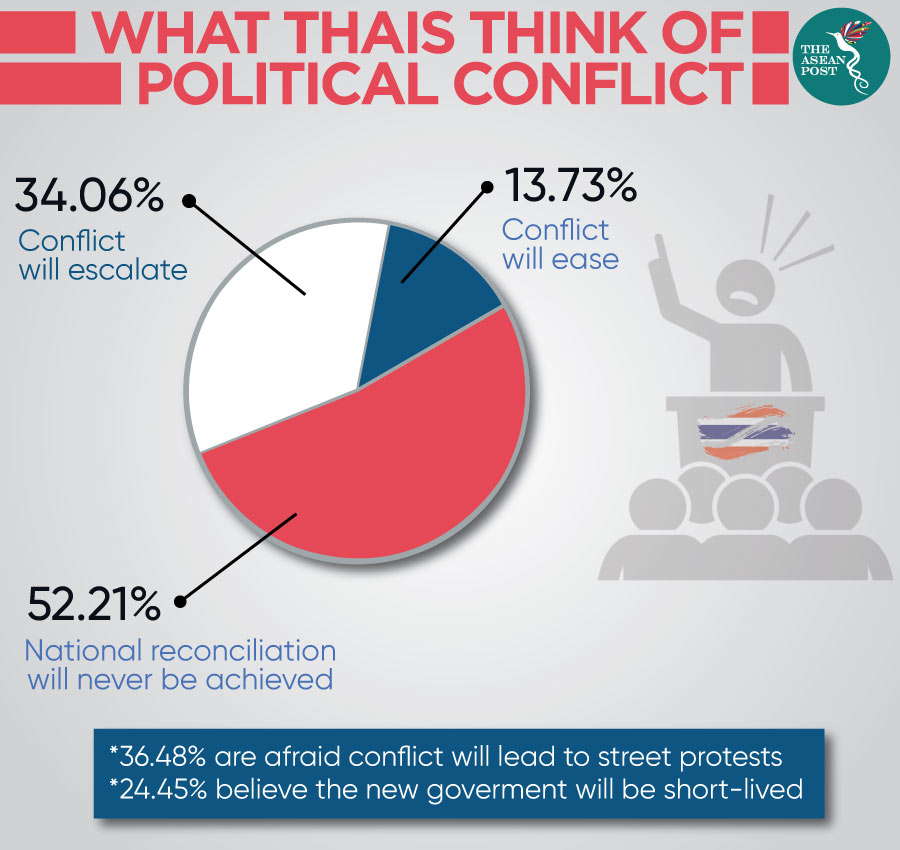 The point of a protest
The whole point of a protest is for those protesting to put pressure on those in power to give in to their demands. Having investors stay away from Thailand could pressure Prayut and his administration to give into the demands of the FFP and their supporters and this could be exactly the outcome that the protestors are seeking.
At the same time, knowing that it is violence and chaos that are keeping investors at bay could also work in favour of the protestors. This would mean that Prayut and his administration – which are military-aligned – would want to ensure that even while protests are going on, that things continue to go peacefully so as to raise the confidence of investors.  
Nevertheless, the FFP is playing a dangerous game. 
Another possible road that the military-aligned Prayut and his administration may choose to take is to completely shutdown the FFP's efforts so the protests do not drag any further. They can then cut their losses, restore peace and have business go on as usual. 
It is a matter of historical fact that protests in the country have often led to chaos, bloodshed and military coups in the past. This has happened time and time again. 
It is also a matter of fact that current military general, Apirat Kongsompong has singled out the FFP and its leader Thanathorn Juangroongruangkit before. Proving that the popular party and its charismatic leader are being kept under a watchful eye.
The FFP has a decision to make. It can continue to pressure Prayut and his administration. The fact that foreign investors are staying away goes to show that this could be an effective move. On the other hand, the FFP has to understand the possible dangers that this could bring about if it continues on this path of action. Not only will the country's economy be affected, but the country as a whole could suffer. What the FFP decides to do and the outcome of that decision will be revealed in due time.
Related articles:
Will Thais stay calm at Future Forward Party run?